Disclosure: This is a Sponsored post written by me on behalf of Libby's for SocialSpark. All opinions are 100% mine. 
Don't limit your pumpkin consumption to a few months of the year! Make it an every day food with this pumpkin-chipotle pizza with kale and burrata.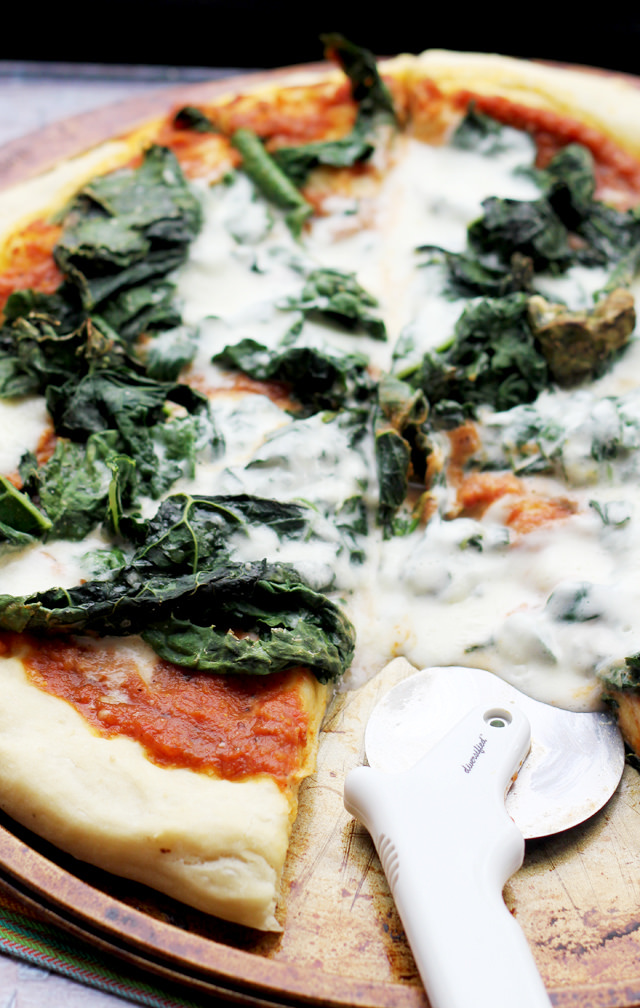 Wintsprummer, sprintummer….whatever you decide to call this spring/summer/winter mix of weather we've been getting, one thing that is for certain is that this medley of unpredictable temperatures is throwing my taste buds askew.
They want stews one day, salads the next, cake for breakfast, and pumpkin every second of every minute of every moment of every everything.
BUT WAIT!, some might say. Pumpkins are a full on autumn thing, so there is no way they can fall into this confused melee.
Au contraire, my friends.
Pumpkin is too delicious and nutritious to be limited by the "rules" of seasonal variation. It's so chock full of fiber, beta carotene, and vitamin A that it would be shameful to limit it to only three months of consumption.
Best we make it a yearlong habit, methinks.
To further convince you of this, I decided to team up with Libby's Pumpkin to create a pumpkin recipe that would break us out of our pumpkin pie funk and illuminate all the pumpkin possibilities there really are out there.
I love the idea of subtly sweet pumpkin puree mixed with some serious spice, and since pizza nights are always met with enthusiasm in my kitchen, this pumpkin-chipotle pizza sauce was born.
On it's own, the sauce packs some serious punch, but piled onto a pizza crust with creamy burrata cheese and earthy kale, it's more of a subtle kick of spice. Just enough to get your taste buds tingling and have you wanting more. No matter what season your taste buds think it is.
For more about pumpkin's myriad uses and to take part in some fun giveaways, head on over to Libby's Pumpkin Can website! There, you can share your favorite #PumpkinCan fact via Twitter, Facebook, and/or Pinterest for a chance to win weekly prizes.
Pumpkin-Chipotle Pizza with Kale and Burrata
Don't limit your pumpkin consumption to a few months of the year! Make it an every day food with this pumpkin-chipotle pizza with kale and burrata.
Ingredients
For the pizza dough
1 tbsp active dry yeast
pinch of sugar
1 cup lukewarm water
3 cups bread flour
2 tsp sea salt
2 tbsp olive oil
For the pizza
1 (15 oz) canned pumpkin puree
28 oz fire-roasted diced tomatoes
2 tsp chipotle chili powder
salt and black pepper, to taste
8 oz burrata cheese
1 bunch lacinato kale, destemmed and coarsely chopped
¼ cup parmesan cheese
Instructions
In a small bowl, combine the yeast with a pinch of sugar and ¼ cup lukewarm water, stirring to combine. Let sit for 5 minutes. If it becomes foamy, then the yeast is alive and raring to go! If not, then the yeast is probably dead or too old and your dough won't rise, so go buy more.
In the bowl of a stand mixer fitted with the bread hook attachment, combine the flour, yeast/water mixture, remaining ¾ cup water, olive oil, and salt. Stir on medium speed until dough comes together. Stir on medium-high speed for five minutes. Cover the bowl with plastic wrap and let rise in a warm place until doubled in size, about 2 hours.
Preheat oven to 550.
In a food processor, pulse together the pumpkin, fire-roasted tomatoes, chipotle chili powder, and salt and black pepper to taste until pureed. Set aside.
Steam the kale in the microwave or in a medium pot until wilted.
Rub a 12-inch pizza pan with olive oil. When the dough has risen, spread it out over the prepared pan. Spread enough pumpkin tomato sauce over the dough so that it covers it. You will have a lot of sauce left over that can be used for pasta, another pizza, etc. Sprinkle the kale over the pizza. Top with slices of the burrata and a sprinkling of parmesan cheese. Bake for 10 minutes. Let cool for at least 5 minutes before cutting and serving.
Notes
An Eats Well With Others Original