Dinner gets a spring makeover in this pea, asparagus, and spring herb pasta that is filled with bright, fresh flavors and ingredients.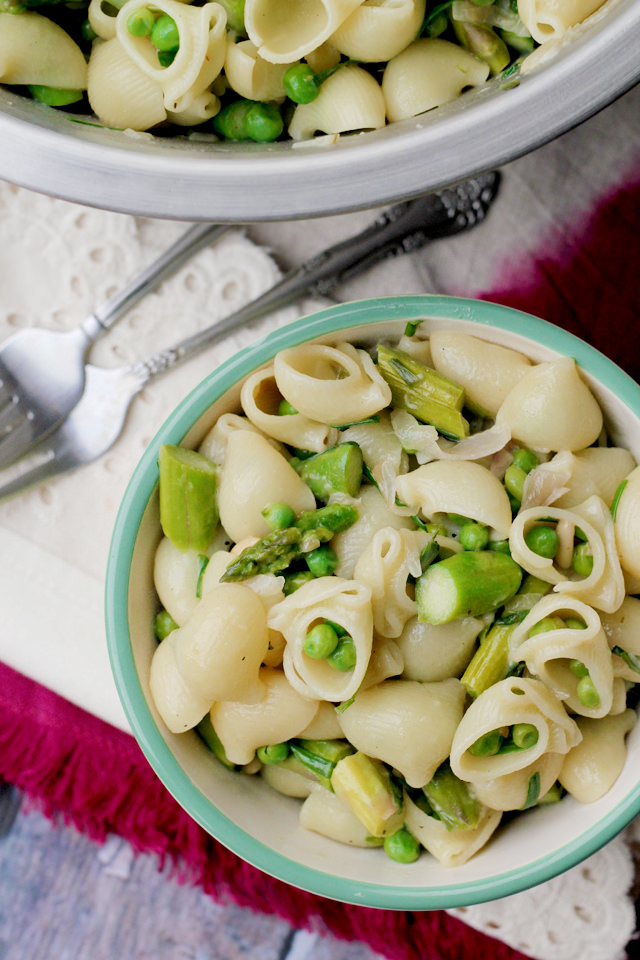 I don't even want you to know what's on my windowsills.
Let's pretend it's this pasta which is (literally) bursting with green and would make Kermit proud.
(And not two loaves of Greek Easter bread, twelve pieces of the.boy's grandma's sugar-soaked semolina cake, two solid milk chocolate bunnies that are BIGGER THAN MY FACE, six Hershey's kisses, four mini Mr. Goodbars, not enough Reese's eggs, and a partridge in a hard-boiled egg tree.)
But really, a hard-boiled egg tree would smell SO BAD after a while. Gross.
Whereas this asparagus? Warms my heart.
I have a strong desire to cuddle with it. Don't tell the.boy.
I've actually done a pretty good job in the last 24 hours of selectively not remembering all the leftovers we were sent home with this year.
(Although, obviously not because I didn't not write about them. But when you put things between parentheses they obviously don't really exist.)
(Fact.)
(Case in point.)
You might be looking at this pasta and making an ewww face because SO.MUCH.GREEN.
Well, you're in good company because the.boy did that also. And then he stuffed his face with it. And then he asked for seconds.
So, yes, there is a lot of green, but there is also a pat of butter and some parmesan and somehow that makes everything right in this world.
Peas and asparagus have their own natural sweetness, which is what makes them work so well against the handfuls of bright herbs you throw in. Any herbs you want, really, so long as they are chives, chives, and more chives (my favorite). (But you could also use chervil, parsley, mint or tarragon. Although, parentheses. So use at your own risk.)
Pea, Asparagus, and Spring Herb Pasta
Dinner gets a spring makeover in this pea, asparagus, and spring herb pasta that is filled with bright, fresh flavors and ingredients.
Ingredients
1 lb conchiglie pasta
2 tbsp olive oil
5 shallots, quartered lengthwise and sliced thinly
kosher salt and freshly ground black pepper, to taste
1 lb thin asparagus, cut into ½-inch slices
2 garlic cloves, thinly sliced
2 cups frozen peas
⅔ cup grated parmesan cheese
2 tbsp unsalted butter
1 tbsp white wine vinegar
1 cup chopped mixed fresh herbs
¾ cup toasted pine nuts
Instructions
Bring a large pot of salted water to a boil. Add the pasta and cook according to package directions. Reserve 2 cups pasta water and drain.
Meanwhile, heat the oil in a large pan over medium-high heat. Add the shallots and a pinch of salt, and cook until golden, about 5 minutes. Add in the asparagus and garlic. Season again with salt and cook until bright green and tender, about 3 minutes. Stir in the peas and cook until warmed through.
Add the pasta and 1 cup pasta water to the pan. Cook until the sauce starts to thicken and stick to the pasta, about 2 minutes. Remove from the heat and pour into a large bowl. Add in the parmesan cheese and butter, tossing to coat. Stir in the white wine vinegar, herbs, and pine nuts. add in more water as necessary until the sauce clings to the pasta. Season to taste with salt and black pepper.
Notes
Very slightly adapted from
Aida Mollenkamp's Keys to the Kitchen: The Essential Reference for Becoming a More Accomplished, Adventurous Cook
Nutrition Information
Serving size:
⅙th of recipe