Chewy and full of rich almond flavor, these chocolate-glazed almond horns are quite the treat!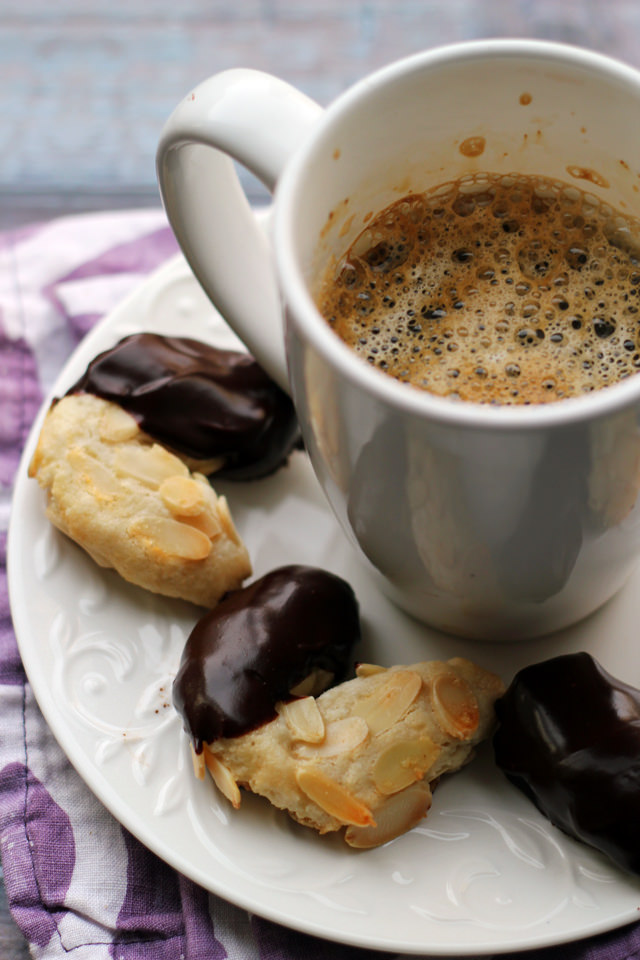 I like to spy on the people I love.
One could call it being observant. Detail-oriented. Overprotective.
But let's call a spade a spade: it's spying.
So when the.boy and I stopped at a bakery with his family a few weeks ago and his mom came out with a box of almond horns in one hand and a crestfallen look upon her face, I took notice.
I was a little perplexed because almond horns, with their intensely almond flavor, are downright delicious and to have a whole BOX of them?! Should be glee-inducing.
Then I looked a little closer and noticed the $12.99/pound label on the cookies.
Whaaaaatttt?? Does that seem a little bit pricey to anyone else?!?
So I did what any good future daughter-in-law would do: made a mental note to almond horn my Easter cookies.
And I think we were all pretty glad I did, because these are a gem of a cookie. Perfect for cookie dunking, or just for face smashing. I won't judge.
Chocolate-Glazed Almond Horns
Chewy and full of rich almond flavor, these chocolate-glazed almond horns are quite the treat!
Ingredients
8 oz almond paste
2 egg whites, lightly beaten, divided
⅓ cup sugar
3 tbsp almond flour
1 cup sliced almonds
For the glaze
2 tbsp heavy cream
2 tbsp butter, cut into cubes
2 tsp corn syrup
4 oz semisweet chocolate, chopped
Instructions
Line two baking pans with parchment paper. Set aside.
Break the almond paste into pea-sized pieces and then put in the bowl of a stand mixer fitted with the paddle attachment. Mix in 3 tbsp of the egg whites and the sugar until combined. Add in the almond flour and mix until combined.
Split the dough evenly into 12 balls. Pour the almond slices into a large shallow bowl. Put one of the dough balls on top of the almonds and roll it back and forth so that it picks up some of the almond slices, until it is a 2-3-inch log. Place on one of the prepared baking sheets. Shape into a crescent and flatten slightly. Repeat with remaining dough.
Let the dough rest for 30 minutes. Meanwhile, preheat the oven to 375. Whisk 1 tbsp water into the remaining egg whites. Brush over the cookies. Bake for 15-18 minutes, or until golden brown. Let cool completely.
To make the glaze, in a small saucepan, combine the heavy cream, butter and corn syrup, and bring to a simmer. Pour over the chocolate and let rest 1 minute. Stir until the chocolate is melted. Dip the cookies into the chocolate glaze and let sit until hardened.