Raspberry cheesecake streusel bars with a shortbread base that doubles as a streusel topping and and fresh raspberry swirls in every bite.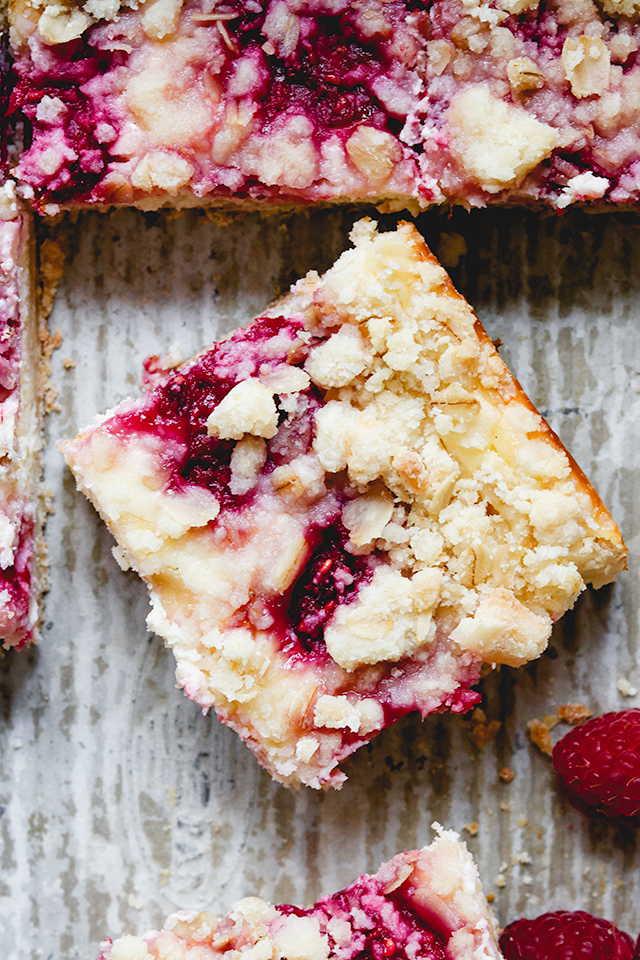 In my most rose-colored version of maternity leave, I envisioned myself having a few hours of hands free time during the endless newborn daytime naps to share all of the recipes I've been stockpiling but just didn't have the energy to post while I was pregnant. In these dreams, baby would sleep in a swing or a stroller or (gasp!) his bassinet without needing my constant snuggles to get a decently long nap.
And while, yes, he does these things on occasion, it is unpredictable as to when or for how long and more often than not, I sit down to do something only for him to wake up five minutes later. 
All that is to say, I have food I'd REALLY LOVE TO SHARE WITH YOU, someday. 
For now, these cheesecake bars will have to suffice.
Everyone always asks if I had cravings during pregnancy and, disappointing to say, I did not. There was a brief aversion to spinach and a general feeling of ennui regarding food overall but in both of my pregnancies I never had that feeling of desperately needing something immediately or I would strangle someone.
However, if I were forced to choose something I wanted more than other things, cheesecake would be it. This was also true for my pregnancy with Remy, resulting in a truly fabulous meyer lemon cheesecake that I really should re-photograph one of these days (aka find an excuse to make again). 
Unfortunately for me, I live with a slew of cheesecake-unenthusiasts and so I held off on making one for as long as I could knowing that there was a real possibility I would be eating it all myself. That is, until the week before I was due to be induced when I said to hell with it all and whipped up a batch of these raspberry streusel cheesecake bars.
Easier than a full-on cheesecake to make (and to eat!), these are comprised of a buttery shortbread crust that doubles as a streusel topping, a simple vanilla bean cheesecake layer, and a raspberry swirl that adds a fruity tartness to an otherwise richly delicious treat. All of the components come together quickly and really compliment each other to make a perfect bite.
The recipe for these comes from Edd Kimber's One Tin Bakes book, which I've been finding a lot of inspiration from lately in part because the recipes generally come together simply and can be baked in (you guessed it) one pan. 
Edd is from the UK, where the book was originally published, so one caveat I would add if you purchase the book is that there are some discrepancies between the metric and volume ingredient measurements given in the book. I always always follow metric (or weight-based) measurements over volume measurements if they are given in a cookbook because they will almost always be more accurate. This recipe in particular had a few inconsistencies, which I've fixed in the recipe below to follow the weight-based measurements (what I used).  
These would be absolutely lovely treats for Mother's Day, which is coming up this weekend (hint hint husband) or any other spring festivities that you find yourself involved with in the coming days. 
They can easily be made a day or two ahead of time and stored in the refrigerator until ready to eat, making them ideal if you want to prep ahead for a gathering or get-together.
Raspberry Cheesecake Streusel Bars
Raspberry cheesecake streusel bars with a shortbread base that doubles as a streusel topping and and fresh raspberry swirls in every bite.
Ingredients
For the streusel
1 cup (225 g) unsalted butter, melted
3 cups (350 g) all purpose flour
1 cup (200 g) sugar
¼ tsp fine sea salt
4 tbsp rolled oats
For the cheesecake
1 lb 4 oz (565 g) full fat cream cheese, room temperature
½ cup sour cream, room temperature
1 cup (200 g) sugar
2 tbsp cornstarch
2 tsp vanilla bean paste
2 large eggs
For the raspberry filling
3 tbsp raspberry jam
10.5 oz (300 g) fresh raspberries
Instructions
For the streusel
Line a 9x13-inch baking pan with parchment paper and set aside.
In a large bowl, whisk together the flour, sugar, and salt. Drizzle in the melted butter and mix with a fork until it starts to form clumps. Pour two thirds of the mixture into the prepared pan and use your fingers or a flat-bottomed cup to press it into a flat, even layer. Place in the freezer for 10 minutes.
Mix the oats into the remaining streusel and place in the refrigerator while you prepare the filling.
Heat oven to 350F.
Bake the crust for 15 minutes, or until just starting to brown. Remove and set aside.
For the cheesecake
Combine the cream cheese, sour cream, sugar, cornstarch, vanilla bean paste, and eggs in a large bowl. Mix together until completely smooth and combined. Pour over the par-baked crust.
For the raspberry filling
Mix the jam with the raspberries, lightly smashing the raspberries as you do so. Dot the raspberry mixture over the cheesecake.
To assemble
Sprinkle the reserved streusel over the top of the cheesecake.
Bake for 35-40 minutes, or until the streusel is lightly browned. Allow to cool at room temperature for one hour, then refrigerate for at least 4 hours before cutting and serving.