A summer salad made with surprisingly addictive marinated sweet peppers, fresh basil, capers, and shards of pecorino cheese.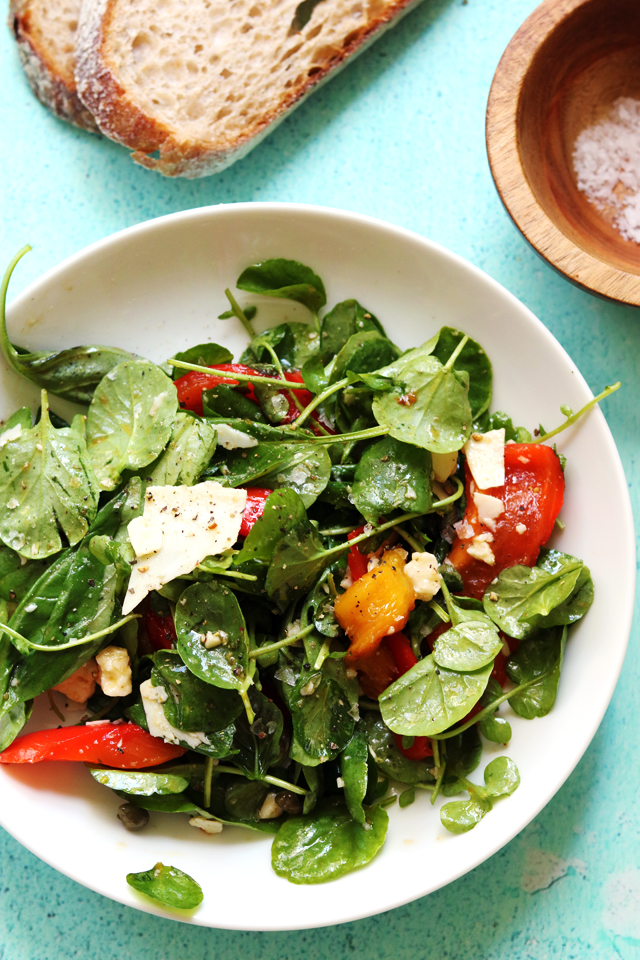 I'm just a girl standing here with a recipe for HOMEMADE MARINATED SWEET PEPPERS asking you to love it.
Part of that involves forgetting everything you thought you knew about roasted peppers, especially the storebought premade jar kind. Not that there's anything overtly wrong with those but once you try these peppers you will quickly realize that there is also not a whole lot of anything right.
Look, you're hearing this from a former storebought roasted pepper enthusiast. Whenever a recipe called for roasting your own peppers I would laugh at it and then go buy a jar because WHO HAS THE TIME?!?!? That's about an extra 40 minutes that I just couldn't afford to lose.
Then I challenged myself to make every recipe in Ottolenghi's Plenty cookbook (because I'm crazy, obvs) and in doing so discovered these peppers and the rest is history. They are packed with SO MUCH FLAVOR that I never knew that roasted peppers could have. It's insane.
Let me just put it out there right now that you can (and should!!!) roast the peppers and get them marinating at least a day before you want to eat them. They only get better with time. The marinade is filled with delicious things like olive oil and balsamic vinegar and garlic and thyme. Simple flavors but they end up soaking into the peppers and making them so rich and wonderful.
Then you can toss them into this fresh and light salad that really lets their flavors shine. Bitter watercress, briny capers, and spunky pecorino really meld well with the deeply sweet peppers. Toss them all together with a bit more olive oil and some of the leftover pepper marinade, then season with flaky sea salt and serve with a LARGE chunk of crusty bread.
Summer dinner is served!!! I also advocate for doubling or, er, tripling the pepper recipe while you're at it because they're also excellent tossed into pasta, burritos, eggs, or a grain bowl. Or just for mindless snacking from the fridge. Been there, done that, would do again.
Marinated Sweet Pepper Salad with Basil, Capers, and Pecorino
A summer salad made with surprisingly addictive marinated sweet peppers, fresh basil, capers, and shards of pecorino cheese.
Ingredients
2 red bell peppers, quartered
2 yellow bell peppers, quartered
8 tbsp olive oil
salt
2 tbsp balsamic vinegar
2 tbsp water
1 tsp muscovado or brown sugar
4 thyme sprigs
2 garlic cloves, thinly sliced
black pepper
4 tbsp parsley, leaves picked from stems
1⅓ cup basil leaves
5 oz watercress or arugula
4 oz mature pecorino or parmigiano-reggiano, shaved
2 tbsp drained capers
Instructions
Heat oven to 375F. Toss the peppers with 2 tbsp of the olive oil and a pinch of salt. Spread on a baking sheet and roast for 35 minutes, or until softened. Pour into a bowl and cover with plastic wrap immediately. Allow to cool.
Once they are cool enough to touch, peel the peppers and cut them into thick strips. Meanwhile, whisk together 4 tbsp of the olive oil, the vinegar, water, sugar, thyme, and garlic. Season to taste with salt and black pepper. Toss the peppers with the marinade and set aside for at least an hour or refrigerate overnight.
To make the salad, toss together the parsley, basil, watercress, drained pepper strips, cheese, and capers. Add the remaining 2 tbsp of olive oil and 2 tbsp (or more, to taste) of the pepper marinade. Season to taste and serve immediately.