Add a little sunshine to your day in the form of this sweet tart meyer lemon cheesecake topped with meyer lemon curd!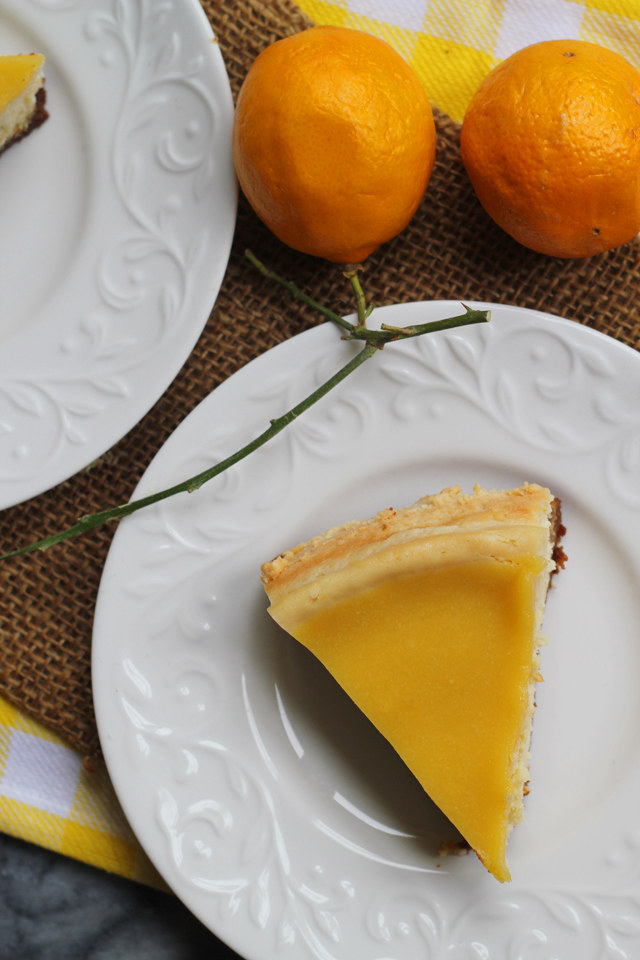 You know, in some ways I kind of feel like I'm failing at this pregnancy thing.
Okay, in one particular way, to be precise: CRAVINGS. And the fact that I have had barely any!!!!!
WHO AM I. I don't even know.
Sure, I spent my first trimester really liking cheese, and I ate a few pickles along the way but there hasn't really been a moment where I felt like I had to have something or else someone would be in danger of losing a limb.
Until the day the.boy came home from his cousin's wedding that I couldn't attend because I had to work all day and told me all about the cheesecake he had for dessert.
If looks could kill.
To say that I immediately dragged him to the nearest grocery store on a cheesecake run – UNDERSTATEMENT.
If I could have convinced him that it was reasonable to take a helicopter across the street so we could get there faster…I would have.
Aaaannnnndddd I've pretty much been craving cheesecake ever since.
But we're not here to today to talk about my pregnancy cravings, we're here to talk about those of my good friend Audra (aka The Baker Chick) who is also pregnant and due just a few weeks before me! She is expecting her second child (a girl!!) in March and I am so excited for her on so many levels, one of which is my (slightly selfish) excitement that our little girls will be so close in age and will obviously be best friends.
In addition to our eerily close-in-proximity due dates, Audra and I also share a love of all things brunch! She has all sorts of fabulous brunchy treats on her blog, like this Braided Lemon Cheesecake Bread and these Brown Butter Cinnamon Rolls, so a few of her blog friends and I decided to get together and throw a Virtual Baby Shower that centered around this universally loved meal!
I'm not sure that cheesecake is officially a brunch food, but I certainly wouldn't turn down a slice no matter when it was served. Especially not when it's velvety smooth with a sweet-tart twist from lemon-sugar and lemon juice in the filling and a luscious lemon curd on top.
It's the stuff that pregnancy cravings are made of – I can attest to that.
Meyer Lemon Cheesecake
Add a little sunshine to your day in the form of this sweet tart meyer lemon cheesecake topped with meyer lemon curd!
Yield:
1 9-inch cheesecake
Ingredients
For the crust
5 oz honey graham bear cookies
3 tbsp sugar
4 tbsp melted butter, warm
For the cheesecake
1¼ cups granulated sugar, divided
1 tablespoon grated meyer lemon zest
¼ cup meyer lemon juice
1½ pounds cream cheese, room temperature
4 large eggs, room temperature
2 teaspoons vanilla extract
¼ teaspoon table salt
½ cup heavy cream
For the lemon curd
⅓ cup meyer lemon juice
2 large eggs
1 large egg yolk
½ cup granulated sugar
2 tablespoons unsalted butter, cut into ½-inch cubes and chilled
1 tablespoon heavy cream
pinch table salt
Instructions
Heat oven to 325F.
For the crust, in a food processor, pulse the cookies until finely ground, about 30 seconds. Add the sugar and pulse a few times to incorporate. With the motor still running, slowly pour in the melted butter. Pulse until the mixture is damp and resembles wet sand. Transfer to a 9-inch springform pan and use a ramekin or small cup to press it evenly into the bottom of the pan. Bake for 15-18 minutes, or until fragrant and golden brown. Remove to a wire rack to cool. When cool, line the bottom of the pan with aluminum foil. Set on top of a baking sheet.
While the crust is cooling, making the filling. In a food processor, process ¼ cup of the sugar with the lemon zest until the sugar is yellow, about 15 seconds. Pour into a bowl and stir together with the remaining sugar.
In the bowl of a stand mixer fitted with the paddle attachment, beat the cream cheese on low to break up slightly, about 5 seconds. Add in the lemon sugar mixture with the mixer running on low. Increase the speed to medium and beat until creamy and smooth, about 3 minutes. Scrape down the sides of the bowl. Add in the eggs, two at a time, mixing well and scraping down the bowl after each addition. Add in the lemon juice, vanilla, and salt, mixing until combined. Add in the heavy cream and mix until just incorporated. Scrape down the sides of the bowl and give the batter a final stir to combine.
Pour the filling into the prepared springform pan. Bake for 55-60 minutes, or until the edges are puffed out and the center jiggles only slightly. Turn off the oven and stick a wooden spoon in the door to prop it open, leaving the cheesecake inside. Allow to cool like this for at least an hour. Transfer to a wire rack and let cool completely to room temperature.
While the cheesecake bakes and cools, make the meyer lemon curd. Heat the lemon juice in a small, nonreactive saucepan until hot but not boiling. Remove from the heat. In a medium bowl, whisk together the egg yolks and the sugar. Whisking constantly, slowly pour the hot lemon juice into the egg-sugar mixture. Return to the saucepan and cook mixture over medium heat, whisking constantly, until it thickens enough to coat the back of a spoon, about 3 minutes. Remove pan from the heat and stir in the cold butter, heavy cream, and salt. Pour onto the top of the cheesecake and spread evenly.
Refrigerate the cheesecake for at least 4 hours and up to 24 hours before serving.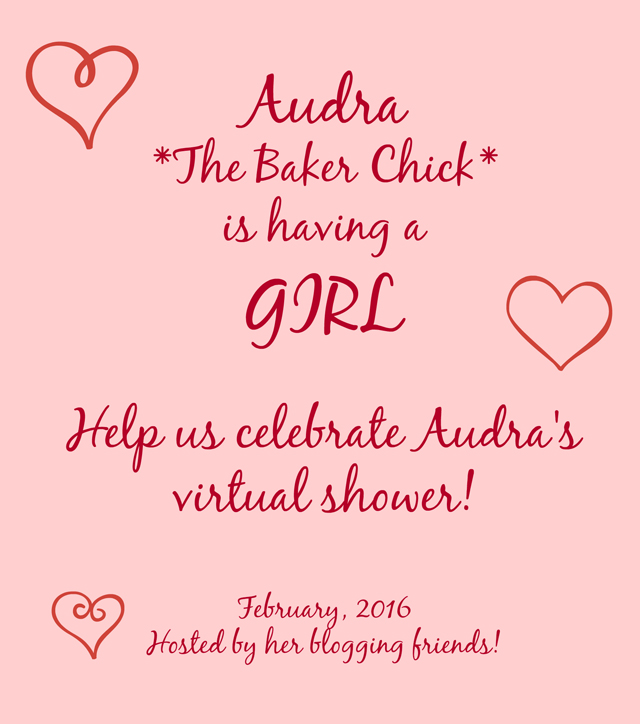 Don't forget to check out the rest of our Audra's Shower menu!
Eggs Benedict Poutine from Warm Vanilla Sugar
Breakfast Quinoa Burrito Bowls from The Spiffy Cookie
Blood Orange Pancakes from Keep It Sweet Desserts
Naked Salted Caramel Layer Cake from Girl Versus Dough
Lemon Poppy Seed Loaf Cake from Steph's Bite by Bite
Berry Cream Cheese Pastry Swirls from Bake or Break