Fancy up your breakfast or brunch with these individually portioned baked egg and red pepper galettes.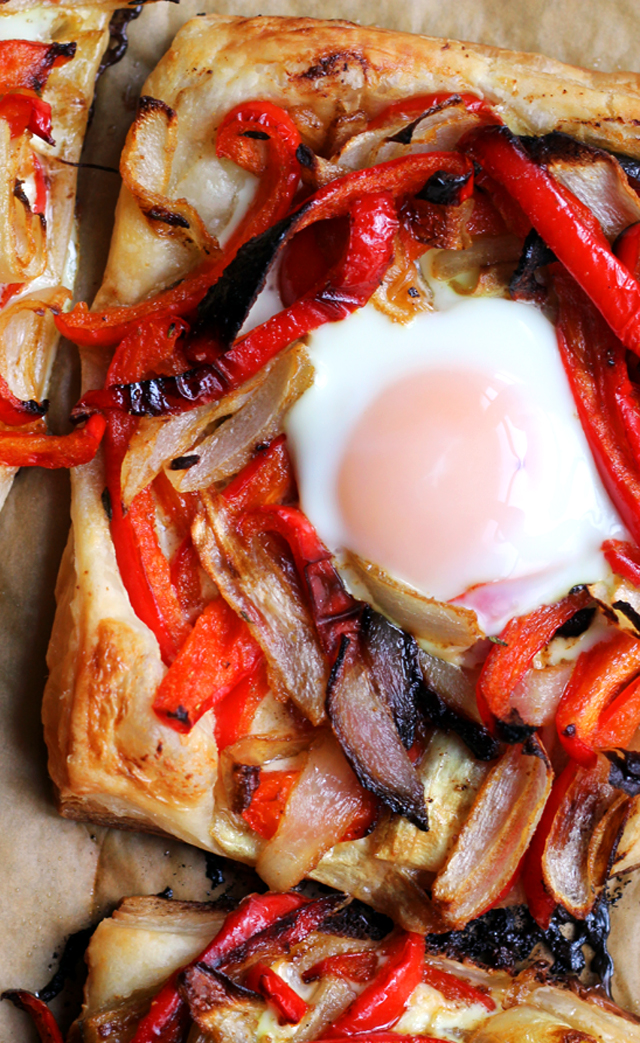 My birthday was last week!!
And I even had the DAY OFF.
And by "day off" I mean "had the day off so that I could study for my Medicine rotation SHELF (final) exam", which basically means it was a "day off" but on opposite day.
Total. Buzzkill.
The good news is that my final exam is OVER and so this weekend I've had what we in our 3rd year of medical school call a "golden weekend", which is basically to say that it's the weekend in-between rotations so sit back and let the good times roll because there is not even a single ounce of studying that needs to be done.
Hallelujah.
The even BETTER news is that yesterday morning I finally got to celebrate FOR REALZ. Brunch-style.
A few friends, their babies, good food, and SO MANY sips of tea – it's the only way to do it!
Since I was just coming off of a sort of crazy hectic eight weeks, I knew I wanted to keep the menu simple, classy, and most importantly DELICIOUS.
Front and center at the celebrations were these baked egg and red pepper galettes, which are so easy to make it's almost laughable, but also so tasty that you'll be wondering why you haven't spent all the weekend brunches of your life eating them.
Here's the low-down: puff pastry base topped with a mascarpone schmear topped with coriander- and cumin-spiced roasted red peppers and onions topped with RUNNY YOLK.
Sigh. Yes.
Followed by sage and rosemary skillet-roasted potatoes and whole wheat blueberry muffins (also Sigh. Yes.).
Whenever I host a party, I usually find myself rushing around at the last minute (and as my guests walk in the door) trying to get everything ready, but that was not the case this time! Pretty much everything could be prepped ahead of time so that when my friends arrived, I could give them my full and undivided attention…which left lots of time for catching up, gossiping, and good old-fashioned girl talk. We talked babies, nannies, weddings, and everything in-between. It felt so good to not have any med school stuff to worry about so I could just relax and enjoy their company. If only we could do this every weekend…
One of the best parts was that after eating, we basically sat around on the couch, sipping our respective mugs of tea just enjoying each other's company and the lazy Saturday feeling that was in the air. Having a selection of some of my favorite new Lipton black and herbal tea varieties on hand really added to the mood.
The truth is, I've always been a Lipton tea gal, and I love how they've expanded their selection to include all sorts of bold and stimulating flavors like the Berry Hibiscus and Irresistible Lady Lipton seen above. I found the herbal teas to go especially well with these galettes (and the zen ambiance).
The time spent with my friends combined with a morning of good drink and good food were exactly the kind of sustenance I needed to both embrace my 48 hours of freedom and prepare myself for the 8 weeks of surgery I have ahead of me. I daresay you can find a similar space for them in your weekends, too.
Baked Egg and Red Pepper Galettes
Fancy up your breakfast or brunch with these individually portioned baked egg and red pepper galettes.
Ingredients
4 red bell peppers, seeded and cut into ½-inch strips
2 medium onions, cut into ¾-inch wedges
4 thyme sprigs, leaves removed
1½ tsp ground coriander
1½ tsp ground cumin
6 tbsp olive oil
1 lb all-butter puff pastry
4 tbsp mascarpone
4 large eggs
salt and black pepper, to taste
Instructions
Heat oven to 400F.
In a large bowl, toss together the red peppers, onions, thyme leaves, coriander, cumin, and olive oil. Spread on a parchment-lined baking sheet and sprinkle with salt and black pepper to taste. Bake for 35 minutes, or until soft and sweet and slightly crispy. Remove from the oven and taste for seasoning. Set aside.
Roll out the puff pastry into a 12-inch square. Cut into 4 equal squares. Spread 1 tbsp of the mascarpone over the top of each square. Arrange the roasted vegetable mixture equally on top of each square, leaving the borders clear and a shallow well in the center for the egg.
Bake for 14 minutes. Remove from the oven and crack an egg into the center of each well on the pastries. Return to the oven and bake for another 7-9 minutes, or until the eggs are just set. Serve warm.
Notes
Adapted from
Jerusalem: A Cookbook
I was selected for this opportunity as a member of Clever Girls and the content and opinions expressed here are all my own.