These salted butterscotch blondies are fudgy, chewy, and everything you'd want in this classic treat!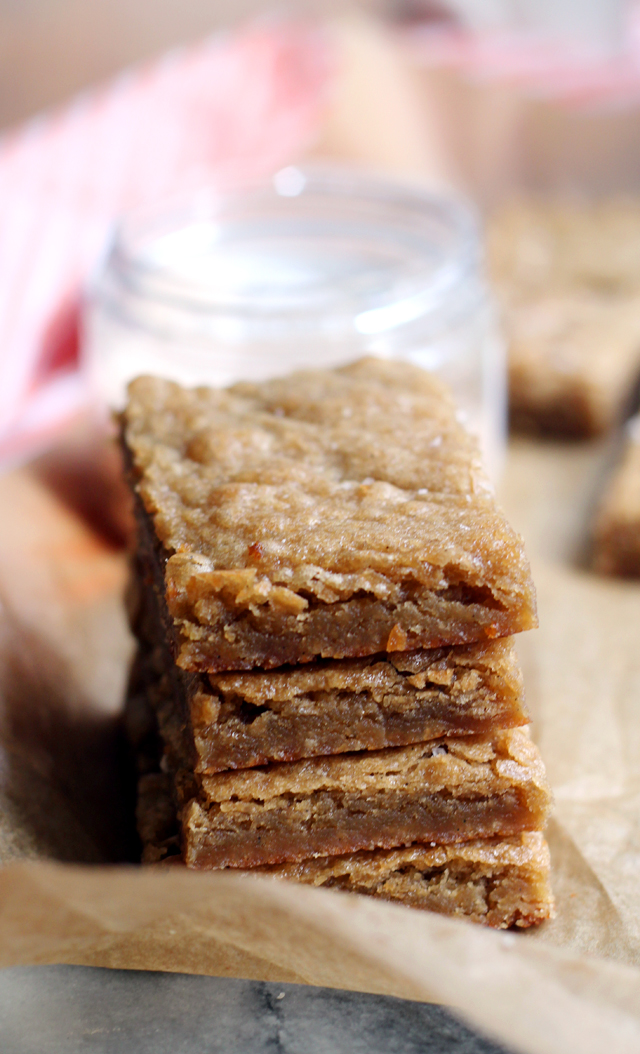 The training starts NOW.
First and foremost, for the marathon that is first baby Labor & Delivery (obviously), but, perhaps more importantly, ALSO for the madness that is The.Boy's family's annual Easter Egg Hunt.
I have a two year winning streak to uphold and I refuse to let anything (including an extra large baby bump) get in my way.
As an aside, if you would like to see a multitude of extremely grown individuals running around my in-laws' front lawn in search of Easter eggs with a level of maturity that barely surpasses that of five year old children, then feel free to come to Marlboro NJ on Easter Sunday.
It's a sight.
And don't even get me started on the marathon that is Easter baking!! Honestly, I think Easter has way more baking traditions for me even than Christmas. Strange, but true.
There's the traditional Italian Easter bread and the Easter grain pie and the pizza rustica and the delicious little honey balls that I can never remember the name of…not to mention the gazillion Greek Easter food traditions that I've gotten to inhale with reckless abandon since marrying into Greek culture.
It's all. just. so. good.
And on top of that, there are Easter blondies. AKA ANYTIME BLONDIES!!
But they are, in my opinion, extra perfect for Easter because they travel well, they are great for crowds, and somehow the fact that they're so delectably vanilla and deceptively light makes them seem perfect for spring. I can't really put my finger on it, but it's just true.
Everyone probably has a recipe for blondies at this point, and I have tried quite a few myself over the years, but this is the recipe that I keep coming back to as my own personal favorite and BEST. They are ridiculously simple, even more absurdly fudgy/chewy/delicious, and also so amenable to adaptation.
The batter for these comes together in less time than it takes to preheat your oven and can be mixed up in just ONE BOWL. (<–LOVE THAT.)
It also requires the most basic of basic ingredients that you are absolutely guaranteed to have on hand at all times. And if you don't have them on hand, well, you should.
All you need is butter, brown sugar, eggs, vanilla bean paste or extract, salt, and, of course, FLOUR. Bob's Red Mill unbleached white all-purpose organic flour, to be precise! Look, there are a lot of flour brands to choose from out there. I get that. But here are some reasons why I reach for Bob's Red Mill whenever possible:
It is freshly milled from organic hard red wheat and is not enriched with any additives. Knowing that it comes from such high quality ingredients is so important to me.
It is used by professional bakers EVERYWHERE to make everything from well-textured loaves of bread to light and airy baked goods to (as you see here) fudgy blondie heaven.
It makes EVERYTHING. TASTE. GOOD.
Want to get some Bob's Red Mill into your own baking? Check out these coupons to get a discount on your next Bob's Red Mill purchase!
Salted Butterscotch Blondies
These salted butterscotch blondies are fudgy, chewy, and everything you'd want in this classic treat!
Ingredients
8 oz butter, melted
2 cups brown sugar
2 large eggs
2 tsp vanilla bean paste
2 pinches kosher salt
2 cups Bob's Red Mill All Purpose Flour
flaky sea salt, to garnish
Instructions
Heat oven to 350F. Line a 9x13-inch baking pan with parchment paper or aluminum foil and grease. Set aside.
In a large bowl, whisk together the melted butter with the brown sugar until smooth. Mix in the eggs and vanilla bean paste until well combined. Stir in the salt, followed by the flour, mixing until just combined. Pour the batter into the prepared baking pan, spreading into an even layer. Bake for 15-20 minutes, or until the middle is just barely set.
Remove from the oven and let cool in the pan on a wire baking rack. Sprinkle with sea salt before serving.
Notes
Adapted from
How to Cook Everything: Simple Recipes for Great Food
I was selected for this opportunity as a member of Clever Girls and the content and opinions expressed here are all my own.