A classic margherita pizza made with heirloom tomatoes, fresh basil, and buffalo mozzarella.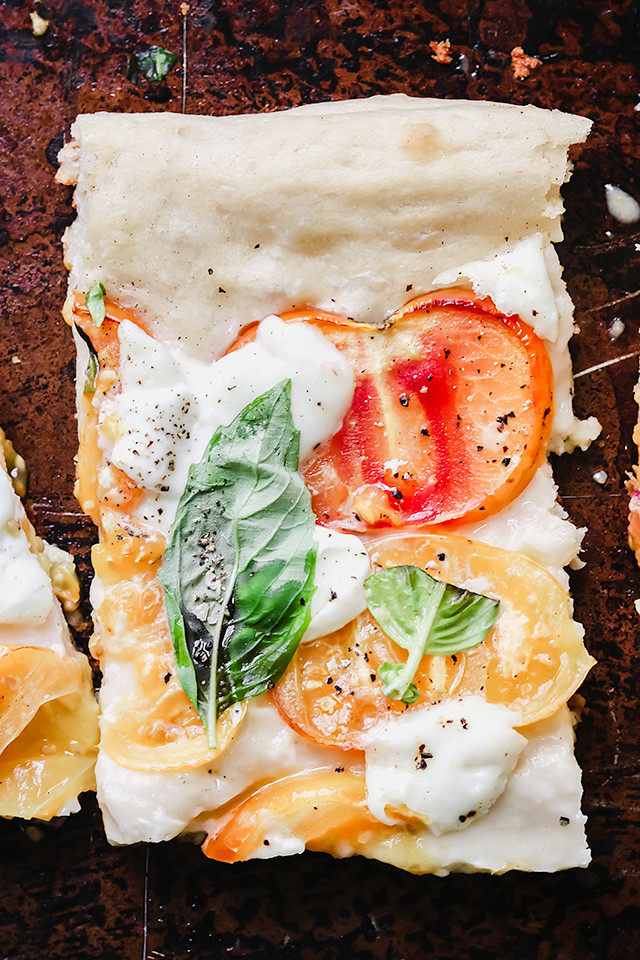 Back at the beginning of quarantine when it seemed like we were never going to be able to buy groceries again, while my husband was in full on panic mode and begging me to stockpile all the things, I was like "It will be fine, I'll just make EVERYTHING from scratch if we need to".
Clearly I was very (overly) confident in not only the size of my flour stash but also that I would have the energy and/or ambition to do anything other than just survive for the first few weeks.
Let's just say it's a good thing it never came to that because I don't know what we would have done!
I don't know if I was shell shocked or depressed or just plain scared, but during the thick of things I found it very hard to do anything productive. It's gotten better, presumably as I've gotten used to this 24/7 work/mom gig that I've got going on (or I've just gotten more comfortable with sticking my child in front of a screen for the sake of my mental health), but still if I had to do everything I'm doing PLUS make all the food that we consume completely from scratch…I'd go insane. For sure.
Also, we did NOT have enough flour. Let's just make that clear.
Pizza was one of the (many) foods that I outsourced during all of this, but recently I've found my motivation to start making it again!
From scratch!
There is something kind of relaxing about sticking your hands into a ball of dough, especially with this recipe, which is completely no-knead and requires only a few leisurely folds over the course of a couple of hours, yet still produces the most flavorful, chewy (in a good way) dough that I've ever encountered.
For my entry back into the world of homemade pizza, I went with a classic margherita pizza.
One of my struggles with margherita toppings in the past has been that as it melts, the cheese becomes super watery and leaks liquid everywhere making for a very soggy dough. This margherita technique, which comes from the Mastering Pizza cookbook, has you add the cheese after cooking the crust so that the retained heat emanating off the cooked pizza melts it just enough to make it gooey but not so much that it separates. If you're using a dried mozzarella or other cheese, then you can just add it to the dough before cooking as usual, but this method is great for working with fresh cheeses.
Heirloom tomatoes are just starting to come into season and I love their unique colors and flavors here, but if you can't find any then regular old tomatoes work just as well. A drizzle of good olive oil and a sprinkle of flaky sea salt and black pepper just before eating tie everything together and make this pizza extra special.
Heirloom Tomato Margherita Pizza
A classic margherita pizza made with heirloom tomatoes, fresh basil, and buffalo mozzarella.
Ingredients
For the pizza dough
400 grams (1? cups warm water)
4 grams (1¼ tsp) active dry yeast
500 grams (3?) cup bread flour
15 grams (2½ tsp) fine sea salt
For the pizza toppings
1½ lb heirloom tomatoes, cored and sliced into ¼-inch thick slices
¼ cup fresh basil leaves
12 oz buffalo mozzarella cheese, torn into bits
extra virgin olive oil, for drizzling
Maldon sea salt
freshly ground black pepper
Instructions
For the pizza dough
Mix together 350 grams (about 1.5 cups) of the warm water and the yeast in a large bowl. Let it sit for at least 5 minutes or until the yeast begins to grow and bubble, and the water becomes foamy. Add the flour to the water/yeast mixture and stir until it comes together and all of the flour has been incorporated. Cover with plastic wrap and rest at room temperature for 30-40 minutes.
Next, fold the dough. To do this, wet one of your hands and dig it under the bottom of the dough, scooping it from the side (between the dough and the bowl). Stretch and fold that piece of the dough up and over itself onto the center of the dough. Rotate the bowl a quarter turn and repeat until you have gone 360 degrees and are back where you started. Cover again with plastic wrap and rest for another 30-40 minutes.
Whisk together the salt and the remaining 50 grams (~3 tbsp) warm water. Pour this over the top of the dough. Repeat the stretch-and-fold method above, trying to incorporate as much water as possible into the dough. To do this you will likely need to go around for at least 1-2 more 360 turns and even then some of the water may still rest at the bottom of the bowl. Cover again and rest for 30-40 minutes.
Wet your hand and fold using the above method one last time, doing only one 360 degree turn, this time being more gentle so as not to deflate the bubbles that are starting to form. Cover the bowl with plastic wrap and let it rest in the refrigerator for 12-36 hours.
When you are ready to make the pizza, let the dough come to room temperature for at least 1 hour before baking.
For the pizza
Heat oven to 500F with a baking steel or pizza stone in the oven if you have one.
Grease a half sheet pan with olive oil and spread the dough until it reaches the edges of the pan, nudging it with your fingers, trying as much as possible not to deflate all of the bubbles.
Arrange the tomatoes over the pizza dough, overlapping them slightly. Bake for 10 minutes. Rotate the pan and then bake for another 10 minutes, or until puffed and golden on the edges.
Remove the pizza from the oven and scatter the basil and mozzarella on top immediately. Allow to rest for 5 minutes to allow the cheese to melt. Drizzle on more olive oil and season to taste with salt and black pepper. Cut into squares and serve.