Give zucchini a makeover with this big savory, pasta-filled pancake! You won't even realize you're eating your veggies with every bite.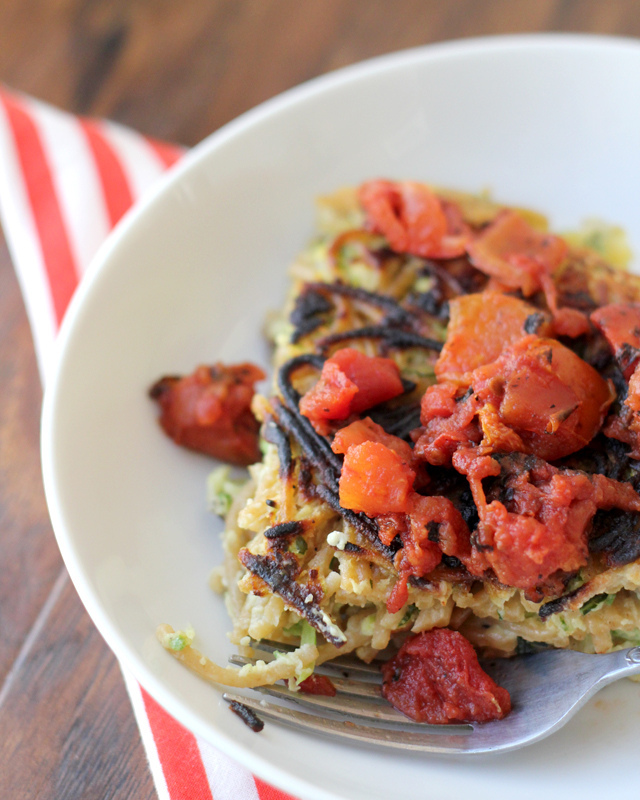 During our 16 MILE LONG RUN this weekend (in which we miraculously did not kill each other), the.boy turned to me and asked, "So when are you going to start cooking more carbs?"
Because obviously he lives a life of deprivation. ::eye roll::
My gut instinct response to that was to laugh because, seriously?
He eats carbs at every meal. And sometimes in between meals. And often in-between in-between meals.
So I'm not really sure how we could incorporate "more" into such a dietary regimen.
But if there's one thing I've learned in all my years of marathon running, it's that ridiculing someone who has been on their feet for two hours is probably never a good life plan (especially not when you live with the aforementioned individual).
So I just said, "Of course, sweetie. Whatever you say."
And then went home, put pasta in a fritatta and called it carb loading.
And since I couldn't exactly just give into him wholeheartedly (I do have a reputation to uphold, after all), I threw in some zucchini and greek yogurt. For a little bit of health and extra protein and big summer flavor.
A certain someone was quite skeptical at first, but between the bits of juicy cheesy zucchini bites and the crispy pasta outsides (the.best), I think we were both a bit smitten. It really is so great when compromise can taste so good.
One year ago…Salted Caramel Chocolate Shortbread Bars
Two years ago…Vegan Mango Banana Muffins with Crystallized Ginger, Spelt Berries with Roasted Pepper Sauce
Three years ago…Pennette with Summer Squash and Ricotta
Four years ago…Blueberry Muffin Cake
Zucchini Angel Hair Pancake
Give zucchini a makeover with this big savory, pasta-filled pancake! You won't even realize you're eating your veggies with every bite.
Ingredients
3 cups shredded zucchini
1 tsp salt, divided
8 oz angel hair pasta, broken into 3-inch pieces
1 14 oz can fire-roasted diced tomatoes
1½ oz all purpose flour (~ ⅓ cup)
⅓ cup nonfat Greek yogurt
¼ cup grated parmesan cheese
1 shallot, minced
1 tbsp chopped fresh basil
1 tsp chopped fresh oregano
½ tsp baking powder
½ tsp black pepper
2 large eggs, lightly beaten
1 tbsp butter
Instructions
In a colander, toss zucchini with ½ tsp salt. Place over a few paper towels and let drain for 20 minutes. Press zucchini between paper towels (or use this awesome OXO Good Grips Adjustable Potato Ricer).
Cook the pasta according to package instructions.
Bring the fire roasted tomatoes to a simmer in a small saucepan. Keep warm.
In a large bowl, whisk together the flour, greek yogurt, parmesan cheese, shallots, basil, oregano, baking powder, black pepper, remaining ½ tsp salt, and eggs until well combined. Stir in the zucchini and pasta.
Melt the butter in a large nonstick skillet over medium-high heat. Add in the zucchini/flour mixture and press down to really flatten the pancake. Cook for 5 minutes or until the bottom is browned. Turn the pancake onto a large plate and then slide it back onto the skillet, uncooked side down. Cook for another 5 minutes or until the bottom is now lightly browned. Cut into 8 wedges and serve with the tomatoes.
Nutrition Information
Serving size:
¼ of recipe