Vanilla is NEVER boring, but especially not in these vanilla shortbread cookies with white chocolate ganache filling.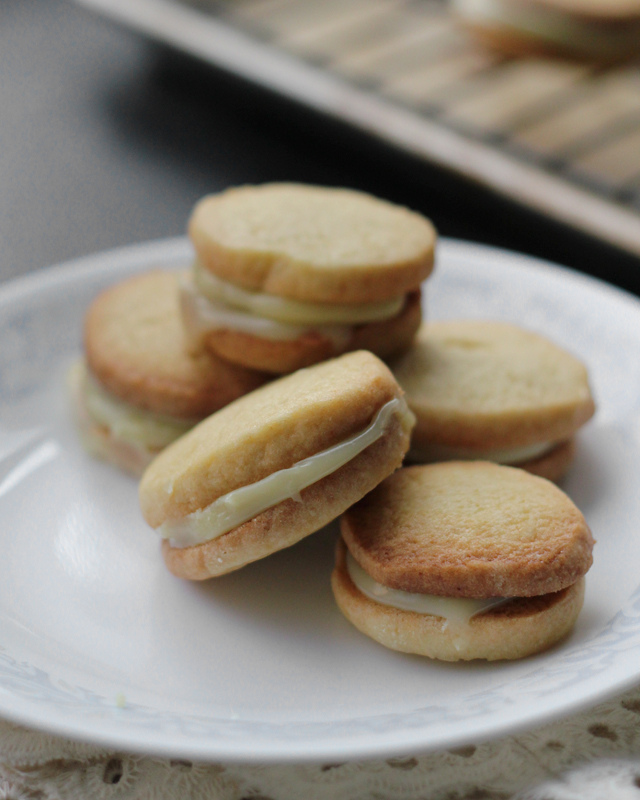 Let's eat ALL THE COOKIES.
That's sort of what I felt like doing after making these. Just absconding with them, into the night.
No one would need to know.
It's what I felt like I deserved after spending an hour trying to fill them with not yet thickened and cooled white chocolate ganache that proceeded to slip and slide all over the place, sending the tops of these cookie sandwiches in every which way other than directly on top of their matching bottom, which is where I'd placed them.
Don't be like me. Wait for your ganache to cool. It will give you far less cookie stress.
That being said, even when everything goes smoothly, after one bite you'll probably still want to hide these from your significant other/everyone you know, because this is one of those situations where sharing is not caring (for yourself).
The cookies themselves are buttery in the best possible way and the white chocolate ganache is, well…white chocolate ganache. Smash them together and…mmmm. Let's just say it's a beautiful thing.
**The winner of my Unilever ice cream giveaway, as chosen by a random integer generator, is entrant number 66 – Susan Christy! Susan, I'll be emailing you!!
One year ago…Summer Potatoes Stewed with Eggplant, Peppers and Olives
Two years ago…Pasta with Tomato-Peach Sauce, Summer Vegetable Stir Fry with Quinoa
Three years ago…Double Chocolate Layer Cake
Four years ago…Greek Caprese Pasta Salad
Vanilla Creme Cookies
Vanilla is NEVER boring, but especially not in these vanilla shortbread cookies with white chocolate ganache filling.
Yield:
24 cookie sandwiches
Ingredients
For the filling
8 oz white chocolate, chopped
⅓ cup heavy cream
For the cookies
2 cups all purpose flour
½ tsp salt
¼ tsp baking soda
¾ cup unsalted butter, room temperature
½ cup sugar
1 tbsp vanilla
1 large egg plus 1 large egg yolk
Instructions
Make the filing first. In a medium microwaveable bowl, combine the white chocolate and the cream. Microwave in 30 second intervals, stirring after each one, until white chocolate is totally melted. Let cool and thicken for about 5 hours at room temperature or an hour in the fridge, stirring often.
For the cookies, whisk together the flour, salt, and baking soda.
In a stand mixer fitted with a paddle attachment, cream together the butter, sugar and vanilla until creamy, about 3 minutes. Beat in the egg until it is well blended. Beat in the egg yolk. Mix in the flour at low speed, until just incorporated.
Turn dough onto a lightly floured work surface. Split it in half. Roll each half into a log about 8 inches long. Wrap each in plastic wrap and refrigerate until firm, at least 2 hours.
Preheat oven to 350. Line 2 baking sheets with parchment paper.
Slice the chilled dough into rounds that are slightly less than ¼ inch thick (there should be about 48 total). Place about 1 inch apart on a baking sheet. Bake until cookies are firm and just starting to turn golden out the outsides, 17-20 minutes, rotating cookie trays once halfway through.Let cool on baking sheets for 2 minutes and then transfer to a wire rack to cool completely.
Once completely cooled, spread 2 tsp of the white chocolate creme filling onto the bottom of each of half the cookies. Top with a second cookie and press gently so that they stick together.
Notes
Adapted from
Pure Vanilla: Irresistible Recipes and Essential Techniques
Nutrition Information
Serving size:
1 cookie sandwich

BLOGGER DISCLOSURE:
Posts may include Amazon.com affiliate links. Eats Well With Others earns a few cents on the dollar if a reader purchases an item linked in a post. However, I only post products that are personal recommendations and am not being directly compensated by any of these companies. I am just sharing what I use, buy and like.