Both apple butter and grated apple add rich sweet flavor to this double apple bundt cake with lemon glaze.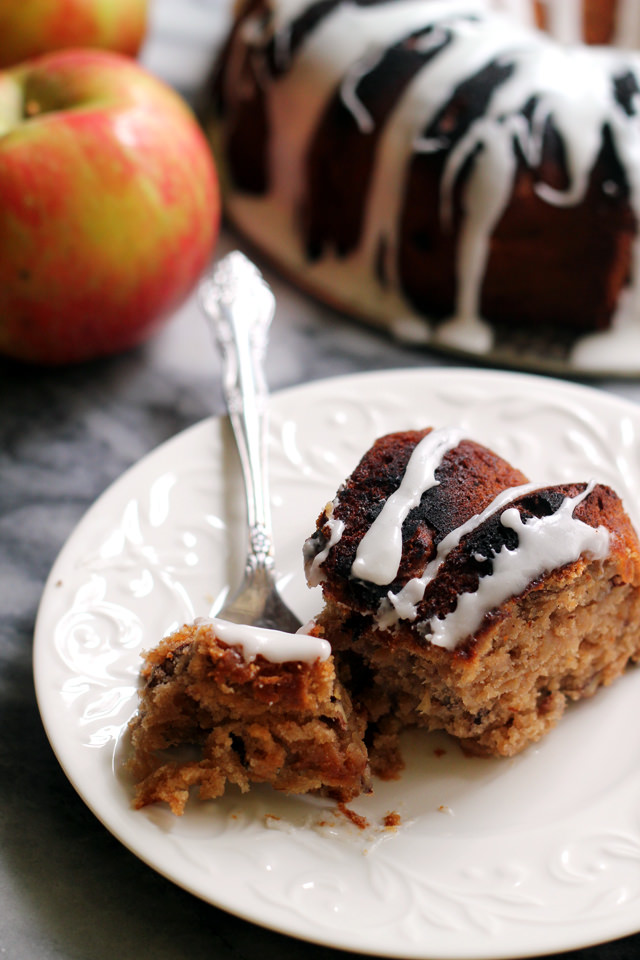 An apple a day they say?
Well there are TWO in this cake, and that's not even counting the apple butter!!
We are well on our way to a life of eternal health. I can taste it.
I am alllllll about the apple right now.
Still can't quite bring myself to mention the "P" word, but give me a few weeks. Time heals all wounds and readies all taste buds.
(At least I hope so!)
But apples, I'm ready for.
This is actually not my first time on the apple cake train. It's not even my first time this year!
But this is definitely the most appliest of apple cakes I've ever made. It gets double the apple flavor from both apple butter and grated apples, so the resulting apple flavor is just WOW.
In.Your.Face.
It's also incredibly moist (<–sorry), perfectly spiced, and the kind of cake you keep wanting "just one more bite of".
Until half the cake is gone…but at that point you've pretty much eaten an ENTIRE APPLE, so in my book, you're ahead of the game.
We're gonna live forever…one apple cake slice at a time.

Double Apple Bundt Cake with Lemon Glaze
Both apple butter and grated apple add rich sweet flavor to this double apple bundt cake with lemon glaze.
Ingredients
For the cake
2 cups all purpose flour
2 tsp baking powder
½ tsp baking soda
½ tsp ground cinnamon
¼ tsp grated nutmeg
¼ tsp ground ginger
¼ tsp salt
10 tbsp unsalted butter, room temperature
1½ cups sugar
2 large eggs
1 cup apple butter
2 medium apples, peeled, cored, and grated
1 cup pecans, chopped
For the glaze
1 cup confectioner's sugar
3-4 tbsp fresh lemon juice
Instructions
Heat oven to 350F. Grease a 12 cup Bundt pan.
In a large bowl, whisk together the flour, baking powder, baking soda, spices, and salt.
In the bowl of a stand mixer fitted with the paddle attachment, beat together the butter and sugar on medium speed, scraping down the bowl as necessary. Beat for 3 minutes, or until smooth and thick. Add the eggs one at a time, beating well after each addition. Reduce the mixer to low and beat in the apple butter. Still on low speed, add in the grated apples and mix until blended. Add the dry ingredients, mixing until just combined. Fold in the nuts. Spoon the batter into the Bundt pan and smooth with the spatula.
Bake for 50-55 minutes, or until a knife inserted comes out clean. Transfer the pan to a rack to cool for 5 minutes, then unmold the cake, allowing to cool completely.
In a small bowl, whisk together the sugar and the lemon juice. Drizzle over the top of the cake and let stand until the icing dries, just a few minutes.
Notes
Adapted slightly from
Baking: From My Home to Yours