Summery ravioli with zucchini, corn, and a crispy buttery pine nut crunch – a new summer weeknight staple!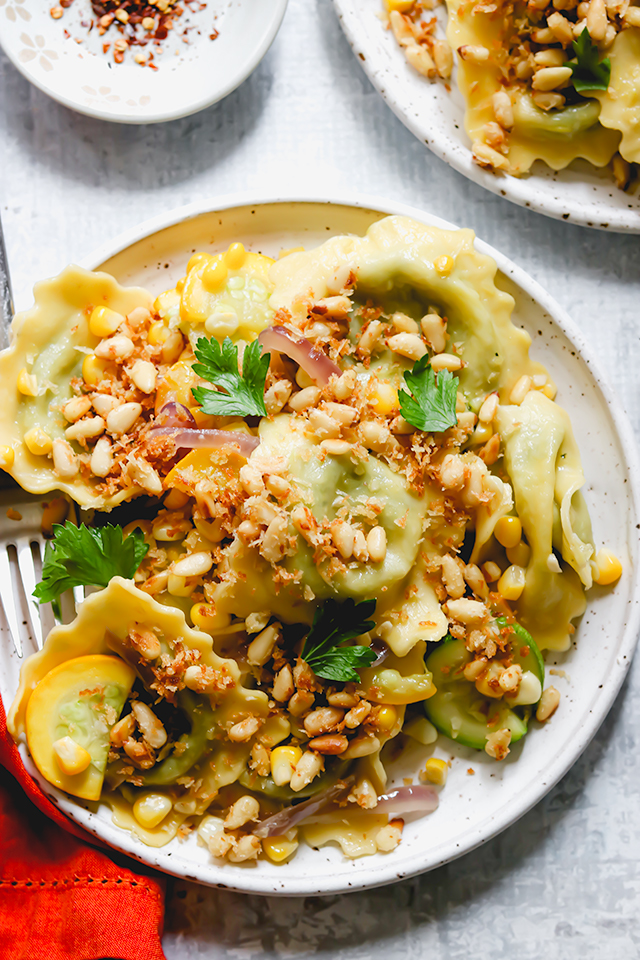 Here we are. Mid-August, fully in the thick of summer, the world seems like it's exploding (again) but farmer's markets are actually bursting at the seams with all of their goodies and I am here for it.
I won't tell you how many tomatoes I bought in my last run because you would send a search party, but it was a lot and that's not even mentioning all of the zucchini, corn, berries, sour cherries, I could go on.
Then to distract my family from the lack of fridge / living space, I stuffed their faces with this pasta and no one was mad! Or, if they were, they were too busy eating to tell me. Win/win?
I can't even blame them because this summer veggie-loaded pasta with cheesy ravioli and a buttery pine nut crunch topping is completely delicious and 100% addictive.
THIS RECIPE IS:
(most important, above all) EASY
kid-friendly
100% vegetarian (and easily vegan if you use a dairy-free ravioli and swap the butter out for olive oil)
equal parts vegetables : pasta (so, healthy-ish?)
completely adaptable to whatever farmer's market / CSA goodies you're packing!!
It's also the latest love of my life, so.
LET'S TALK ABOUT HOW IT GOES DOWN
Starting with my absolute favorite component, which is the PINE NUT CRUNCH. I mean, I literally stood at the counter eating it from the bowl, moaning in unabashed pleasure. IT IS INSANE.
And so so easy. 
It starts with a bit of olive oil in a pan (as do most amazing things), which is used to toast up some pine nuts and panko. The pine nuts are inherently buttery and, paired with the panko, have the perfect crispy crunchy mouth-feel. 
Out of the pan, toss them with some parmesan cheese and a pinch of salt, and just try not to shovel it all into your mouth before dinner. I dare you.
While all that goodness is cooling, prepare the pasta and the veggies.
I used a spinach ravioli, which seemed like the perfect way to sneak even more nutrition into my child, but really any stuffed pasta will do.
The veg component is comprised of a whole lot of garlic, tender red onion slices, summery sweet corn, and an actual boatload of zucchini. They're sauteed in more olive oil and a pat of butter, and then tossed with the cooked ravioli.
The finished dish is topped with spoonfuls and spoonfuls of the pine nut crunch. Some might say it's an excessive amount, BUT THIS IS SUMMER PEOPLE. The only rule is there are no rules, so let's just eat up and be merry.
Ravioli with Zucchini, Corn, and Buttery Pine Nut Crunch
Summery ravioli with zucchini, corn, and a crispy buttery pine nut crunch - a new summer weeknight staple!
Ingredients
For the pine nut crunch
1 tbsp olive oil
4 oz pine nuts
2 oz panko
3 oz grated parmigiano reggiano
pinch of salt
For the pasta
2 (10 oz) packages fresh ravioli
2 tbsp olive oil
3 tbsp butter
5 garlic cloves, minced
1 red onion, thinly sliced
2 zucchini, halved lengthwise and thinly sliced into half moons
2 ears of corn
kosher salt, to taste
Instructions
For the pine nut crunch
Heat the olive oil in a medium skillet over medium heat. Add the pint nuts and panko. Saute until the pine nuts are golden and the panko has crisped up, stirring frequently.
Pour into a small bowl and toss with the parmigiano reggiano. Season to taste with salt. Set aside.
For the pasta
Bring a large pot of salted water to a boil. Cook the ravioli according to package directions. Drain and set aside.
Meanwhile, heat the olive oil and butter in a large skillet over medium heat. Once hot, add the garlic and red onion to the pan. Saute for 5-6 minutes, or until the onion is translucent. Add the zucchini to the pan and saute for another 4-5 minutes, or until starting to become tender. Stir in the kernels from the 2 ears of corn. Saute for another 4 minutes or until the corn is tender and the zucchini is completely cooked through. Season to taste with salt.
Pour the zucchini and corn mixture over the drained pasta. Toss to combine.
Divide among serving bowls and top with the pine nut crunch just before serving.
Notes
An Eats Well With Others Original