A simple shaved brussels sprout salad made with a creamy creme fraiche dressing and topped with crispy shallots.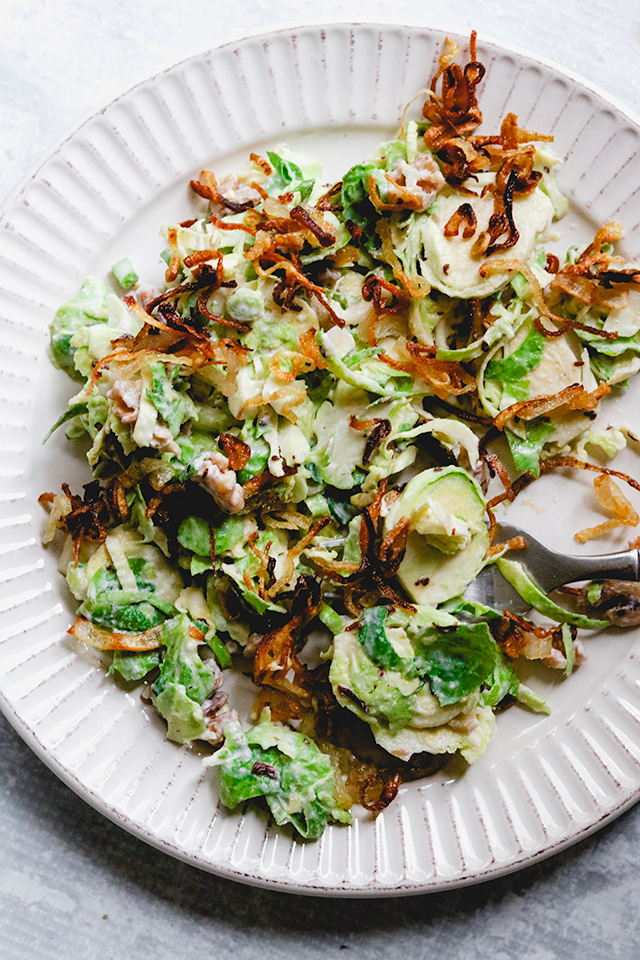 Maybe asking you to get excited about a brussels sprout salad with there is pie and green bean casserole and marshmallow-topped sweet potatoes (and – be honest – MORE PIE) to be eaten sounds like a lot but hear me out.
This is the perfect (easy! make ahead!) addition to your Thanksgiving table. It brings a clean refreshing bite to an otherwise insanely decadent meal and is such a nice pop of green on the table.
Okay, here we are converting brussels haters over to the dark side again with our friend the SHAVED BRUSSELS SPROUT. They have the perfect amount of crunch and, especially after a brief soak in some salted cold water, minimal amounts of bitterness. Bonus that they somehow taste even better after marinating in their dressing for an extended period of time, so prepping this ahead is a welcome (recommended, even!) course of action.
This recipe is from Nik Sharma's The Flavor Equation cookbook, which was one of my favorite purchases of 2021. Nik uses his background in chemistry to pair complementary flavors together in a way that just makes biochemical sense. It's pretty incredible and takes food science to a really fun (and tasty) level.
Here, brussels sprouts are paired with a refreshingly creamy creme fraiche based dressing and toasted walnuts for even more crunch. They're topped with crispy shallots, a smattering of fresh mint, and aleppo pepper for a hint of spice. The combination of the mint with the dressing creates a cooling sensation on the tongue that offsets any remaining bitterness in the sprouts or the walnuts. 
The only place I strayed from Nik's recipe is in how I prepared the crispy shallots. Whereas Nik has you roast them in the oven, which takes around 40 minutes, I decided to use a little extra oil and just fry them on the stovetop. Not only was this much quicker but it also freed up oven space and we all know how valuable that is at holiday time. 
If prepping this ahead, I recommend ensuring that it comes to room temperature before serving and topping it with the crispy shallots, mint, and aleppo pepper just before eating.
Shaved Brussels Sprout Salad with Crispy Shallots
A simple shaved brussels sprout salad made with a creamy creme fraiche dressing and topped with crispy shallots.
Ingredients
3 shallots, very thinly sliced
¼ cup olive oil
fine sea salt
1 lb brussels sprouts
1¾ oz (50 g) chopped walnuts
½ cup thinly sliced scallions
1 tbsp chopped mint leaves
1 tsp aleppo pepper flakes
For the dressing
2 garlic cloves, peeled and grated
1 cup creme fraiche
2 tbsp fresh lemon juice
freshly ground black pepper
fine sea salt
Instructions
Heat the olive oil in a medium sauce pan over medium-high heat. Add the shallots to the pan and fry until crispy and golden brown, about 5 minutes. Remove to a paper towel-lined plate and sprinkle with sea salt. Set aside,
Meanwhile, trim and finely shred the brussels sprouts using the shredder attachment of a food processor (or thinly slice by hand). Place in a bowl of salted ice-cold water to rest for 10 minutes.
Toast the walnuts in a small skillet over medium-low heat until brown and toasty, about 4-5 minutes. Set aside.
To assemble, drain the Brussels sprouts and spread them out on a paper towel-lined baking sheet to absorb any excess liquid. Transfer to a large mixing bowl.
Add the scallions, walnuts, and half of the creme fraiche dressing (recipe below) to the bowl. Toss to coat evenly, adding more dressing to taste.
Transfer to a large serving bowl and top with the mint, aleppo pepper, and crispy shallots. Serve with the remaining dressing on the side.
For the dressing
In a medium bowl, whisk together the garlic, creme fraiche, and lemon juice. Season to taste with salt and black pepper.