Jumbo stuffed shells filled with a mix of summer vegetables – corn, cherry tomatoes, zucchini, red onion, green beans – and then topped with a corn-infused cream sauce.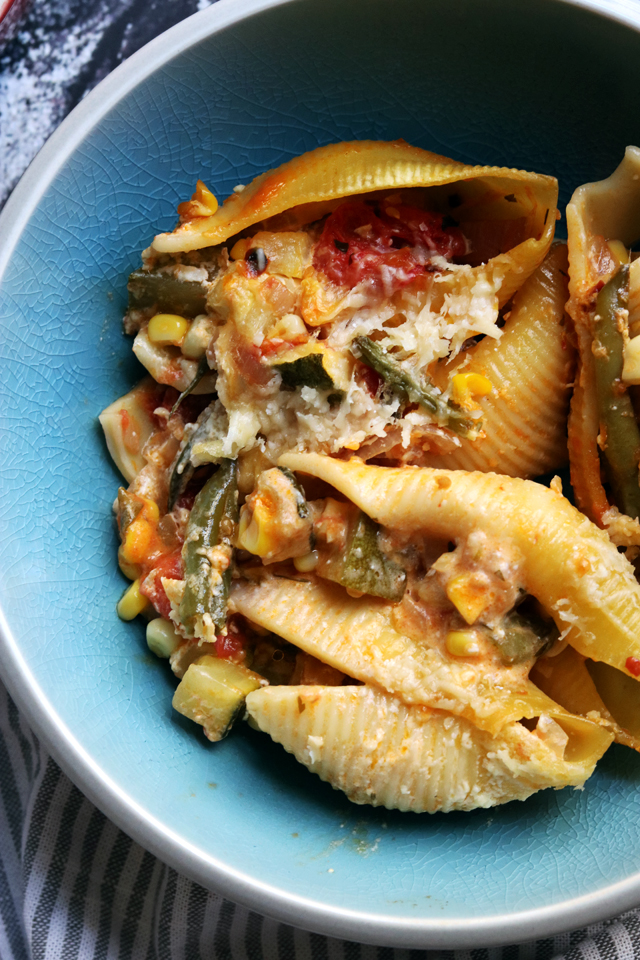 Hiiiiiiiiiiiiiiiiiiiii!
I made you dinner.
Or, well, at the least I'm making a strong push for you to add this to your dinner rotation this summer.
It features all the summer vegetables that you impulse-bought at the farmer's market because they looked soooooo cute and good and are now hanging out in your crisper drawer with nowhere to go, nothing to do, no one to see.
I always have so much cooking ambition when I'm walking through the market but then I get home and am basically like…what is something I can make that will use up everything in one shot??? And it has to be delicious, and kid-approved, and husband-approved, and feed us for a week. Not to be picky or anything.
Maybe you're like me. In this case…MAKE THIS.
Basically, this is going to a take a little bit of hands on time but once it's done it feeds an ARMY.
Most of the work is actually hands OFF (despite what I said above), just waiting for things to simmer and cook.
Then there's the part where you have to stuff the shells. If we're being honest, I got impatient about a quarter of the way through and then mixed everything together in the pan willy nilly. It still turned out.
Feel free to do that OR to turn this into baked ziti if you don't even want to bother with the shells. I think it would be great!
Stuffed Shells with Summer Vegetables
Jumbo stuffed shells filled with a mix of summer vegetables - corn, cherry tomatoes, zucchini, red onion, green beans - and then topped with a corn-infused cream sauce.
Ingredients
1¾ lb cherry tomatoes
kosher salt
9 oz jumbo shell pasta
2 large ears corn, shucked
2½ cups heavy cream
2½ tsp Maldon sea salt
¼ cup extra virgin olive oil
1 red onion, halved and thinly sliced
3 garlic cloves, thinly sliced
handful of basil leaves, roughly chopped
pinch of red pepper flakes
½ lb zucchini, trimmed and cut into ½-inch cubes
5 oz green beans, trimmed and cut into 1-inch pieces
handful of parmesan cheese
Instructions
Bring a large pot of salted water to a boil. Add the pasta and cook until al dente. Drain well and place in a bowl of cold water. Let sit until cool, then drain opening side down onto a paper towel-lined plate.
Meanwhile, cut the corn kernels from the cob and set aside. Break the cobs into a few pieces and place in a medium pot along with the heavy cream and ½ tsp salt. Bring to a boil then remove from the heat.
Wipe out the large pot that you used to boil the pasta. Pour the oil into the pot and heat over medium-high. Add the onion and 1 tsp of the salt. Cook until tender, about 5 minutes. Add in the garlic and cook until it's golden, 1-2 minutes. Reduce the heat to medium-low and cook, covered, until the onions are very soft, about 10 minutes. Stir in half of the basil and cook uncovered for 8 minutes, or until the onions are lightly browned.
Add the tomatoes to the pot with the vegetables along with the remaining 1 tsp sea salt. Cook, stirring, until the tomatoes are broken down, about 12 minutes. Add the corn kernels and increase the heat. Bring the mixture to a simmer. Cook for 5 minutes. Add in the red pepper flakes, zucchini, green beans, and the remaining basil. Simmer until the vegetables are tender, about 5-8 minutes. Remove from the heat.
Heat oven to 400F.
Fill each large shell with about 2 tbsp of the vegetable mixture and then place it, open side up, in a 9x13 enameled baking pan. Repeat until all of the shells are stuffed and then pour any remaining vegetables over the pasta.
Discard the corn cobs and pour the cream evenly over the stuffed shells. Bake until the cream has thickened, about 20 minutes. Sprinkle on the parmesan cheese and broil until it is light golden, about 3-5 minutes. Let cool for about 5 minutes and then serve.