Thai-inspired tofu rama in a rich peanut curry sauce that is at once sweet, savory, and lightly spiced. It is filled with veggies and is an easy family favorite weeknight meal!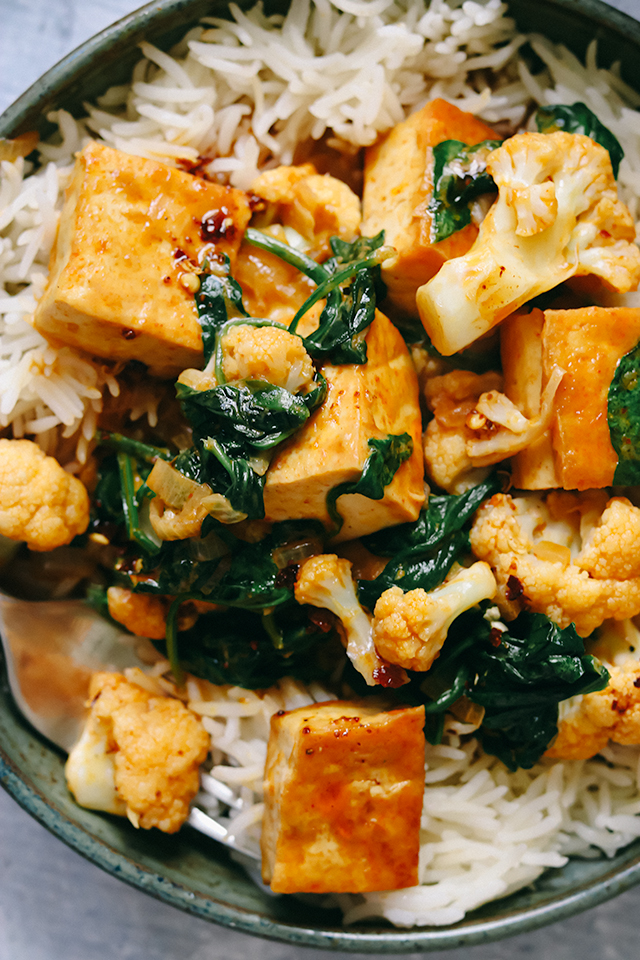 And back to school we go on a wing and prayer and a sea (literally) of negative covid tests!
Personally celebrating by blasting a Maroon 5 playlist from the rooftops and plotting out my Thai peanut curry sauce lunch goals. Not bad for a Tuesday.
I don't know about you guys but I have THE MOST TROUBLE deciding what to order when we get Thai food. Like, yes I want greasy chewy thick noodles but also curry and probably a mind-blowingly spicy stir fry AND DEFINITELY PEANUT SAUCE.
It's a problem, but the good kind. 
The real underlying issue here is that I have yet to master making Thai food at home. Since I can't just make it on a whim whenever I feel like it, it makes the decision FOMO that much worse. 
So this is my attempt to at least get one recipe under my belt. It is minimally authentic but incredibly tasty and totally doable on a weeknight! I'll take it.
The magical thing about Thai peanut sauce is that it combines basically every flavor in one. It's sweet and spicy and salty and EVERYTHING.
I could drink it, bathe in it, and still not ever get enough.
We're starting this recipe by sauteeing some tofu in a little bit of oil to get it crisped up on the outside. You can feel free to substitute with chicken, pork, or tempeh if they're more your thing. However I love that crispy-on-the-outside, chewy-on-the-inside tofu texture.
Afterwards, we're going to clean out our pan and start our stir fry! First we'll cook an onion down for a few minutes until it's soft and translucent. Then we will add back in the tofu we crisped up along with a few tablespoons of Thai red curry paste and saute that all together to activate the spices and infuse their flavor into the whole dish. Finally, we'll stir in our peanut sauce ingredients along with a can of coconut milk and a head's worth of cauliflower florets. This will all simmer together for about ten minutes to soften the veggies and allow the flavors to develop. 
At the very end of cooking, we will stir in a bag of baby spinach along with a squirt or two of lime juice. Finally, we will season everything to taste! I like mine a bit on the sweeter side, so I usually add in a bit more brown sugar. And I ALWAYS serve it with chili oil on the side to appease my spice addiction. 
Serve it all over a bed of rice and get ready for a meal of pure happiness.
Thai-Inspired Tofu Rama in Peanut Curry Sauce
Thai-inspired tofu rama in a rich peanut curry sauce that is at once sweet, savory, and lightly spiced. It is filled with veggies and is an easy family favorite weeknight meal!
Ingredients
3 tbsp neutral oil, divided
1 lb extra firm tofu, cut into 1-inch cubes
1 medium onion, diced
2 tbsp thai red curry paste
1 tsp grated fresh ginger
2 tbsp peanut butter
1 tbsp brown sugar, plus more to taste
2 tbsp soy sauce, plus more to taste
1 (14 oz) can coconut milk
1 head cauliflower, cut into bite-sized florets
5 oz baby spinach
2 tsp lime juice
rice, for serving
chili oil, for serving
Instructions
Heat 2 tbsp of the oil in a large nonstick skillet over medium-high heat. Once hot, add the tofu cubes to the pan and saute for 3-4 minutes per side or until browned and crispy on at least two sides. Remove to a paper towel-lined plate.
Clean out the pan and add the remaining tbsp of oil over medium heat. Add the onion and saute until tender, 4-5 minutes. Stir in the tofu and curry paste. Saute for 2-3 minutes or until the tofu is coated in the curry paste.
Add the ginger, peanut butter, brown sugar, soy sauce, and coconut milk to the pan. Stir to combine. Add the cauliflower and bring to a simmer.
Cover the pan and simmer for 10 minutes. Remove the lid and stir in the baby spinach. Simmer until wilted.
Stir in the lime juice and season to taste with more brown sugar or soy sauce, as desired. Serve over rice and top with chili oil for added spice.