A buttery apricot, cherry, and almond cake smothered in a delicious cinnamon topping. The perfect use of the summer's best stone fruit.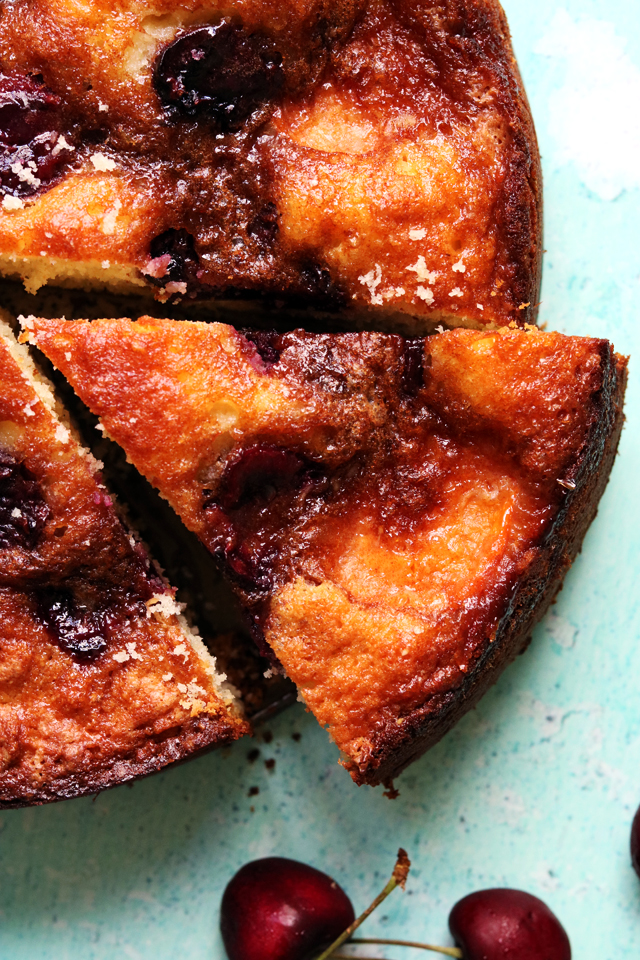 Sometimes other parents are like, how do you get Remy to do XYZ (where XYZ is eat anything that's not Trader Joe's fruit leather dots. Or take an afternoon nap. Or not go berserko when we're leaving the playground every day).
Clearly the answer is basically full on BRIBERY.
Is there any other way to parent???
That's approximately 75% of the reason why I bake so much.
I always told myself I would never bribe my kids with food, but you can just put that on the list of judgmental things I swore I would never do with my child until I had a kid. I mean, I also bribe with other things (fun activities with grandparents, birthday parties, going to water day at daycare, etc) but food is probably my go to. After all, there's always another meal to be eaten but the timing doesn't always work out for that other stuff.
Of course, baking is kind of a win/win situation because when it is ever a bad idea to have cake on your counter???
This apricot, cherry, and almond cake is my new go-to for using up all the stone fruit I've been hoarding (but also for getting Remy to go to bed at a reasonable hour).
The cake itself is like a buttery, rich pound cake dotted with tart apricots and juicy cherries. It's topped with a cinnamon/sugar/butter/egg (<– all the good things) topping that you will probably want to bathe in.
Just go run and make it and let me know what you think! I guarantee it will be a new summer favorite.
Apricot, Cherry, and Almond Cake with Cinnamon Topping
A buttery apricot, cherry, and almond cake smothered in a delicious cinnamon topping. The perfect use of the summer's best stone fruit.
Ingredients
For the cinnamon topping
4 tbsp unsalted butter
½ cup sugar
2 tsp ground cinnamon
⅛ tsp salt
2 large eggs, lightly beaten
For the cake
6 tbsp unsalted butter, room temperature
1 cup sugar
2 large eggs
finely grated zest of 1 small lemon
1 tsp vanilla extract
¼ tsp almond extract
1¾ cups + 2 tbsp self-rising flour
⅛ tsp salt
⅔ cup sour cream
⅓ cup almond meal
2 large fresh apricots, halved and pitted
1 cup cherries, pitted and halved
Instructions
For the cinnamon topping, melt the butter in a small bowl in the microwave. Whisk in the sugar, cinnamon, and salt. Allow to cool for 5 minutes. Stir in the beaten eggs, whisking until smooth. Set aside.
For the cake, heat oven to 375F. Grease a 9-inch springform pan and line with parchment paper. Set aside.
Combine the butter and sugar in the bowl of a stand mixer fitted with the paddle attachment. Cream together on medium-high speed until light and fluffy, about 5 minutes. Add in the eggs one at a time, beating well after each addition. Scrape down the sides of the bowl and then add the lemon zest, vanilla, and almond extract. Mix until combined.
Whisk together the flour and salt in a medium bowl. Add the dry ingredients to the mixer bowl in three additions, alternating with the sour cream, making sure to start and end with the flour. Mix until combined, then spoon the batter into the prepared baking pan.
Sprinkle the almond meal over the top of the batter. Top with the apricot halves and cherries, cut sides up. Spoon the cinnamon topping over and around the fruit.
Bake for 40 minutes to 1 hour, or until a skewer inserted in the center comes out clean. Allow to cool for 20 minutes before removing from the pan.