Late summer vegetables team up with fried cheese in this quick and easy eggplant, bell pepper, and paneer curry.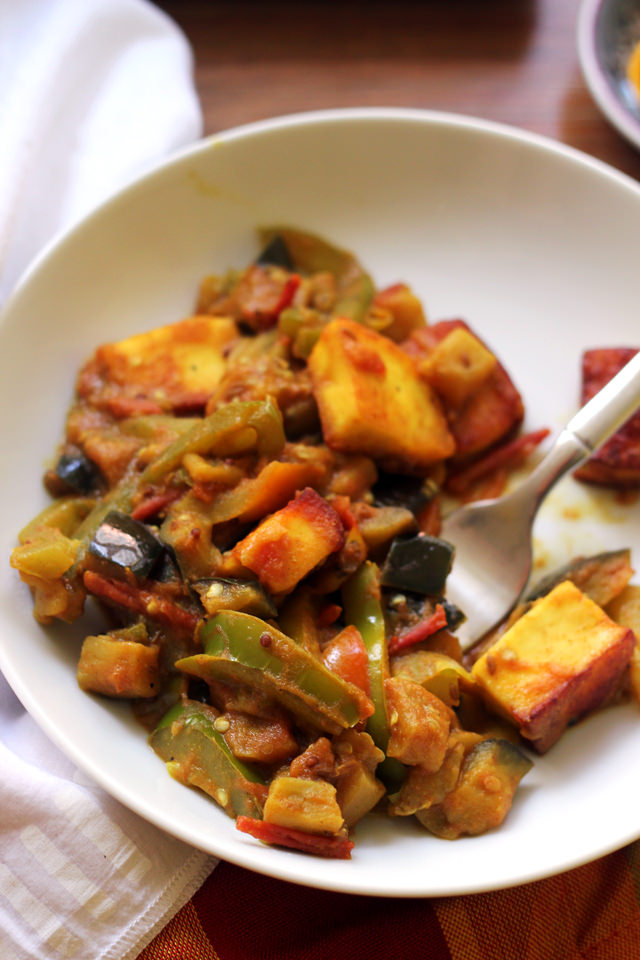 You guys!! I learned how to fry paneer cheese!!
With only moderate amounts of cursing and just one near eye death experience (thank goodness for glasses). This is in contrast to my previous attempts, which still ended in a pan of fried paneer, but also scalding burn marks on half of my body because OVERZEALOUS OIL. <– It's a killer.
What is my secret, you ask?
Well, it requires a moderate amount of agility, a touch of speed, and absolutely no precision at all whatsoever.
Basically…I call it the "run and hide method".
And it goes something like this:
Step 1: Heat oil in large deep pot.
Step 2: Place paneer in oil. Cover with splatter guard.
Step 3: RUN. Preferably into another room, but definitely out of reach of any oil. And don't underestimate that stuff. It can go the distance.
Step 4: Come back in 2-3 minutes and turn off the heat. RUN again.
Step 5: Return when all sizzling has stopped. Remove splatter guard (at your own risk). Flip paneer. Return heat to medium-high. Cover with splatter guard. RUN.
Rinse, repeat, until you've browned the paneer on 2-3 sides.
Success in fried cheese form can be so sweet savory.
It's Recipe Redux time again and this month's theme is about Getting Back to the Dinner Table! And basically how all the hustle and bustle of the back-to-school season can really put a damper on home cooking. Whenever I'm struck with a bit of cooking ennui (and yes it does happen!!), playing around with ethnic cuisine always gets me back on track. Sometimes that means fiddling with a new technique and sometimes it means throwing some of my favorite spices into a pan and calling it curry. I don't discriminate.
Curries often have a bad rep of being time-consuming, but this one can actually be cooked in under 30 minutes and uses a bunch of produce that is in season right now. I used green bell peppers since that is what I got in my CSA the past two weeks, but really any sweet pepper will do.
Eggplant, Bell Pepper, and Paneer Curry
Late summer vegetables team up with fried cheese in this quick and easy eggplant, bell pepper, and paneer curry.
Ingredients
4 tbsp vegetable oil
8 oz paneer, cut into ½-inch cubes
1 jalapeno, seeded and minced
1 tbs minced ginger
1¼ tsp cumin seeds
½ tsp black mustard seeds
¼ tsp asafetida powder
1 bay leaf
3 medium bell peppers, stemmed, seeded, and cut into thin strips
4 medium tomatoes, coarsely chopped
1 tbsp ground coriander
2 tbsp minced fresh basil
1 tsp turmeric
1 tsp garam masala
1 medium eggplant, cut into 1-inch cubes
1 cup vegetable broth
salt, to taste
Instructions
Heat the vegetable oil in a large, deep nonstick or cast iron pot over medium-high heat. Once the oil is hot, add the paneer to the pot and cook, flipping every few minutes, until browned on all sides. Remove from the oil with a slotted spoon and place on a paper towel-lined plate.
Heat the oil again and the jalapeno, ginger, cumin seeds, black mustard seeds, and asafetida to the pot. Cook until the seeds start popping, about 1-2 minutes. Quickly add in the bay leaf and bell peppers. Saute for 4 minutes.
Stir in the tomatoes, coriander, and the fresh basil. Cook for 6-8 minutes, or until the tomatoes start to break down into a sauce. Stir in the turmeric, garam masala, eggplant, paneer, vegetable broth, and salt. Cook for 8-10 minutes, stirring every few minutes, until eggplant is tender. Serve warm.
Notes
Adapted from
Lord Krishna's Cuisine: The Art of Indian Vegetarian Cooking
Nutrition Information
Serving size:
¼ of recipe
Indian food at home!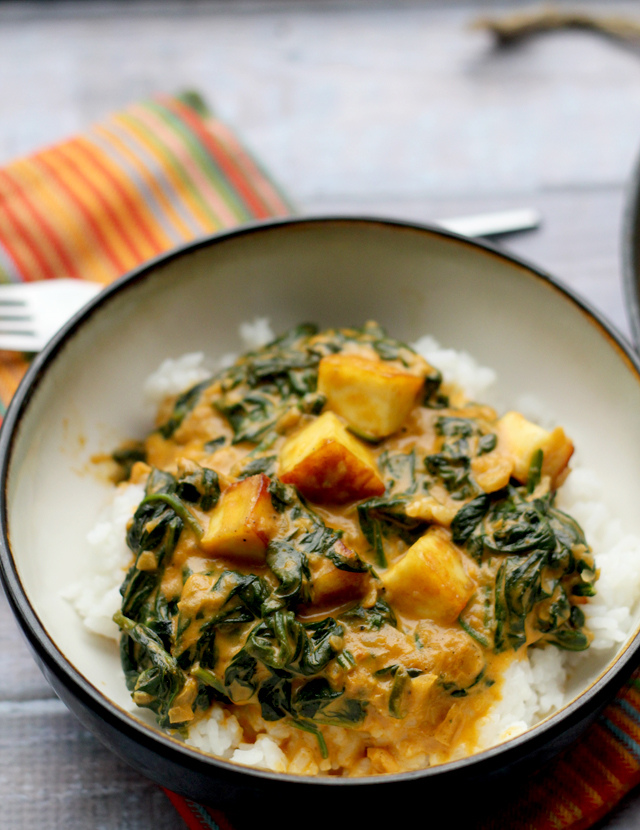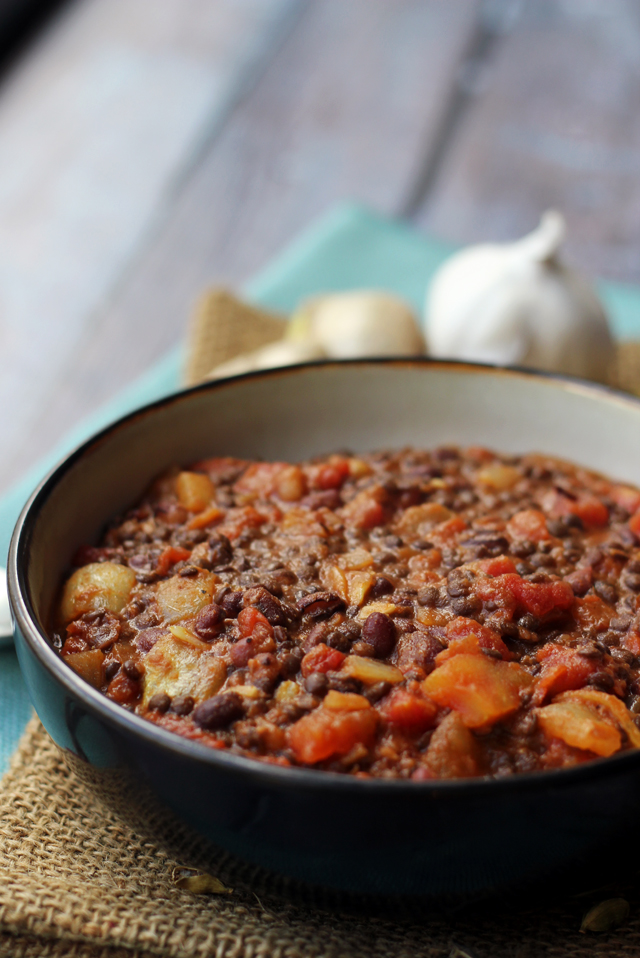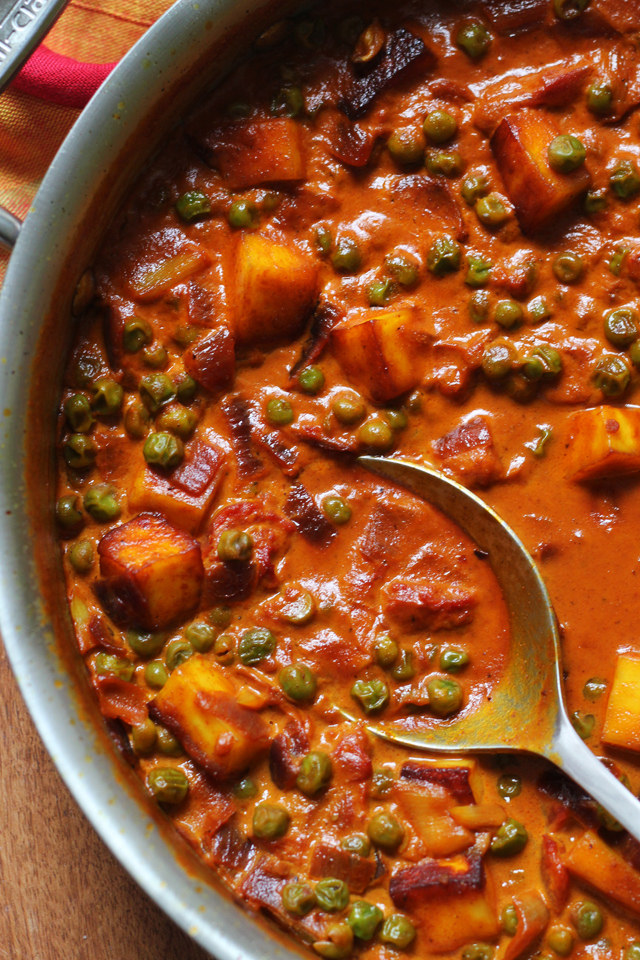 From Around the Web:
Roasted Eggplant and Mushroom Curry from The Roasted Root
Yogurt Curry with Chickpea Flour Fritters from The Gastronomic Bong
Masoor Dal from Spoon Fork Bacon
Rajma Masala Curry from Cooking with Siri
Pav Bhaji from Food52