Fried paneer cubes and peas are paired with a richly spiced, creamy tomato sauce in this vegetarian paneer tikka masala.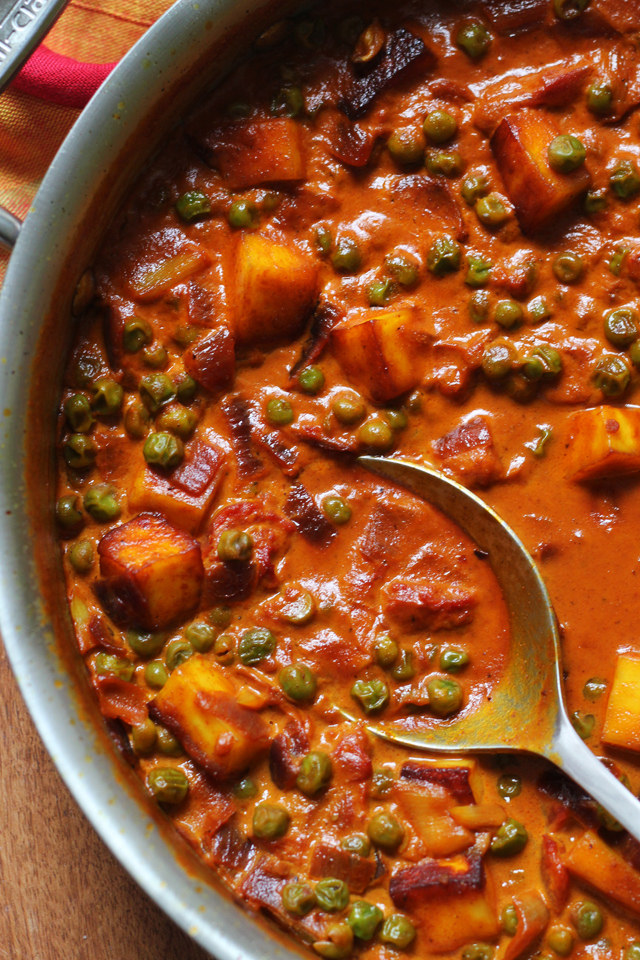 Whoever decided that cheese frying does not qualify as an Xtreme Sport.
We're about to have words.
I mean, really, between the hot oil in the pan and the hot oil on your counter and the hot oil on your floor and the hot oil shooting straight into your face as you lift up your splash screen the tiniest of smidgens to see if any cheese browning is going on….
…this is a death-wish waiting to happen.
Not for the faint of heart. Or those with pre-existing conditions.
And yet. AND YET…
…I'm still telling you to run (not walk) to your kitchen and get a big pot of it into your life. Like, yesterday.
It's so worth the pain. And really, what is one more burn scar on your right forearm in a sea of so many. Am I right or am I right?
I know what you're thinking: with 2 cups of cream and a whole lot of fried cheese, this had better be the best thing you've ever tasted and then some to make it worth the calories.
And here I am to tell you, in an entirely official and not at all subjective capacity: IT IS.
It's creamy in all the right places, spiced just enough that you'll fall head over heels for it's exotic allure, and comforting in a way that feels familiar, yet different. Basically, it's everything that most restaurant tikka masalas aspire to, but rarely end up actually achieving because they're too oil-smothered for you to actually taste any of the Big Flavor that's going on. This recipe may not skimp on the fat either, but it also doesn't glorify any superfluous uses of it.
Personally, I'm down.
Especially if it means tikka masala IN MY FACE seven days a week. I can't even imagine a better way to live.
Paneer Tikka Masala
Fried paneer cubes and peas are paired with a richly spiced, creamy tomato sauce in this vegetarian paneer tikka masala.
Ingredients
vegetable or peanut oil, for frying
8 oz paneer, cut into ½-inch cubes
3 tbsp olive oil
6 garlic cloves, minced
1 onion, diced
¼ cup tomato paste
6 cardamom pods, crushed
½ tsp red pepper flakes
2 tsp minced ginger
2 tsp ground turmeric
1 tsp garam masala
1 tsp ground coriander
1 tsp ground cumin
28 oz can whole peeled tomatoes
salt, to taste
2 cups heavy cream
1 lb frozen peas
Instructions
Heat the vegetable oil over medium-high heat in a medium cast-iron skillet. It is hot enough when it sizzles the instant you add a paneer cube to the pan. Fry the paneer in a single layer in the oil until it is golden brown, about 2-3 minutes on each side. Remove to a paper towel-lined plate to drain. Discard the oil.
In a large heavy pot over medium heat, heat the oil. Add the garlic, onion, tomato paste, cardamom pods, and pepper flakes to the pot. Cook, stirring often, until the tomato paste has darkened and the onion has softened, about 5 minutes. Add the spices to the pot and cook, stirring constantly, until the bottom of the pot begins to brown, about 4 minutes.
Add the tomatoes with their juices, crushing the tomatoes with your hands as you add them. Bring to a boil and then reduce the heat to a simmer, stirring frequently and scraping up any brown bits. Cook until sauce thickens, about 8 minutes.
Add in the cream, paneer, and peas. Season to taste with salt. Simmer, stirring occasionally, until slightly thickened, about 15-20 minutes. Serve with rice.
Nutrition Information
Serving size:
⅙th of recipe
Curry for dinner!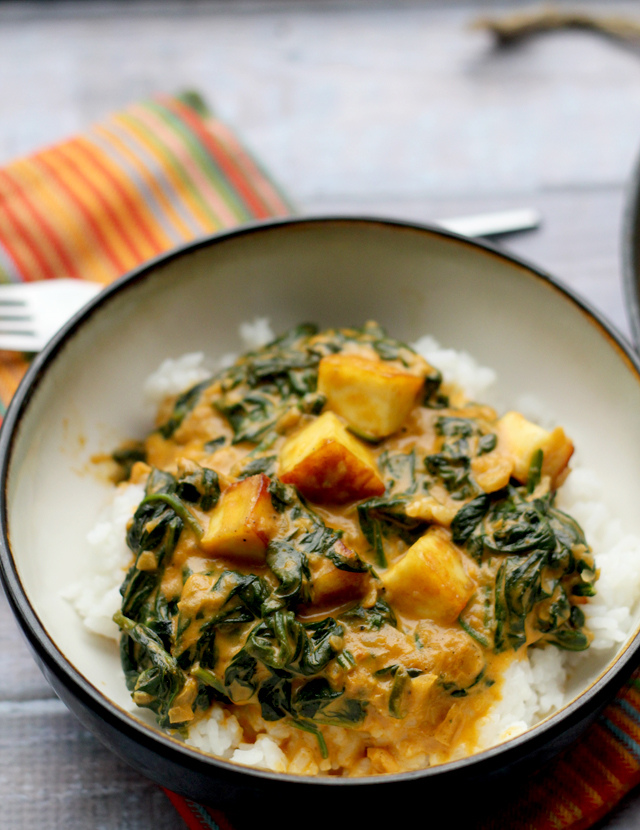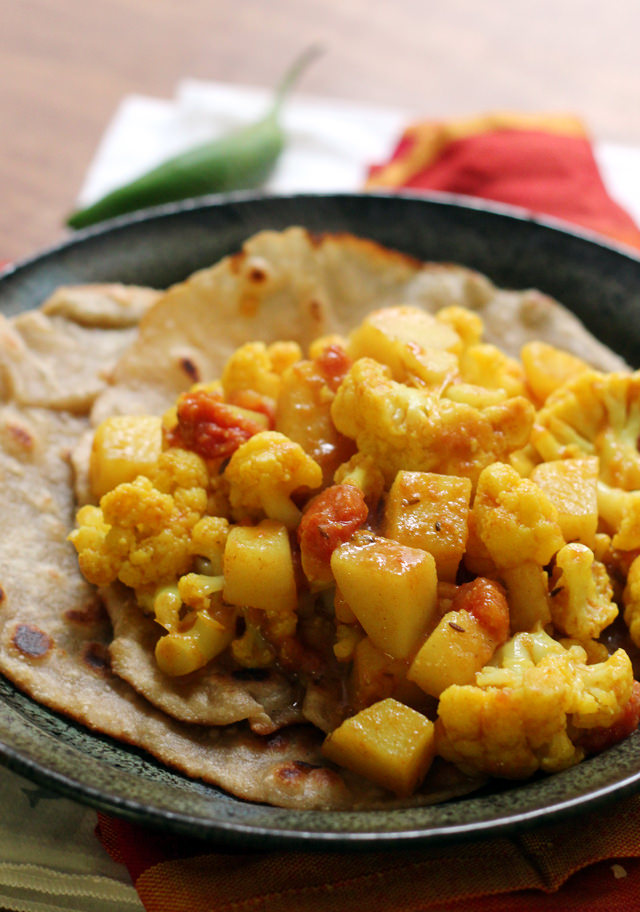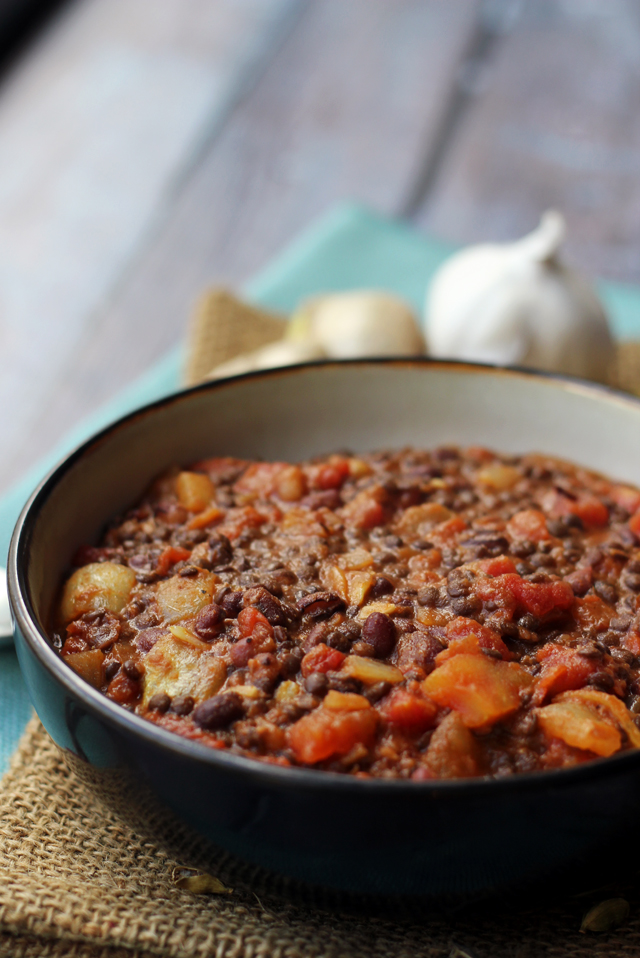 From Around the Web:
Ginger Sweet Potato Dal with Coconut Leeks from The First Mess
Masoor Dal from Spoon Fork Bacon
Red Lentils and Spinach in Masala Sauce from Naturally Ella
Baby Eggplants Stuffed with Peanut Masala from K.O Rasoi
Homestyle Rajma Masala Curry from Cooking with Siri