Easy blueberry almond muffins that are packed with juicy blueberries in every bite and topped with a sprinkle of coarse sugar to get that classic sugar crunch muffin top.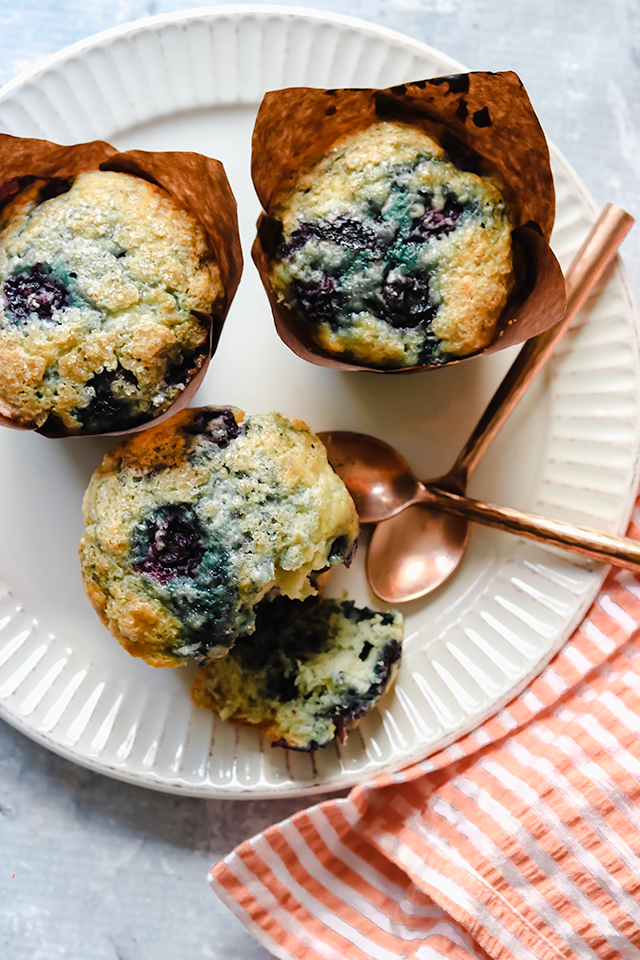 Another blueberry muffin recipe!!! Just what the internet needs!!
Said no 21st century human ever.
Between blogs and cookbooks and recipe sharing sites, the world abounds with an infinite number of so-called perfect blueberry muffin recipes (my site included), more recipes than one person could ever make in a lifetime, so what are we even doing here?!
Well, to start, these are not just any blueberry muffins.
They are blueberry almond muffins! And, yes, that 3/4 tsp of almond extract truly does make all the difference. To those of us almond lovers in the audience, the sweet almond flavor adds a rich, almost hypnotic essence to baked goods that enhances their innermost flavors and makes for such a pleasant and uplifting eating experience.
It's hard to explain if you're not an almond addict, but to those of us who are – if you know, you know.
Another thing that makes these muffins extra special is the technique used to mix up the batter. Instead of creaming the butter and sugar together, the butter is going to be cut into the dry ingredients the way it would be for pie dough. We're using a food processor to help us with this, ensuring that the butter is evenly incorporated throughout. 
This method helps to make for a really tender cake-like crumb, which is in contrast to the more coarse texture that many other blueberry muffins have.
Basically, you'll feel like you're eating cake for breakfast (and you won't be mad about it).
After the butter is incorporated into the dry ingredients, the entire contents of the food processor get poured into a bowl with the wet ingredients and everything gets folded together. 
Add in your blueberries and mix once again, just to ensure they are evenly incorporated throughout the batter. Be warned that the more you mix, the more you'll get streaking in your final batter so less is more if you're wanting a cleaner look.
Finally, we're topping our muffins with coarse sugar (either demerara or turbinado sugar will work here) to get that crispy crunchy sugar lid. These bigger sugar crystals are more heat-resistant and won't melt in the oven, creating that classic (and oh so satisfying) muffin top crunch.
These are perfect for weekend breakfasts, when a little bit of indulgence is warranted for making it through the workweek.
They'll keep in an airtight container at room temperature for a few days, so make a big batch tonight and start your morning like a queen all weekend long.
Sugar Crunch Blueberry Almond Muffins
Easy blueberry almond muffins that are packed with juicy blueberries in every bite and topped with a sprinkle of coarse sugar to get that classic sugar crunch muffin top.
Ingredients
2.5 cups (320 g) all purpose flour
¾ cup (150 g) sugar
2 tsp baking powder
¾ tsp baking soda
½ tsp fine sea salt
½ cup (113 g) cold unsalted butter, cut into ½-inch cubes
1 cup + 2 tbsp (253 g) buttermilk
2 large eggs
2 tsp fine lemon zest
2.5 tsp vanilla extract
¾ tsp almond extract
12 oz (340 g) fresh or frozen blueberries
¼ cup (50 g) demerara or turbinado sugar
Instructions
Heat oven to 425F. Line a 12-cup muffin tin with tulip-style or regular paper liners. Spray with cooking spray if not using muffin liners at all.
Combine the flour, sugar, baking powder, baking soda, and salt in the bowl of a food processor. Pulse to blend together. Add in the butter pieces and pulse again until the mixture resembles cornmeal and the butter pieces are well incorporated into the flour mixture with no big chunks.
In a large bowl, whisk together the buttermilk, eggs, lemon zest, vanilla, and almond extract. Pour the dry ingredients from the food processor into the wet ingredients. Fold together until well combined. Add in the fresh or frozen blueberries and fold the berries into the batter.
Divide the batter among the prepared muffin tins. Sprinkle the tops with the demerara or turbinado sugar.
Bake for 10 minutes at 425F, then lower the oven temperature to 375F and continue to bake for another 15-20 minutes, or until golden and a toothpick inserted in the center comes out clean. Allow to cool in the pan for 2 minutes, then remove to a wire rack to cool completely. Serve once completely cool.