A refreshingly sweet and salty honeydew salad with peanuts and lime – the perfect simple side salad for summer!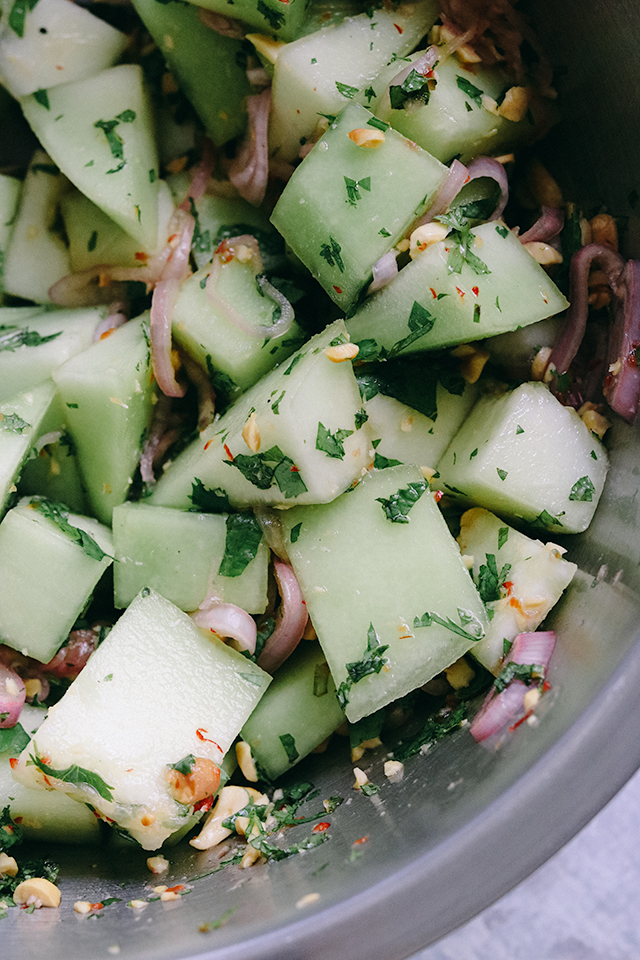 Let's start with the cold, hard truth that I've eaten a LOT of boring fruit salad in my life. 
You know the kind I mean – the pre-packaged mixes of grapes, cantaloupe, pineapple, strawberries, and blueberries that line every supermarket produce wall year-round. My mom is infamous for bringing it by the bucketful to family gatherings (yes, even in winter) and then wondering why no one is eating it. My experience with those is that the fruit somehow tastes generically the same but also like nothing at all at the same time. 
Fruit salad needs to be fresh and seasonal, and (in my opinion) it needs a dressing to keep things interesting. Otherwise, you're just eating a fruit platter, which is totally fine, but let's just call it what it is.
The good news is that if you're looking for a sweet, savory, refreshing and completely unique fruit salad for summer, then you've come to the right place. It's a little out there and definitely off the beaten fruit salad path, but I think you're going to love it.
I remember when I first saw this honeydew salad in an issue of Cook's Illustrated last summer – it seemed so weird and unlike anything I'd ever eaten before.
So naturally, I had to try it.
Though I can't say it's authentic at all, this honeydew salad has kind of a Thai flavor vibe going for it.
It's dressed with lots of lime juice and a hint of fish sauce for an umami boost, with quick pickled shallots, fresh herbs, spicy Thai chilies, and salty peanuts mixed into it for contrast and intrigue. 
All that salt and tang makes the super sweet honeydew come alive, bringing out its flavor that much more. Each bite is instantly refreshing, keeping you going back for more.
Since it definitely leans a little more savory than sweet, the real questions here is what are you going to serve it with.
I paired it with a (completely inauthentic) take on Vietnamese tofu in caramel sauce, but I think it would be great with any grilled meats or fish, especially if they have an Asian flavor vibe going for them. Any kind of satay, for instance, would work well here.
Honeydew Salad with Peanuts and Lime
A refreshingly sweet and salty honeydew salad with peanuts and lime - the perfect simple side salad for summer!
Ingredients
⅓ cup lime juice (from ~3 limes)
1 shallot, thinly sliced
2 Thai chilies, minced
1 garlic clove, minced
½ tsp kosher salt
1-2 tbsp sugar
1 tbsp fish sauce or soy sauce
1 honeydew, peeled, halved, seeded, and cut into 1.5-inch chunks
5 tbsp chopped fresh cilantro, divided
5 tbsp chopped fresh mint, divided
5 tbsp salted dry-roasted peanuts, chopped, divided
Instructions
In a large bowl, combine the lime juice and the sliced shallot. Allow to sit and lightly pickle while you prepare the rest of the salad.
Using the flat side of a knife, mash the chilies, garlic, and salt to a fine paste (can use a mortar and pestle or spice grinder, if you have one). Mix the chili-garlic paste, the sugar (adjust based on how sweet your honeydew is), and the fish oil into the lime/shallot mixture. Stir to combine.
Add the honeydew and 4 tbsp each of the cilantro, mint, and peanuts to the bowl with the dressing. Toss to combine. Sprinkle with the remaining 1 tbsp of cilantro, mint, and peanuts right before serving.