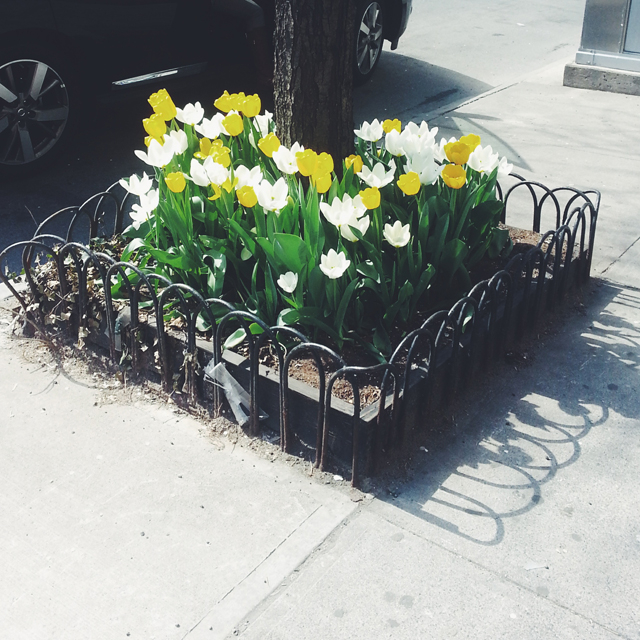 1. I really think it might be spring this time. Sure, after I said that last Wednesday it HAILED. But, THIS TIME. For real.
2. The tulips agree with me.
3. A few weeks ago, our main A/C broke, which really shouldn't have been a problem since it hasn't been TOO hot…except that we live on the top floor in our building and ALL of the heat rises to the point that it's probably 80F in our apartment at any given time. Our super came to check it out, hauled a new unit up FIVE FLIGHTS OF STAIRS TO OUR APARTMENT…only to discover that it was a mislabeled broken fuse this whole time.
4. I would have felt bad, except I'm pretty convinced our super is a drug dealer. So, karma.
5. And yes, that makes me SO comfortable with him having the keys to our apartment. #saidnooneever
6. In case you've ever wondered who that person is who actually clicks on the trending articles that Facebook displays on the top right of your feed…that would be my husband. Yesterday's gem was about why Times New Roman is a terrible font to use on your resume. I'm pretty sure the article suggested Comic Sans as an alternative.
7. #worstadviceever. Fail. Just, FAIL.
8. I'm going to be kind of busy in June honeymooning and going to science conference and trying to tie up loose ends for my thesis, so I've been trying to cook ahead for recipes for the blog…and OMG IT IS SO HARD. Mostly to actually write the posts ahead of time. And develop the recipes. And test them. And photograph them.
9. Okay, all of it is hard. If I pull this off, I will have earned my two straight weeks of gelato consumption.
10. To all of my fellow bloggers out there, how do you do blogging on vacation? I really want to do as much as possible beforehand so that I can really unplug while I'm away and not go crazy. ADVICE = WANTED.