Eggplant is roasted with aromatic Middle Eastern spices and then paired with a brightly flavored bulgur salad to make a complete and satisfying meal.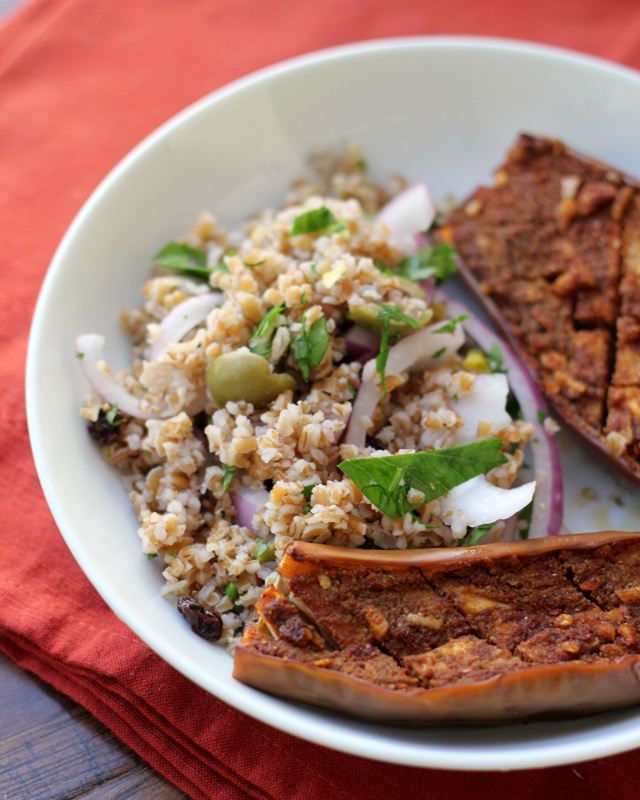 Yesterday…I totally skipped going to the gym to eat ice cream. (You'll see why tomorrow.)
And frost a chocolate cake. Which would have been totally fine except that the kind of frosting I made was so slippery slidey that not only did it not want to stay on the cake, but it made the cake layers not want to stay on themselves.
It was a problem.
That I solved by eating more ice cream and a few fistfuls of marshmallow frosting and maybe I even scraped the little bits of chocolate cake that were still on the cake pans into my mouth. Maybe. The world will never know.
So then I pulled myself back together, threw sprinkles at the top of the cake because obviously they solve any frosting wardrobe malfunctions…
…and proceeded to eat dinner.
Which, because it was this crazy healthy delicious roasted spiced eggplant with bulgur salad, kind of saved my life. Not only did it bring down my blood sugar after that manic high I was riding, but it also gave me faith that food can taste good without requiring you to have to clean frosting out from under your fingernails and the roots of your hair in order to make it. Winning.
Basically, eggplant is roasted with heady aromatic spices and then pairs up with bulgur that has been tossed with all sorts of fun mix-ins, ranging from salty green olives to nutty pistachios to sweet-tart currants. It's a flavor smorgasboard. And it will make all of your frosting woes seem like they were nothing more than a bad dream. I pinky swear it.
(I am submitting this to I Heart Cooking Clubs this week!)
Spiced Eggplant with Bulgur Salad
Eggplant is roasted with aromatic Middle Eastern spices and then paired with a brightly flavored bulgur salad to make a complete and satisfying meal.
Ingredients
For the eggplant
¼ cup olive oil
2 tbsp lemon juice
2 cloves garlic, minced
2 tsp ground cumin
2 tsp ground coriander
1 tsp paprika
¾ tsp cinnamon
½ tsp red pepper flakes
½ tsp kosher salt
4 small eggplants
For the bulgur
1 cup dried bulgur
2 cups water
½ cup pitted green olives, quartered
½ medium red onion, thinly sliced
⅓ cup currants
⅓ cup parsley, chopped
⅓ cup cilantro, chopped
¼ cup pistachios
3 tbsp white balsamic vinegar
freshly ground black pepper
salt, to taste
Instructions
Preheat the oven to 350.
In a small bowl, whisk together the olive oil, lemon juice, garlic, cumin, coriander, paprika, cinnamon, red pepper flakes, and salt.
Cut the eggplant in half lengthwise. Score the eggplant with a knife, diagonally, in crisscrossing lines, without breaking the skin. Place eggplant halves face up on a parchment lined baking sheet. Spoon the olive oil spice mix over each half. Roast for 50-60 minutes, until eggplant is tender.
Meanwhile, place the bulgur and two cups of water in a medium pan. Add in a pinch of salt. Bring to a boil, then cover and simmer for 15-20 minutes or until water has evaporated. Turn off heat and let rest for 5 minutes.
Fluff bulgur with a fork and pour into a large bowl. Toss with the olives, onion, currants, parsley, cilantro, vinegar, and salt to taste. Serve alongside the eggplant.
Nutrition Information
Serving size:
¼ of recipe