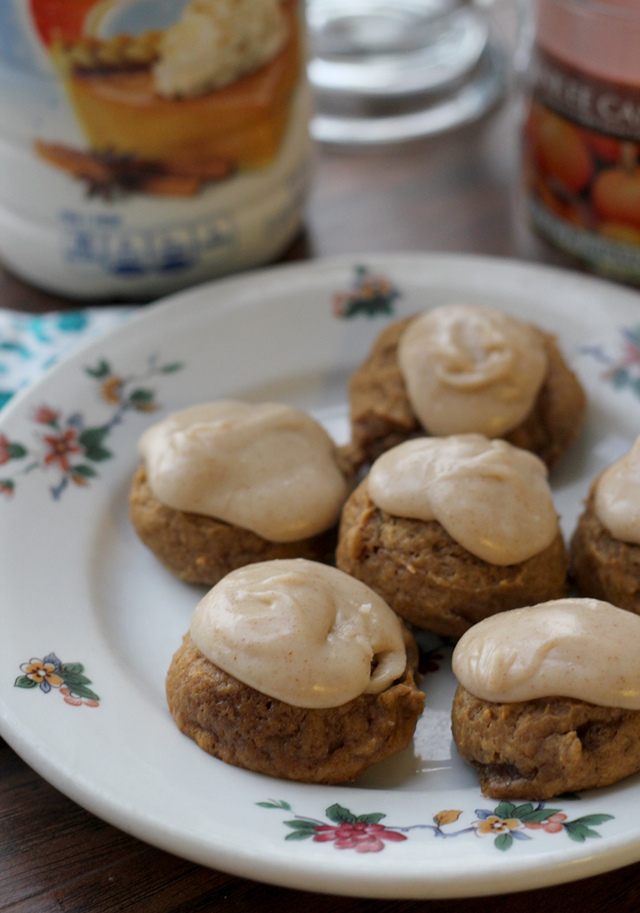 Much to the.boy's chagrin, I am trying to pumpkin pie our entire lives.
From sun up to sun down, it's like an orange cinnamon/ginger/nutmeg/hintofcloves explosion up in this joint.

If I could just have it pumped through our vents, it would make my life a lot easier. But as it is, my housing maintenance guy already thinks I'm marginally a lunatic for going through three refrigerators and two ovens in five years.
If I ask him for anything else he might have me committed.
So instead I'm forced to bake pretty much nonstop, keep those fabulous Yankee Candles going at all times, and periodically sprinkle all the relevant spices into every nook and cranny of our bedroom (and possibly under our pillow). #Normal.
A girl's gotta do what a girl's gotta do.
Especially when she springs out of bed at 6AM after what is essentially a 7 hour pumpkin pie spice withdrawal.
Hey now! Stay calm.
Pumpkin spice coffee is practically on tap if you have Coffee-mate Pumpkin Spice creamer in the fridge. Mmmm yes, don't mind if I do.
And a morning cup o'Joe just wouldn't be complete without a cookie to dunk in it. At the risk of overkill…malted pumpkin cookies with brown butter frosting? Kinda slam dunkers. If you catch my drift.
Coffee-mate has a TON of seasonal flavors that they bring out throughout the year, but my favorite (in case you couldn't tell) is, hands down, the Pumpkin Spice. It's everything I love about fall, in my cup of coffee. Which is kind of a perfect way to start the day.
Although…if I someday manage to get my hands on a bottle of their new Spiced Latte flavor, I won't complain. And I may even cry happy tears. You have no idea how hard it is to find these seasonal items in NYC!
And in case you thought these creamers were just for coffee…WRONG. They go perfectly in place of milk in your favorite baked goods (like these cookies *cough cough wink wink nudge nudge*), hot chocolate, milkshakes, etc.! (For more recipe inspiration, check out here and here.)
Just make sure you get your hands on them before they go out of season in December. I would not want you to miss out on these fall flavors swirled into every part of your day. (But especially your cookies!)
And happy Halloween!!
Malted Pumpkin Cookies with Brown Butter Frosting
Cookies that taste like pumpkin pie and are smeared with rich brown butter frosting - what could be better!
Ingredients
For the cookies
11 oz all purpose flour
4 tbsp malt powder
½ tsp baking soda
½ tsp baking powder
¾ tsp kosher salt
1 tsp ground cinnamon
1 tsp ground ginger
¼ tsp ground nutmeg
3 oz unsalted butter, softened
9 oz brown sugar
1 large egg
6 oz pumpkin puree
3 oz Coffee-mate Pumpkin Spice creamer (or regular milk)
1 tsp vanilla
For the brown butter frosting
2 cups confectioner's sugar
1 tbsp malt powder
pinch of salt
5 tbsp unsalted butter
3 tbsp milk
1 tsp vanilla
Instructions
Preheat oven to 375.
In a medium bowl, whisk together the flour, malt powder, baking soda, baking powder, salt, cinnamon, ginger, and nutmeg. Set aside.
In the bowl of a stand mixer fitted with a paddle attachment, cream together the butter and brown sugar until fluffy, about 3 minutes. Add in the egg and mix until combined, about 1 minute. Add in the pumpkin and mix until totally incorporated. Stir in the creamer and vanilla.
Pour the dry ingredients into the stand mixer bowl. Mix until just incorporated.
Using a small (2 tsp) cookie scoop, scoop the dough onto two parchment-lined baking sheets (about 20 cookies per sheet).
Bake for 10-12 minutes or until the bottoms are lightly browned and tops spring back when you push down on them slightly. Let cool in the pan for a few minutes and then remove to a wire rack.
For the frosting, whisk together the confectioner's sugar, malt powder, and salt.
In a separate small bowl, whisk together the milk and vanilla.
Melt the butter on medium heat in a small pan. Continue cooking, stirring occasionally, until it turns amber and starts to smell nutty. Immediately pour into the bowl of powdered sugar. Whisk together to combine, adding in the milk when it becomes too hard to stir. Spoon the frosting onto the tops of the cookies.
I was selected for this opportunity by Clever Girls Collective, however all content and opinions expressed here are my own.