Butternut squash and rosemary risotto topped with pistachios. A dish sure to impress friends and family!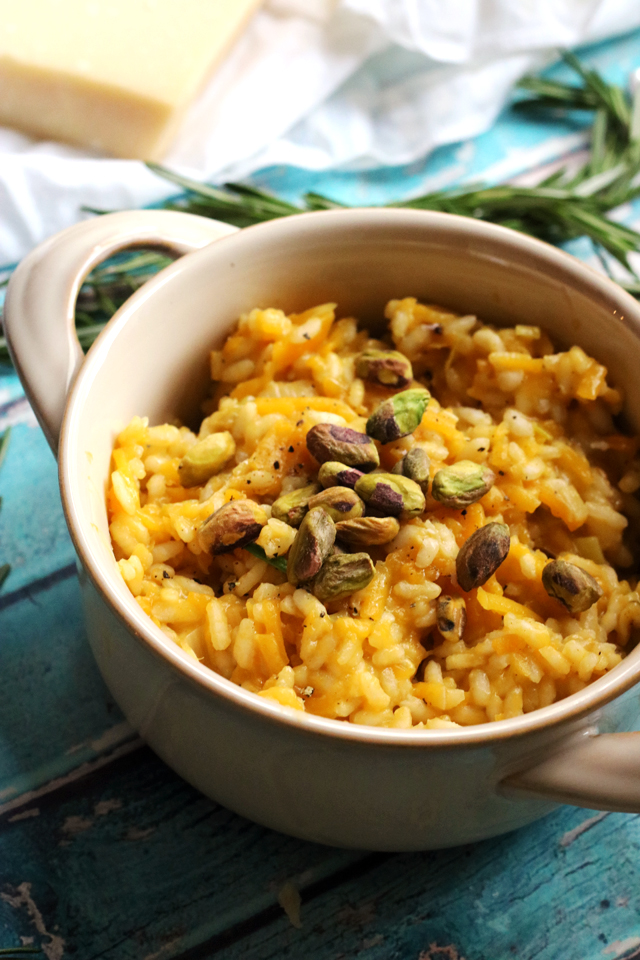 No, YOU are still procrastinating making Big Life Decisions like what to make for dinner Christmas night, where to buy wrapping paper (<– vv important since that will predictably be Remy's favorite part of the whole celebration), and whether or not to wash your hair today.
But don't worry, I've got the Christmas cookie situation figured out with three batches of dough in the freezer already, so the reeaalllyyyy important stuff is taken care of.
A cheese plate and dessert are all anyone actually wants to eat on holidays anyway, right?
I'm pretty sure my mom thinks I'm going to make something "weird" (and by weird, she means anything that is not pasta with tomato sauce), because she called me the other day basically implying that I already said I was going to make lasagna. Like, in a way that made me think she was trying to use some sort of reverse psychology to engineer it so that I would actually make lasagna even if that wasn't what I was planning to make already.
Annnnndddd just for that I'm seriously considering making Indian food on Christmas. Ravioli with tikka masala sauce, just to mess with her.
That's the holiday spirit!
If we were hosting fewer people, I would seriously consider making this risotto, but for a crowd it's just easier to throw a big casserole pan of something into the oven and call it dinner.
(So, all roads point to lasagna? Sigh.)
It's different from most butternut risottos in that instead of butternut chunks, the squash is grated into rice-sized pieces that basically melt into a lovely sweet/savory sauce.
You can get a good arm workout in the process if you use a box grater and pure unadulterated muscle power (look at you multi-tasking!!), or you can do what I did and make use of your food processor grating attachment. That thing is magic and I really don't use it often enough.
The dish is simmered with rosemary branches to give it that warm, homey, winter holidays flavor and then seasoned with bright lemon, salty pistachios, and a few good sprinkles of freshly grated parmesan cheese.
We loved it for a weeknight dinner (I actually made it ahead over the weekend and it was still so good all week long), but like I implied earlier, it could totally double as a holiday or winter get-together meal.
Butternut Squash and Rosemary Risotto with Pistachios and Lemon
Butternut squash and rosemary risotto topped with pistachios. A dish sure to impress friends and family!
Ingredients
½ lb peeled butternut squash
6 cups vegetable broth
3 tbsp unsalted butter
1 medium leek, thinly sliced
1 garlic clove, minced
2 cups arborio rice
2 rosemary branches
¾ tsp kosher salt, plus more to taste
⅓ cup dry white wine
zest of 1 meyer lemon
½ tsp freshly squeezed meyer lemon juice, plus more to taste
freshly ground black pepper, to taste
¼ cup chopped salted pistachios
grated parmesan cheese, for serving
Instructions
Fit a food processor with a fine grating attachment and use it to shred the squash. (You can also use a box grater or cut the squash into small cubes if you don't have this food processor attachment!) Set aside.
Melt the butter in a large pot over medium heat. Add the leeks to the pot and cook, stirring occasionally, until soft, about 5-7 minutes. Stir in the garlic and cook for 1 minute. Add the rice, squash, rosemary, and salt to the pot. Cook, stirring frequently, until the rice grains appear translucent, about 3-4 minutes.
Pour the wine into the pot, scraping the bottom of the pot to deglaze it. Allow to cook until it is mostly dissolved, then pour in the broth, about ½ to 1 cup at a time. Cook, stirring constantly, until most of the liquid has evaporated. Continue to add the broth in ½ to 1 cup increments, stirring constantly and only adding the next cupful after the last one has dissolved. Continue to do this until the risotto is creamy and thick, and the rice is tender, about 25-30 minutes.
Remove the rosemary branches and stir in the lemon zest, juice, and black pepper. Add more lemon juice and salt to taste. Divide into serving bowls and sprinkle with the pistachios and parmesan cheese before serving.
More delicious risotto bowls: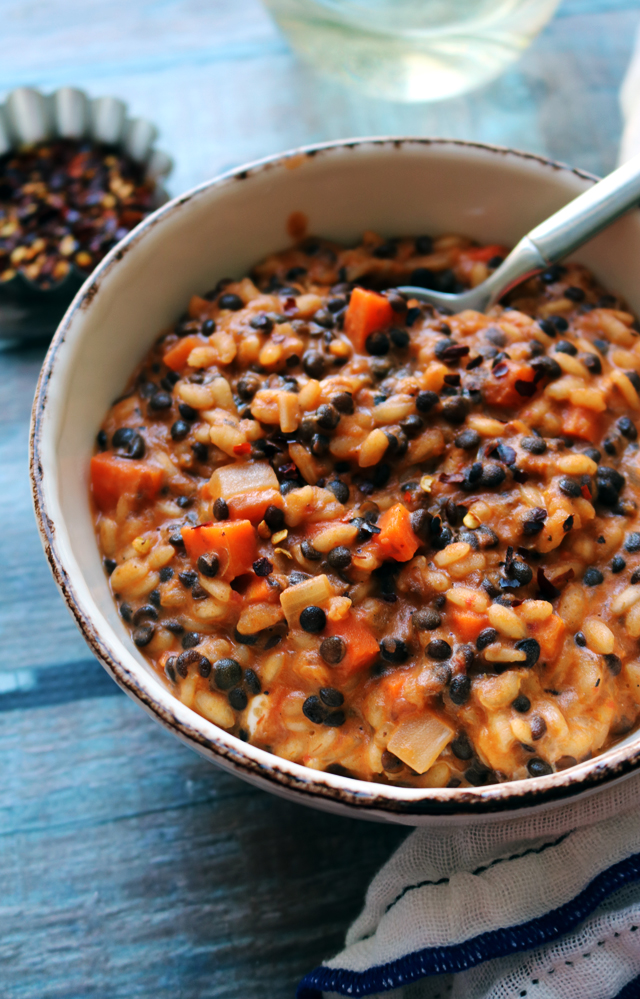 Mascarpone Risotto with Vegetarian Lentil Bolognese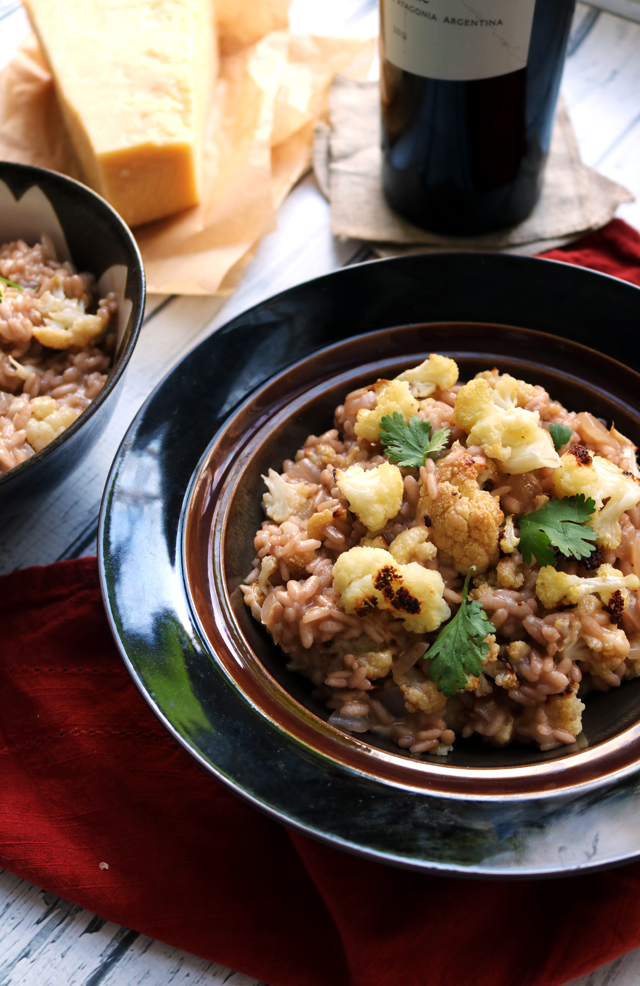 Drunken Red Wine Risotto with Cauliflower and Goat Cheese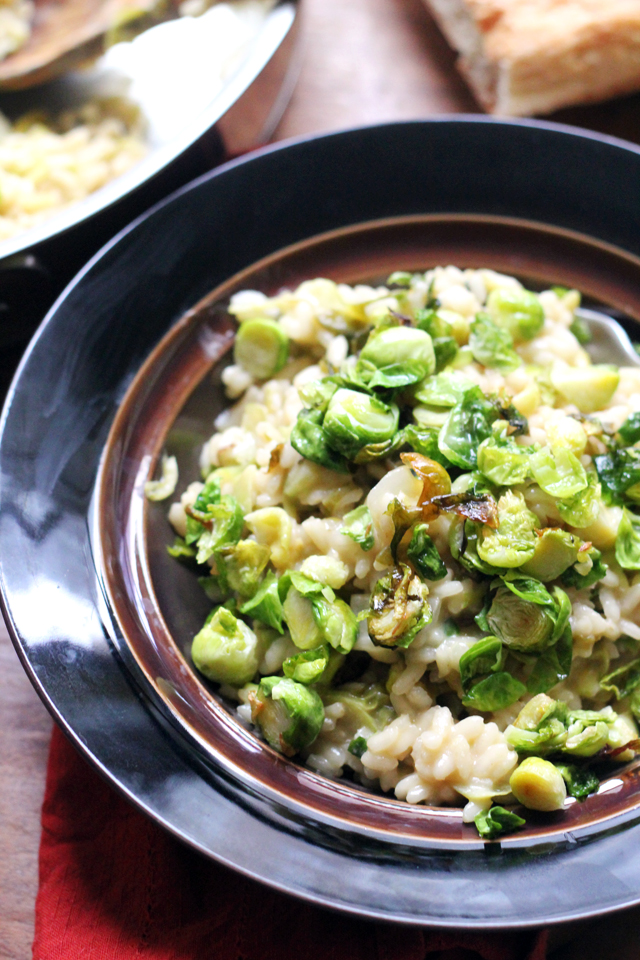 Ottolenghi's Brussels Sprout Risotto