Hearty vegetarian lentil bolognese joins forces with a creamy mascarpone risotto and in doing so hits all of the right comfort food notes.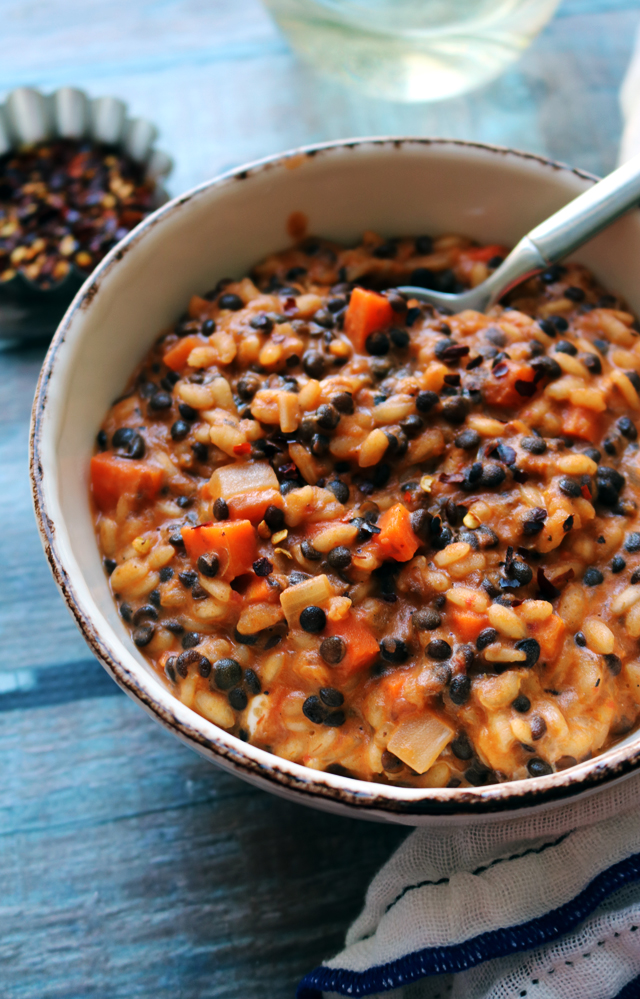 Nothing brings out the acid reflux in me like technical blog troubles.
I won't get into the nitty gritty of things, but I apologize if you tried to access the site in the past 36 hours and it was down. There was some disconnect between my host and the firewall I use to keep the site safe. My hosting company basically shrugged their shoulders and brushed me aside, apparently with no intention of trying to help me fix things. Thankfully I figured out a workaround last night and will be switching hosting companies in the next week, hopefully to one that will actually do what I pay them to, which is to keep the site up and running!
To top off this tragic series of events, there was none of this risotto in my freezer!
Zero!
Zilch!
This is the ultimate in comfort food, so having to edit these photos while all this was going on was really like rubbing salt in an already very irritated wound.
Plus this is a really good excuse to pop open a bottle of wine. Not that I ever really need an excuse, but it helps when trying to explain to your husband why you've been day drinking on a weekday.
So. Why is this so excellent in times of emotional distress?
It's basically an amalgam of all that is comforting in this world.
Bolognese that tastes like grandma made it (except it's vegetarian)? Check.
Creamy dreamy mascarpone-infused risotto? Check.
Both of those mashed together in EVERY BITE?! Check. Check. Check.
I'll most certainly be making another batch this weekend. In times like these, a big bowl of comfort can almost always come in handy and I like to be prepared.

Creamy Mascarpone Risotto with Vegetarian Lentil Bolognese
Hearty vegetarian lentil bolognese joins forces with a creamy mascarpone risotto and in doing so hits all of the right comfort food notes.
Ingredients
1 cup dried black lentils
¼ cup olive oil
3 carrots, peeled and chopped
1 onion, peeled and chopped
1 red bell pepper, seeded and chopped
3 garlic cloves, minced
½ tsp dried thyme leaves
1 tsp dried oregano
salt and black pepper, to taste
2 cups arborio rice
1 cup white wine
4-6 cups vegetable broth
1 15 oz can tomato puree
8 oz mascarpone
red pepper flakes, to garnish
Instructions
In a medium pot, combine the lentils with enough water to cover them. Season the water with salt. Bring to a boil and then lower to a simmer, cooking until lentils are tender, about 20-25 minutes. Drain and set aside.
Meanwhile, in a large pot, heat the olive oil over medium heat. Stir in the carrots, onion, bell pepper, garlic, thyme, oregano, and salt and black pepper, to taste. Saute until veggies are tender, about 6-8 minutes.
Add the rice to the pan and saute for 1-2 minutes, or until toasted. Add in the white wine and allow to simmer, stirring frequently until wine has almost all evaporated.
Stir in the vegetable broth in 1 cup increments, stirring frequently, only adding another cup of broth when the previous cup has evaporated. Continued to do this until the rice is tender. Stir in the tomato puree along with the cooked lentils and mascarpone. Cook until warmed through. Remove from the heat and season again with salt and black pepper. Sprinkle with red pepper flakes if desired and serve warm.
Notes
An Eats Well With Others Original