Prepare these vegan almond joy overnight oats the night before and wake up a chocolate, coconut, and almond oatmeal dream!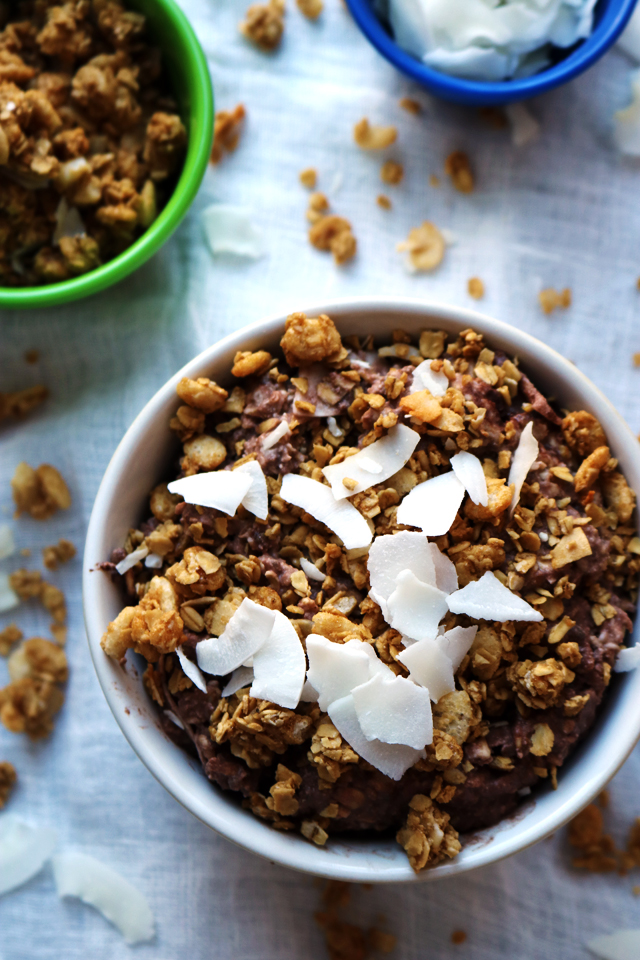 You really try to do your best as a parent only to realize YOU ARE RAISING AN ADDICT.
Already, at 10 months old.
They're starting young these days.
Hi, my name is Joanne and I gave birth to a book addict.
Yes. Really.
It goes something like this: we read a book. It ends, as all books do. Remy starts to throw a temper tantrum at the injustice inherent in the fact that books can't just go on forever. I'm a softy so I read the book again.
Repeat. Ad nauseum. Indefinitely. Until I distract her with a boob. And sometimes that doesn't even work.
Don't get me wrong, this sounds like a good problem to have until you've read The Little Blue Truck FIFTEEN TIMES in a twenty minute period and you kind of start wishing that the dump truck in the story had just stayed stuck in the mud so that the book would end sooner. I realize that sounds mean but to be honest, he's kind of the antagonist in the story and no one likes him. Least of all me.
All this to say that I have no time to make breakfast in the morning because I'm trapped on the couch with ALL THE BOARD BOOKS.
So, overnight oats it is.
Normally I stick to the basics with my oats, but then I spotted my favorite coconut granola at Whole Foods and I happened to have a big bag of coconut chips in my pantry and the whole thing just spiraled out of control!
It's chocolate coconut almond chaos, but the best kind. Truly.
The oat base is made by mixing oats with full fat coconut milk, a handful of coconut chips, and cocoa powder along with maple syrup for some natural sweetness and chia to give it all some body. It sits overnight and then you top it with handfuls of your favorite coconutty things, like the aforementioned Coconut Craze Granola, coconut chips, and a dollop of whatever nut butter you can't live without these days.

Vegan Almond Joy Overnight Oats
Prepare these vegan almond joy overnight oats the night before and wake up a chocolate, coconut, and almond oatmeal dream!
Ingredients
2 cups old fashioned oats
15 oz full fat coconut milk
1 cup almond milk
2 tbsp chia seeds
¼ cup coconut flakes, plus more for topping
2 tbsp maple syrup
2 tbsp cocoa powder
½ tsp almond extract
coconut granola for topping
Instructions
In a large bowl, stir together the oats, coconut milk, almond milk, chia seeds, coconut flakes, maple syrup, cocoa powder, and almond extract. Mix until well combined. Cover and refrigerate overnight
The next morning, divide oats among four bowls. Top with coconut flakes and coconut granola.
Notes
An Eats Well With Others Original