A rich flavorful meatless chili filled with beans, corn and its fair share of heat…perfect for game day!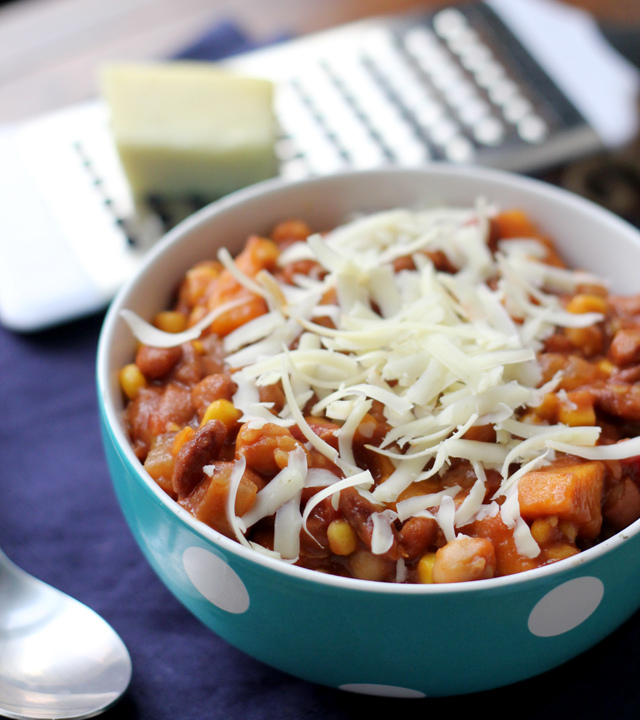 Houston, we have a problem.
I'm beginning to think I could get used to this whole taper thing.
Seriously, though it's like a really lazy person has taken possession of my body, forced me to sit on the couch for the hour and a half to two hours I used to spend at the gym, and glued my eyes to ALLTHEHORRIBLETELEVISION.
I've even resorted to watching made-for-Hulu tv shows.
It's that bad.
Normally I like to pretend that tapering doesn't actually exist, and I just go on and exercise right through it.
But this year because of a minor hip flexor/adductor strain/achiness that won't go away, I've been ordered by my physical therapist to, well. Observe it.
Religiously. Or something.
And while I thought I would totally abhor it and be ridiculously miserable and cranky…it's actually weirdly nice to have all this extra time on my hands?
I mean, I still feel a little gross and, uh, sedentary. But do you know how many blogs you can read and photos you can edit and how early you can go to bed with an extra two hours in your day?!
It's slightly magical.
And I'm slightly scared for my exercise future/skinny jeans.
But…it'll all be canceled out by this whole 26.2 mile jog thing I'm doing on Sunday. Right? Right.
That's what I'll be telling myself as I shove spoonfuls of this fabulously hearty scrumptious comfort-full chili into my mouth. All weekend long.
For real you need to make this for all of Sunday's sporting events. It's got spicy, it's got sweet, beans, corn, and pretty much ALL THE THINGS. With a sprinkling of cheese on top. And it's health food. (I won't tell if you won't.)
You should think of me and my probably sweaty self while you slurp it on Sunday from 10:30-2:30. Eastern standard time.
And if you say a little prayer for me too, like, hourly as I'm trekking along with The.Boy by my side through the five boroughs….that would be great. We are probably gonna need it.
(And PS – if you are going to be spectating on Sunday, shoot me an email and let me know where you'll be!! OR if you care to track my progress you can download a nifty app on your cell phone or follow me online on the NYRR website. My bib number is 43311.)
One year ago…Pumpkin Gnocchi with Winter Squash and Seared Radicchio
Two years ago…Pumpkin Swirl Brownies, Caramelized Brussels Sprouts
Three years ago…Pennette with Kale Ragu
Four years ago…Cinnamon Raisin Bagels
Spicy Three-Bean and Corn Chili
A rich flavorful meatless chili filled with beans, corn and its fair share of heat.
Ingredients
⅔ cup dried chickpeas, soaked overnight
⅔ cup dried black beans, soaked overnight
⅔ cup dried pinto beans, soaked overnight
2 tbsp olive oil
1 onion, cut into ½-inch pieces
1 medium sweet potato, peeled and cut into ½-inch pieces
2 garlic cloves, minced
1 (15 oz) can corn kernels, drained
4 oz minced mild green chiles
28 oz canned diced tomatoes
1 tbsp sherry vinegar
2 tbsp brown sugar
1 tbsp ancho chili powder
1 tbsp smoked paprika
2 tsp cocoa powder
½ tsp freshly ground white pepper
salt, to taste
Instructions
If using dried beans, put in a large pot and cover with salted water. Bring to a boil, then cover and simmer until tender, about an hour. Remove from the heat and drain, reserving the cooking liquid.
In a large pot, heat the olive oil over medium heat. Add in the onion, sweet potato and garlic. Cook over medium heat, stirring occasionally for 8 minutes, or until the vegetables are tender.
Add the drained beans, corn, chiles, and tomato to the pot. Stir to combine. Add in 4 cups of the bean liquid and bring to a simmer. Stir in the vinegar, brown sugar, chili powder, smoked paprika, and white pepper. Simmer for 30 minutes, stirring occasionally, or until the mixture thickens a bit. Season to taste.
Serve topped with cheese or sour cream.
Nutrition Information
Serving size:
⅙th of recipe