This chocolate-covered berry green smoothie will have you thinking you're eating dessert for breakfast!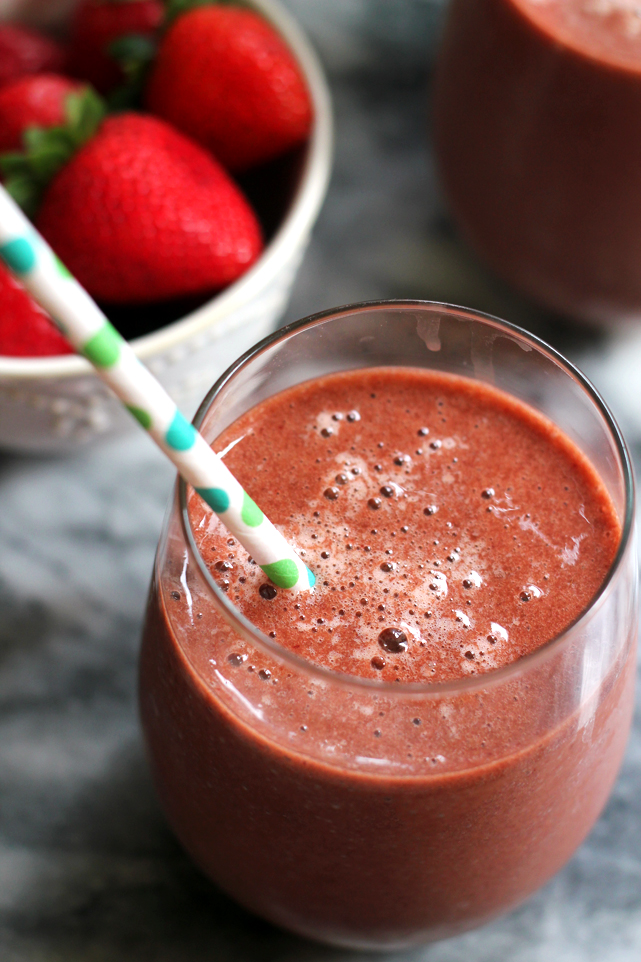 Not for nothing, but there is something really satisfying about knowing that you've drank an entire serving of kale.
Before noon.
Skeptical? I. WAS. TOO.
And now I'm like give me a green smoothie for second breakfast…or I can't stay awake at work past 3pm.
Life. Changing.
Something you should know about me is that I am the anti-Bandwagoner.
I still haven't watched a single Harry Potter movie, I was probably the last person I know to join Pinterest, and if you had asked me two months ago what I thought of green smoothies, I would have dry heaved for at least twenty minutes straight. And meant it.
Oh how times have changed. But I think that's truly a testament to how good green smoothies can really be!
Okay, sure, some of them are bad. (Really bad.)
But what most people don't realize is…IT DOESN'T HAVE TO BE THIS WAY!
In the end, it all comes down to ratios.
Good smoothies = 1 part green : many many parts fruit. And a few dates if you're really in a dire situation.
GREAT smoothies = all of that plus YOGURT. Because creamy probiotics – don't leave home without 'em.
Lately, I've been all about Coconut Dream® Non-Dairy Yogurt. It's made from real coconuts, meaning it has a bit of tropical flair to it, plus it's totally non-GMO, gluten free, dairy free, lactose free, soy free, and a great source of calcium. If you're into all that good stuff. (Spoiler alert: I am.)
Also, Coconut Dream®'s berrylicious flavors happen to make this chocolate-covered berry green smoothie sing with flavor. You will really think you're eating something naughty when you're slurping on this…when actually you're drinking a whole lot of vitamins and minerals and nutrients.
So many good life choices…all in one glass.

Chocolate-Covered Berry Green Smoothie
This chocolate-covered berry green smoothie will have you thinking you're eating dessert for breakfast!
Ingredients
2 ounces (56 g) baby spinach or baby kale
1 ripe banana, thinly sliced
8 ounces (225 g) strawberries, hulled
4 ounces (112 g) frozen cherries
2 tbsp cocoa powder
6 ounces (168 g) raspberry or strawberry dairy-free yogurt
1 cup water
1 cup ice
Instructions
Combine the greens, banana, strawberries, frozen cherries, cocoa powder, yogurt, water and ice in a high powered blender. Blend for 2-3 minutes or until smooth.
Notes
An Eats Well With Others Original
Disclosure: This post was sponsored by Coconut Dream® Non-Dairy Yogurt. As always, my thoughts and opinions are my own.