Tea is not just for drinking anymore! A smoky tea is infused into these black tea spring rolls with eggplant and mango dipping sauce…guaranteed you can't stop at just one!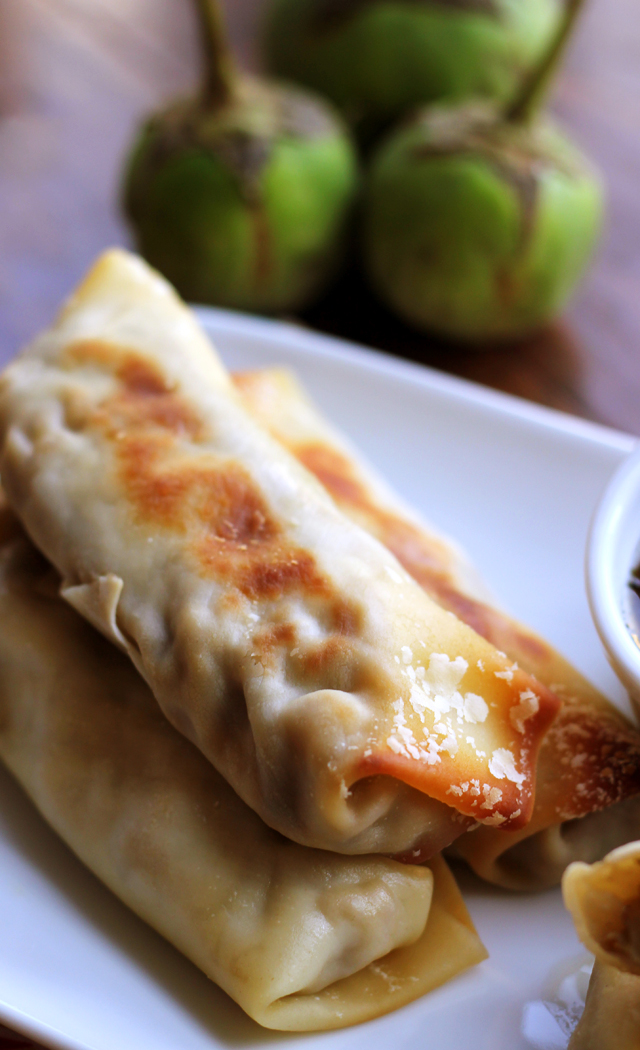 My spring rolls are in the midst of an identity crisis.
Which makes me kind of concerned about my own mental state, because: like spring roll, like spring roll maker.
Fact.
But, and be honest(!)…have you ever seen a spring roll not swaddled in a rice paper wrapper?
It's like they just rolled out of bed and went to work in their jammies, without a bra on.
I mean, I wouldn't know what that's like, but I can infer the feeling. I'm a very good empathizer.
Then you go and try to call them egg rolls, but that doesn't quite fit either because, though they do have the characteristic crispy crunchy shell, they have not spent even a second in a bath of oil and are even (dare I say)…healthy!
And I have yet to meet a single egg roll in this world that can be described as healthy. So that won't do.
We'll just have to stick with spring rolls, dress code violation and all.
Bless their hearts.
Bless their crispy crunchy delectably salty smoky squishy hearts.
And then get them in my belly.
Because at the end of the day, who cares what kind of roll you really are so long as you taste good.
Amen to that.
Black tea sounds like a strange addition to dinner, but here it adds a nice smoky flavor that enhances the meatiness of the eggplant filling, while also making the mango chutney sauce something to write home about.
You'll be triple dipping before you know it. And I can't say I blame you.
Black Tea Spring Rolls with Eggplant and Mango Dipping Sauce
Tea is not just for drinking anymore! A smoky tea is infused into these black tea spring rolls with eggplant and mango dipping sauce...guaranteed you can't stop at just one!
Ingredients
1 tsp black tea leaves, Lapsang Souchong if you can find it
3 tbsp sesame oil, divided
3 shallots, chopped
1 clove garlic, minced
1 lb eggplant, chopped
12 oz extra-firm tofu, crumbled
4 tbsp shoyu sauce, divided
16 (6-inch) wonton wrappers
¾ cup mango chutney
¼ cup rice vinegar
Instructions
Preheat the oven to 400F.
Grind the tea into a fine powder in a spice grinder or with a mortar and pestle. Set aside.
In a large skillet, heat 1 tbsp of sesame oil over medium-high heat. Add in the shallots, garlic, and eggplant. Cook, stirring frequently, until the eggplant is softened and cooked through, about 6-8 minutes. Stir in the tofu and half of the shoyu, stirring until combined. Cook for a minute or so to heat through. Add in a few pinches of the ground tea. Season to taste with shoyu.
To assemble the spring rolls, place a wonton wrapper in front of you so that it looks like a diamond. Spread a few spoonfuls of the filling on the wrapper, not too far from the corner nearest you. Take the corner and fold it so that it covers the filling. After one roll, fold in the left and right corners, then continue rolling. Dab a bit of water on the far corner to seal.
Repeat with remaining wrappers and filling.
Arrange on a parchment-lined baking sheet, seam-side down. Brush with the sesame oil and bake for 20 minutes, turning halfway through.
While the spring rolls cook, make the dipping sauce by whisking together the chutney, vinegar, and remaining 2 tbsp of shoyu. Stir in the remaining ground tea to taste.
Serve the spring rolls with the dipping sauce.
Notes
Adapted from
Super Natural Cooking: Five Delicious Ways to Incorporate Whole and Natural Foods into Your Cooking
Nutrition Information
Serving size:
1 spring roll
Tea, tea, everywhere and not a drop to drink! That's because this month's #RecipeRedux challenge is to use tea in a chewable, rather than drinkable way. Check out what everyone else made!