This is a Sponsored post written by me on behalf of Organic Choice for SocialSpark. All opinions are 100% mine.
Roasted zucchini, garlic and basil hummus sandwiches make for the perfect picnic fare on a warm spring or summer outing!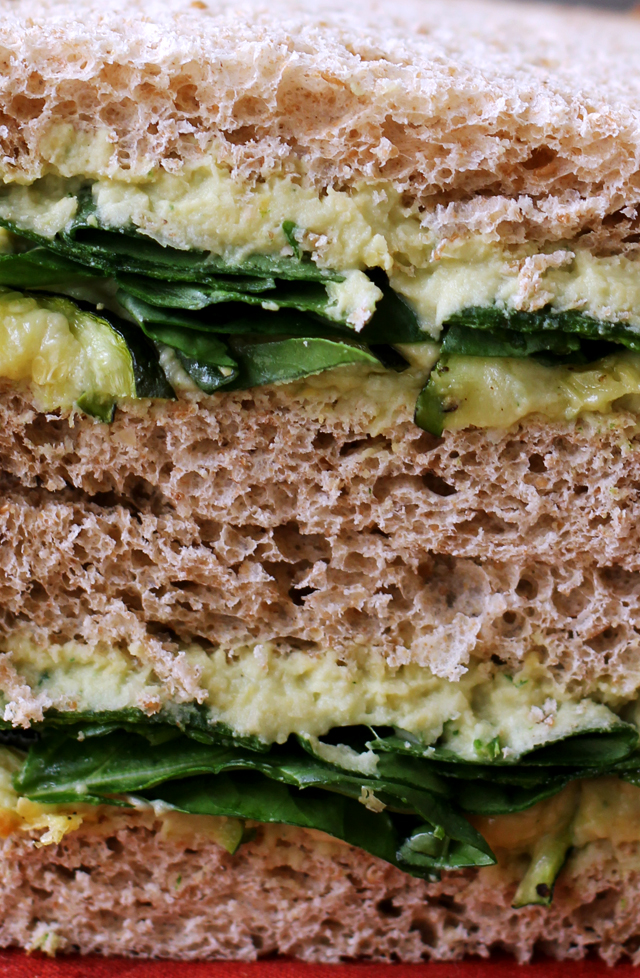 Garden humblebragging – it's a thing.
And it starts this weekend.
Get ready.
Yes, it's that time of year when anyone with a yard starts bemoaning just how successful their zucchini plants are, and isn't it so awful that they had to stuff their freezers with basil because their garden is just too prolific, and what are they going to do with all their jars of homegrown tomato sauce leftover from last year's bountiful harvest when this year's green zebras and brandywines come in.
While the rest of us with barely a quarter of a square of sidewalk to our names smile through clenched teeth and resist the urge to run rampant through their kale bouquets and pull up all their carrots before they're ready.
At least, that was the summer I had resigned myself to until Miracle-Gro tapped me on the proverbial shoulder, handed me a bag of their new line of Organic Choice soil, and told me to go forth and garden!
In my apartment! No crazy lights or greenhouse temperatures necessary.
Ever the skeptic, it was with great trepidation that I buried some basil seeds under a mound of the soil, threw the whole pot on my windowsill, clicked my heels together three times and hoped for the best.
Lo and behold, you are now speaking to someone who has harvested just enough basil to make an amount of roasted garlic and basil hummus that might just feed an army.
It's a tough life, but someone has to eat their way through it.
I started out with basil because it seems like something that everyone and their kid sister can grow, but now I think I'm ready to attempt bigger and juicier things.
And when there are homegrown heirloom tomato bouquets at my November wedding, you will know why.
If you've ever dabbled with the idea of gardening – outdoor, windowsill, or otherwise – then you should definitely check out Miracle-Gro Organic Choice! I love that I don't have to worry about any weirdo chemicals transmitting from the soil to my plants and then to my belly when I eat them. In addition, make sure you check out the Miracle-Gro Learn And Grow website for tons of tips and edible gardening inspiration!
Now, a little more about these sandwiches.
Dairy free and perfect for picnicking, they are stuffed with a double layer of creamy roasted garlic and basil hummus, a middle layer of caramelized roasted zucchini coins, and topped off with a handful of fresh spinach.
Summer's best in every bite.
Roasted Zucchini, Garlic and Basil Hummus Sandwiches
Roasted zucchini, garlic and basil hummus sandwiches make for the perfect picnic fare on a warm spring or summer outing!
Ingredients
1 head garlic
4 tbsp olive oil, divided
2 zucchini, thinly sliced into coins
salt and black pepper, to taste
4 cups cooked chickpeas
⅓ cup packed basil
¼ cup tahini
4 cups baby spinach
8 slices bread
Instructions
Heat oven to 400F.
Peel away the outer layers of the garlic skin, leaving the skin on individual cloves intact. Cut ¼-1/2 inch off the top of the garlic, exposing the cloves.
In a small dutch oven, pour 1 tbsp olive oil over the garlic and roll it around so that the whole head gets a coating of it. Cover and roast for 45-60 minutes, or until garlic becomes soft and caramelized. Let cool so that you can touch it without burning yourself.
Meanwhile, spread the zucchini slices on a parchment-lined baking sheet. Brush with a tbsp of olive oil and sprinkle with salt and black pepper. Roast for 20-30 minutes, or until caramelized and browned.
To make the hummus, in the bowl of a food processor, combine the chickpeas, basil, tahini, remaining 2 tbsp olive oil, and salt and black pepper to taste. Process until smooth, adding in water as necessary to get a spreadable consistency.
Spread the hummus onto each of the bread slices. Top half of them with the zucchini and the spinach, and then cover with a second slice of bread.
Notes
An Eats Well With Others Original