Sheet pan gnocchi with spring vegetables is a quick and easy weeknight dinner! It's loaded with roasted vegetables, a homemade pea pesto, and is a simple family favorite.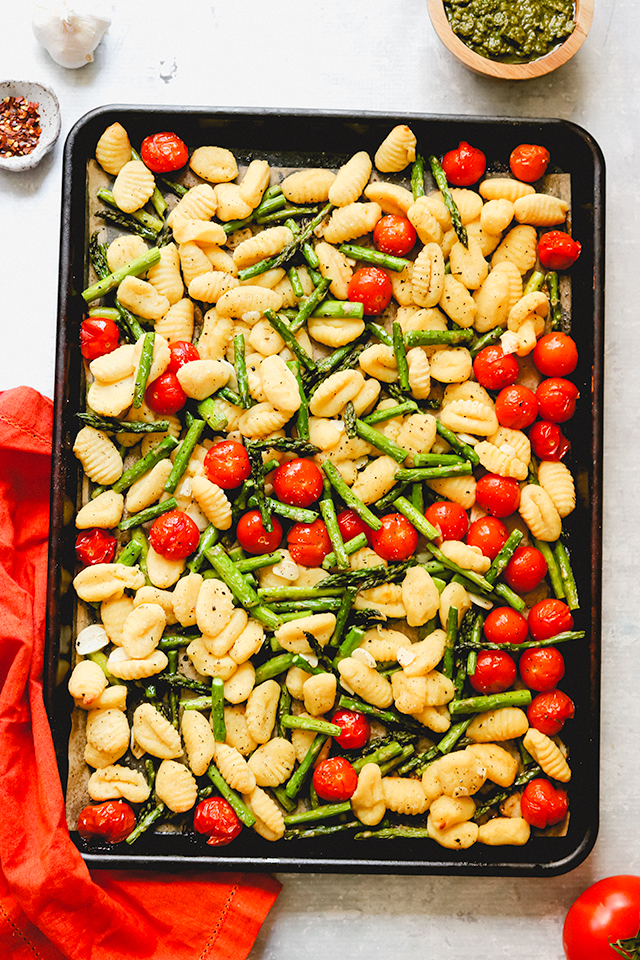 I could write a whole book on my feelings on gnocchi but, let's be honest, no one would read it except for maybe my mother and even then, probably not. 
My mixed and complicated thoughts on it stem from the fact that the gnocchi eating experience can be so so variable – they're either pillowy little dreams or dense gluey rocks; in my experience, there is rarely an in-between. 
Unfortunately, to achieve the former you either need to be eating in a restaurant (and even then, it's pretty hit or miss) or making it yourself at home, which is just not achievable on most weeknights, at least not in my home. 
Storebought gnocchi (even the ones labeled "fresh") leave something to be desired, and we won't even talk about the shelf stable kind.
At least, that's what I've thought for most of my adult life but IT TURNS OUT I WAS DOING IT ALL WRONG.
The key to magical (even storebought!) gnocchi is to skip the boiling all together and roast it!
By omitting the vat of boiling water, the gnocchi never has a chance to bathe in its own glutinous juices and so it ends up lighter somehow, but also crispy, almost as if it were pan-fried. 
Apparently the internet has known this for at least two years, and I'm here feeling that feeling like I've had something stuck in my tooth all day and nobody's told me. 
The other benefit to throwing your gnocchi on a sheet pan and baking it is that you can oh so easily turn it into a complete meal. Just throw some veggies on along with it and – voila! – you have dinner, no extraneous steps or unnecessary dishes to wash. 
Spring is in the air, so I've chosen to incorporate pencil asparagus and cherry tomatoes into my sheet pan gnocchi dinner but you can use pretty anything that tastes good roasted (so….actually anything).
Toss it all together in a big bowl with some olive oil and garlic, spread it on your sheet pan and BOOM you're done. 
To add a little bit of extra flavor and to make it more saucy, I paired it with a pea pesto that is also almost laughably easy to prepare. All of the ingredients go straight into the food processor and it's pretty much done after a 30 second pulse. Feel free to make a batch ahead of time (pro tip: double or triple the recipe and freeze the extras for future meals) or just pick up a jar of already prepared basil pesto from the store.
Crispy Sheet Pan Gnocchi with Spring Vegetables and Pea Pesto
Sheet pan gnocchi with spring vegetables is a quick and easy weeknight dinner! It's loaded with roasted vegetables, a homemade pea pesto, and is a simple family favorite.
Ingredients
2 lb fresh potato gnocchi
4 garlic cloves, thinly sliced
1 lb asparagus, woody ends trimmed, cut into 1-inch lengths
12 oz cherry tomatoes
3 tbsp olive oil
salt and black pepper, to taste
For the pea pesto
½ cup frozen peas, thawed
½ oz parmiggiano-reggiano cheese, grated
½ cup packed fresh basil
1 small garlic clove, grated
¼ cup olive oil
salt, to taste
Instructions
Heat oven to 450F. Line a large baking pan with parchment paper.
In a large bowl, toss the gnocchi, garlic, asparagus, cherry tomatoes, and olive oil together. Spread on the prepared baking sheet. Sprinkle with salt and black pepper, to taste.
Place in the oven and roast, stirring halfway through, until the gnocchi are soft and have plumped up and the vegetables are caramelized, about 20 minutes.
For the pea pesto
Combine the peas, parmesan, basil, garlic, and sea salt in the bowl of a food processor or blender. Pulse until finely chopped. Add in the olive oil and process until combined. Remove to a bowl and season with salt and black pepper.
Toss with the gnocchi before serving.
Notes
An Eats Well With Others Original