Stuffed eggplant like you've never had it before – filled with a paneer and mango pickle mixture and served atop a bed of creamy coconut dal.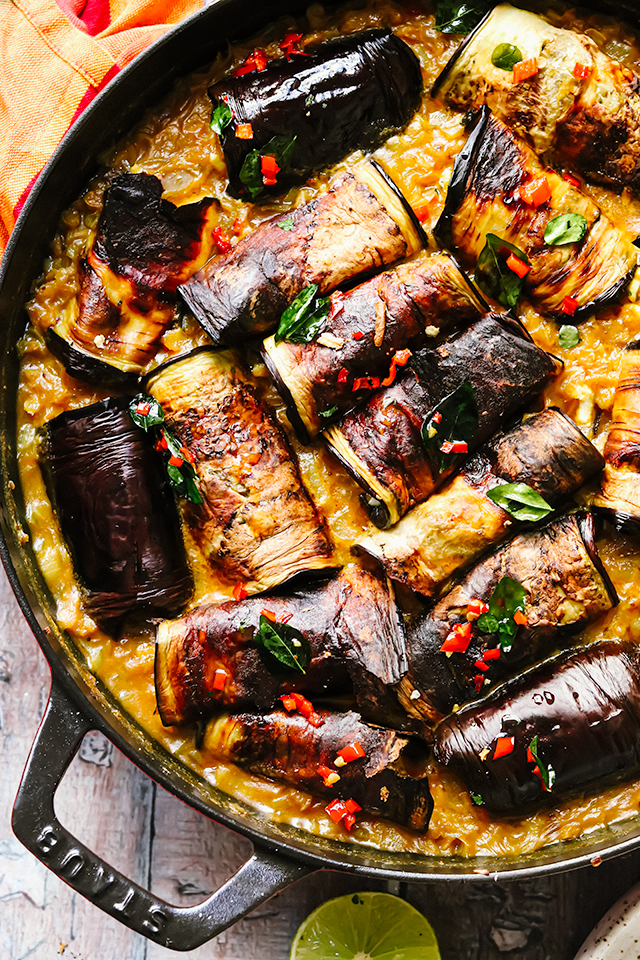 Oh eggplant, such a polarizing ingredient.
Some may wonder why I keep making it when my husband proclaims to hate it so much, but the reason is here! This! Exactly!
His actual words after eating this, "I know you don't usually like to make the same recipes twice, but you could make this again."
I mean, that's basically a standing ovation in man terms, am I right?
Slowly but surely, through much (much) trial and error I'm learning to realize that what many people (husband included) don't like about eggplant is the fact that it's often not prepared properly.
If it's not cooked (and I mean REALLY cooked) through it can be bitter with a texture that's kind of what I imagine biting into styrofoam to be like. If that does not sound at all appealing to you, then you are not alone.
BUT when done right, eggplant is buttery and tender and almost melts in your mouth. That's the eggplant I know and love and want to share with the world!
So, how do we achieve this magical eggplant nirvana? 
Well, to put it bluntly, you really have to cook the shit out of it. There are two main methods for this – either you need to fry it in vats (literally) of oil OR roast it (my preferred method). Here we're doing the latter – cutting the eggplant lengthwise into slabs and roasting it at high heat until it's pliable and tender. 
The other secret to really good eggplant is F L A V O R. Namely that you need to pair it with something big and bold that will mask any traces of bitterness left behind after cooking. 
If you've met me you know that if given the option to make curry or something with an Indian flair to it, I will always say yes. ALWAYS. So here we are!
Now, before we start there are some specialty ingredients you'll need to find. First, make sure your spice cabinet is well stocked with the basics – mustard seeds, cumin, coriander, turmeric, and curry powder. Most of these can be found at your local supermarket and if you cook Indian or Middle Eastern food with any regularity, you'll likely already have these in your pantry.
In addition, this recipe calls for fresh curry leaves, which can not always be the easiest to find. You can omit them, but I find that they really do add a special flavor to Indian dishes (perhaps that restaurant-level flavor you've never quite been able to achieve) so if you cook Indian food with any regularity, then it's probably worth seeking them out. Most Indian grocery stores should carry them and I've even bought them off Amazon (with good results!) in a pinch. They keep for a few weeks in the refrigerator and you can always freeze them for more longterm storage if you don't plan on using them all immediately.
The base of this dish is a coconut and spice-infused red lentil dal that is creamy, hearty, and full of flavor. You'll want to cook it until the red lentils have completely broken down, which helps to thicken the stew and create its signature porridge-like texture. Red lentils cook fairly quickly, so this should only take about 20 minutes and can be done while your eggplant slabs are roasting away.
Next, the eggplant is stuffed with a paneer and hot mango pickle mixture that is salty, spicy, tangy – just an explosion of flavor. If you've never had hot mango pickle before, then you're not alone – this was my first experience with it as well, even though it is a pretty traditional condiment used in Indian kitchens. It's made with raw unripe mangoes, spices, chilis, and oil that have been left to pickle for a few days. It is not the same thing as mango chutney and the two cannot be used interchangeably in this recipe!! I was wary of the flavor when I tried the mango pickle on its own, but once mixed into the paneer, the flavor was a bit more muted and worked well with the creaminess of the paneer. I used the house brand of mango pickle made by my local Indian grocer, but Patak's brand can be fairly easily sourced. If you can't specifically find mango pickle, then other Indian pickle varieties can be used, such as hot lime pickle.
Once the eggplant slabs are stuffed and rolled, they get nestled into the coconut dal and return to the oven for a final bake, which helps to melt the cheese a bit and allow all of the various flavors to meld together. The dish is finished off with a chili and curry leaf-infused oil drizzle just before serving.  
The original recipe is from the Ottolenghi Flavor cookbook, and it certainly delivers on its name. As with many Ottolenghi recipes, the process of making it does take a bit of effort but in this case, it is well worth it!
Stuffed Eggplant in Curry and Coconut Dal
Stuffed eggplant like you've never had it before - filled with a paneer and mango pickle mixture and served atop a bed of creamy coconut dal.
Ingredients
For the eggplant
3 large eggplants (~1.75 lb), stems removed and cut lengthwise into ¼-inch thick slices
3 tbsp olive oil
salt and black pepper
8 oz paneer, coarsely grated
1 tsp lime zest
2 tbsp lime juice
1.5 oz hot mango pickle, roughly chopped
¼ cup cilantro, roughly chopped
For the coconut dal
3 tbsp olive oil
5 shallots, diced
1.5 oz fresh ginger, peeled and minced
2 red hot chili peppers, minced
30 fresh curry leaves
1 tsp black mustard seeds
1 tsp ground cumin
1 tsp ground coriander
½ tsp ground turmeric
2 tsp medium curry powder
2 tsp tomato paste
½ cup dried red lentils
1 (13.5 oz) can full fat coconut milk
2.5 cups water
¾ tsp kosher salt
Instructions
Heat oven to 450F. Line two baking sheets with parchment paper.
In a large bowl, toss the eggplant slices with the olive oil, ¾ tsp salt, and black pepper. Spread on the parchment-lined baking sheets in a single layer. Bake for 25 minutes, flipping halfway through. Set aside.
In a small bowl, stir together the paneer, lime zest, 1 tbsp of lime juice, mango pickle, cilantro, and ⅛ tsp salt.
For the dal
While the eggplants are roasting, start preparing the dal. Heat the olive oil in a large oven-proof skillet or Dutch oven over medium-high heat. Add the shallots and saute for 8 minutes, or until golden. Add in the ginger, half of the red chili pepper, and half of the curry leaves. Saute for 2 minutes. Stir in the mustard seeds, cumin, coriander, turmeric, curry powder, tomato paste, and lentils. Cook for 1 minute, stirring constantly, then stir in the coconut milk, water, and salt. Bring to a boil, then lower the heat to medium and simmer for 20 minutes or until the lentils have softened.
To assemble
Once the dal has finished cooking (recipe below, make it while the eggplant is roasting), start to assemble the eggplant. Put a heaping tbsp of the paneer mixture into the middle of each roasted eggplant strip then roll up the eggplant from the thinner end to the thicker end. Place the eggplant roll seam side-down in the coconut dal. Repeat with the remaining eggplant and paneer mixture. Press the rolls gently into the sauce so that they are submerged about half way. Place in the oven and bake for 15-20 minutes, or until the eggplant is golden and the sauce is bubbling.
Allow to rest for 5 minutes.
While the dish is cooling, heat the remaining 1 tbsp olive oil in a small saute pan over medium-high heat. Add the remaining chile and curry leaves. Fry for 1 minute, or until the curry leaves have started to crisp up. Remove from the heat and spoon over the eggplant. Drizzle with the remaining 1 tbsp of lime juice before serving.