Pan-banging funfetti sugar cookies – to satisfy the inner child in all of us!! These are crispy on the outside, soft and chewy on the inside, and filled with fun rainbow sprinkles.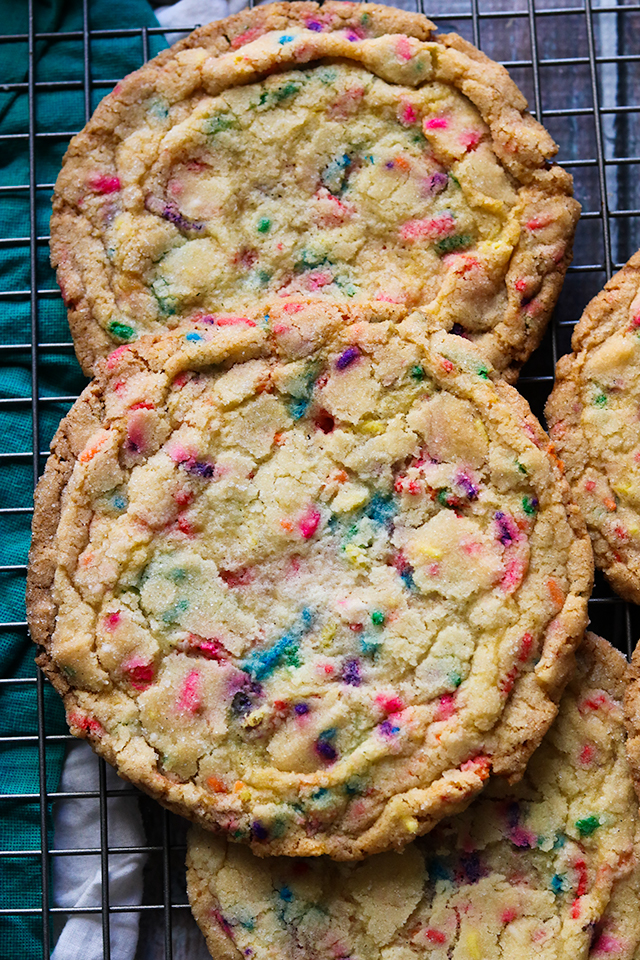 I could blame these cookies on Remy, but let's be honest – I love funfetti as much as the next five-year-old-stuck-in-a-thirty-something's body!!
We rainbow sprinkle a lot of things in this house that were never meant to be rainbow sprinkled. It's my secret trick for getting Remy to eat anything (and I mean ANYTHING). You can just categorize that as something I very judgmentally said I would never do before actually having a kid, and yet here we are. To all the other sprinkle-bribing parents out there – I see you, I AM you, let's form a support group mmkay??
So it should come as no surprise that when I saw the rainbow sprinkle sugar cookies in Sarah Kieffer's fabulous 100 Cookies cookbook, we had to try them. 
It didn't hurt that the cookies were also crinkly in all the best places, as big as our faces, and perfectly chewy on the inside. 
If that's not cookie nirvana, I don't even know what is!
These are a variation on Sarah's infamous pan-banging method of cookie baking, which has been making its rounds on the internet for probably the past five years. This technique has you bang your cookie sheet in the oven at various intervals throughout baking, which causes the center of the cookies to fall, creating concentric wrinkles across the cookie surface.
Making these is a little bit more labor intensive than your typical cookie recipe because you need to baby-sit them during baking in order to time your pan bangs appropriately, but it is worth it to get that signature crinkly, wrinkled look. More than just aesthetics, the ripples generate more surface area, which allows for an extra crispy outside while still preserving a chewy interior. 
The 100 Cookies book features many variations on the pan-banging theme, so there really is something for everyone. I've made the chocolate chip version and now these rainbow-infused sugar cookies!!
These are perfectly sweet, deliciously chewy, and just so much fun. They come together quite quickly and don't require any extra chill steps or hard-to-find ingredients. In fact, if you're a sprinkle obsessed human (ahem), you probably already have all of the ingredients for these in your pantry right now. 
So…..what are you waiting for again? GET BAKING!
Pan-Banging Funfetti Sugar Cookies
Pan-banging funfetti sugar cookies - to satisfy the inner child in all of us!! These are crispy on the outside, soft and chewy on the inside, and filled with fun rainbow sprinkles.
Yield:
12 extra large cookies
Ingredients
2 cups (284 g) all purpose flour
1 tsp baking soda
¾ tsp kosher salt
½ tsp cream of tartar
1 cup (227 g) unsalted butter, room temperature
1¼ cups (350 g) sugar
1 large egg
1 tbsp vanilla extract
½ cup (90 g) rainbow sprinkles
Instructions
Heat oven to 350F. Line three sheet pans with aluminum foil, dull side up, and set aside.
In a medium bowl, whisk together the flour, baking soda, salt, and cream of tartar. Set aside.
In the bowl of a stand mixer fitted with the paddle attachment, cream together the butter and 1.5 cups (300 g) sugar on medium-high speed until light and fluffy, about 2-3 minutes. Add in the egg and vanilla. Mix on low speed until combined. Add in the flour mixture and mix on low until just combined. Stir in the sprinkles.
Divide the dough into 3 oz (85 g) or ¼ cup balls. Place the remaining ¼ cup (50 g) sugar in a small bowl. Roll each ball in the sugar. Place four cookies on each sheet pan, with an equal amount of space in-between them.
Bake for about 8 minutes, or until the dough balls have puffed up in the center. Lift the sheet about 4 inches and let it drop against the oven rack; this will create ridges in the edges of the cookies. Allow the cookies to bake for another 2 minutes, then repeat the lifting and dropping of the pan. Repeat 2-3 more times in 2 minute intervals or until the cookies have baked for a total of 14-16 minutes, are golden brown on the edges but still light in the center.
Transfer the baking pan to a wire rack and allow to cool for 10 minutes. Remove from the pan and allow to cool completely.