The rich flavors of roasted vegetables are paired with a sweet corn and salty feta topping in this velvety roasted red pepper soup.
Disclosure: This post was sponsored by Pompeian. As always, my thoughts and opinions are my own. Thank you for supporting the brands that keep me inspired in the kitchen.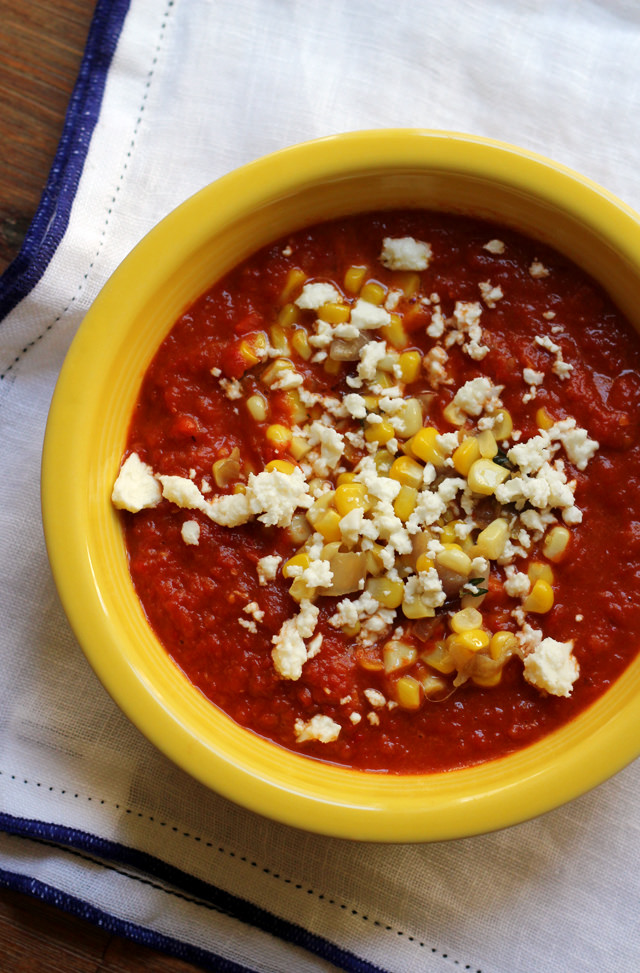 Who needs menu planning when you can stand in front of your fridge and play "What Should I Roast Next" Roulette?
I mean, really.
No brainer.
This week's lucky (unlucky? lucky for me?) candidates were a crisper full of bell peppers and a counter full of rotting tomatoes.
I mean, obviously I cut all the moldy parts off but really, I was just doing them a favor.
It was not a good look for them.
These peppers, on the other hand, were total drop dead diva beauties and I cringed a little to cut them open, tear out their seedy guts and plop them down on my baking sheet.
But then my whole apartment smelled like roasted peppers for days and all of a sudden I didn't feel so bad anymore.
Funny how life works that way.
Oh corn.
You are the wind beneath my wings.
No, you are. NO YOU ARE.
And then all the kings horses and all the kings men got roasted, simmered and pureed into red velvety roasted bell pepper soup smithereens.
You know, the dreamy kind.
When you're having soup as simple as this, you really need to choose your ingredients wisely from the (hopefully not moldy) tomatoes right down to the tablespoons of olive oil. Olive oil can have ridiculously different flavors and profiles depending on where it's from, which pair better (or worse) with different kinds of meals. Some of my favorites to mix and match come from the Pompeian Varietals collection, which consists of three mono-varietal extra virgin olive oils that celebrate the unique flavor profiles of distinct olive varieties. For this soup, I chose the Picholine, namely for its herbal undertones and light flavors that added to without distracting from the rich roasted veggie notes. Pretty much the perfect slurp.
Roasted Red Pepper Soup with Corn and Feta
The rich flavors of roasted vegetables are paired with a sweet corn and salty feta topping in this velvety roasted red pepper soup.
Ingredients
5 large red bell peppers, halved, cored and seeded
4 large heirloom tomatoes, cored and quartered
4 large shallots, divided, 3 halved and 1 minced
8 large garlic cloves
extra virgin olive oil, for drizzling
kosher salt and freshly ground black pepper
¼ tsp smoked paprika
2½ cups vegetable broth
3 ears sweet corn, husked and kernels cut off the cob
1 tsp fresh thyme leaves
1 tbsp unsalted butter
¼ cup crumbled feta cheese
Instructions
Heat oven to 425F.
In a large bowl, toss together the peppers, tomatoes, 3 halved shallots, and garlic cloves. Drizzle with the olive oil and season generously with salt and black pepper. Arrange skin side up on a large, rimmed baking sheet.
Roast for 45-60 minutes, or until everything is charred and the skins are wrinkly. Remove from the oven and let cool slightly. Peel the skins from the peppers and tomatoes and discard. Pour the roasted veggies into a large pot. Stir in the smoked paprika and veggie broth. Bring to a boil and then lower the heat, simmering uncovered for 15 minutes. Puree in a blender or in the pot with an immersion blender.
Season to taste with salt and black pepper.
Meanwhile, heat a medium pan over medium heat. Add a tablespoon of olive oil and the minced shallot to the pan. Cook until shallot becomes tender and translucent, about 2-3 minutes. Add in the corn kernels, as well as some salt and black pepper, and the thyme. Cook for 2 minutes and then stir in the butter until melted. Remove from the heat.
Divide the soup among 4 bowls and then sprinkle with the corn mixture and crumbled feta cheese.
Notes
Adapted slightly from
The Food52 Cookbook, Volume 2: Seasonal Recipes from Our Kitchens to Yours
Roasted vegetables are perfect for soups! For more recipes that use them, check out these: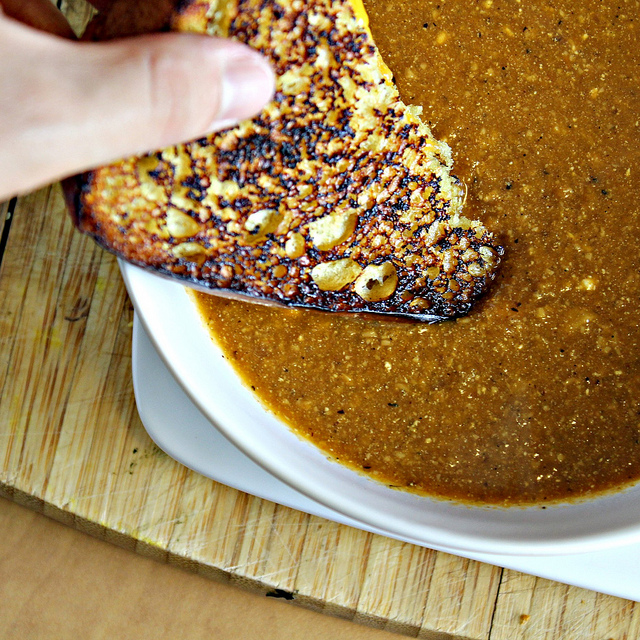 Warm and Spicy Cashew Tomato Soup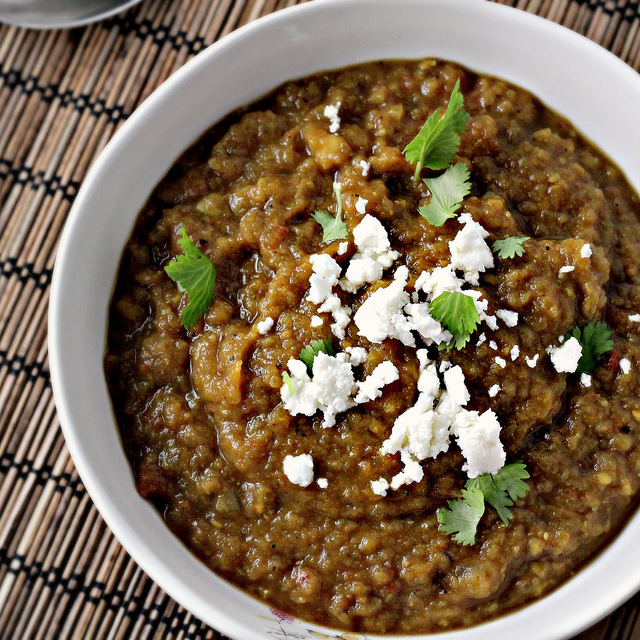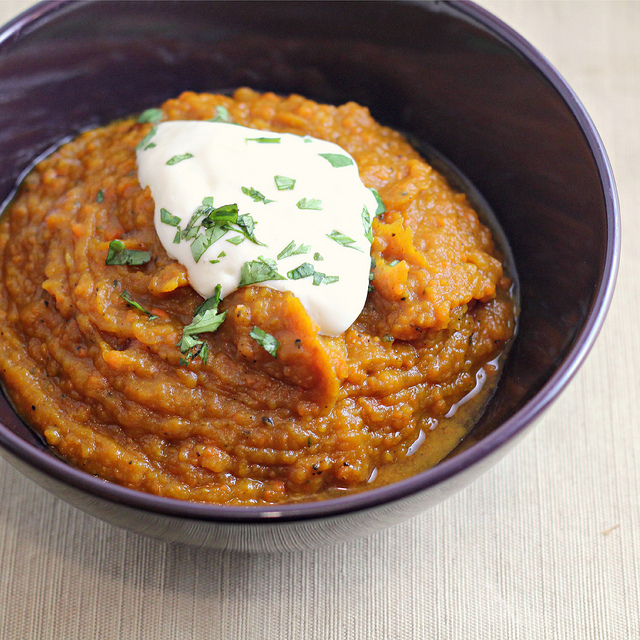 Indian-Spiced Roasted Squash Soup
From Around the Web:
Roasted Squash Soup with Maple-Glazed Bananas from Culinary Covers
Roasted Red Pepper and Sweet Potato Soup from Taste and Tell
Roasted Cauliflower Soup with Spicy Peanut Butter Creme from An Edible Mosaic
Roasted Garlic and Parsnip Soup with Sage Lemon Butter from Love & Olive Oil