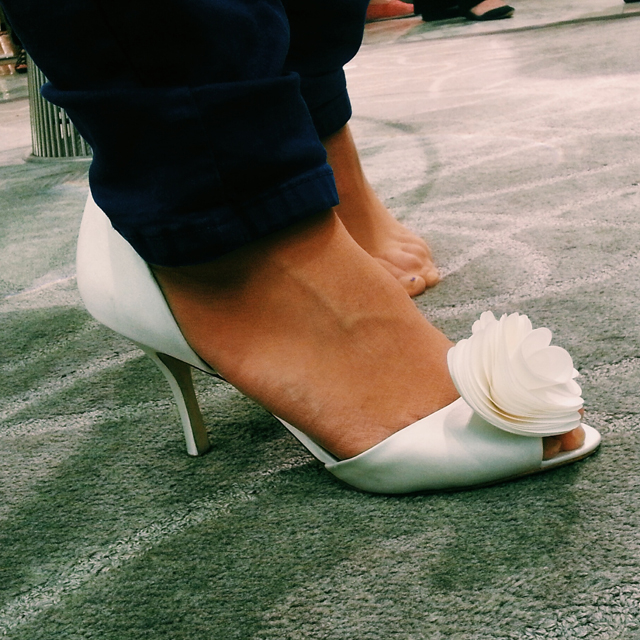 1. I said yes to the dress!!!!
2. And by dress I obviously mean SHOES. But that just didn't rhyme.
3. Is it bad luck for the groom to see these before the wedding? Because I kind of keep wearing them everywhere all the time shoving them in his face. Oops.
4. So…I know you ALL want to see pictures from the bachelorette party but I'm still trying to get my hands on some that aren't too indecent for the internet. (<–oxymoron) I actually didn't take any because I was too, uh…."out of it" and my friends apparently were only interested in capturing the kind of Kodak moments that can only be described as blackmail photos.
5. For now let's just say that what happens at Hunk-O-Mania stays at Hunk-O-Mania.
6. If we're friends on facebook, you can see about five million pictures from my bridal shower. Feel free to just ignore how close you are to seeing my underwear in half of them. Apparently I'm incapable of crossing my legs while sitting for more than thirty seconds at a time.
7. ALL THE TV IS BACK!! Mainly The Mindy Show and The New Girl, both of which I am obsessed with.  What else do I need to start watching this fall??
8. I am officially in pumpkin mode. My Pumpkin Obsession pinterest board is in for some serious action.
9. The hummus toasts from Seriously Delish. Whoa. I may have eaten them for every meal yesterday. Such a good life choice on my part.
10. I'm headed to Big Harvest Potluck this weekend!! Who else is going??