Football food doesn't have to be all about the meat! These Korean BBQ tofu sliders showcase tofu like you've never seen it before – slathered in spicy sweet bbq sauce and sandwiched between layers of kimchi and wasabi greens.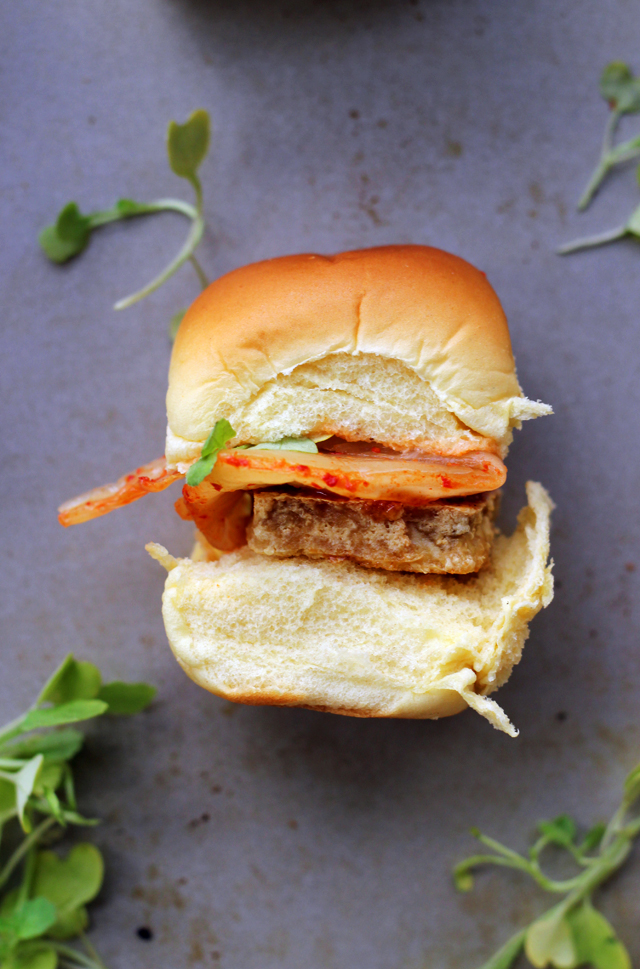 No one wants to be the hangry vegetarian at the meat-covered football food table.
Fact.
And no one wants to be the host of the hangry vegetarian who is hovering over the meat-covered football food table harboring the anger of five thousand very hungry suns.
Fact. Squared.
But if there's one thing I've learned about situations like these, it's that there's always a silver lining.
And today that silver lining is that we are going to tofu like we have never tofu-ed before!
It's gonna be kind of awesome.
If I've learned anything in my many years of cooking foods that other people tend to run away screaming from, it's that you have to present it to them with flavors and textures that they already know and love.
In this case, tofu is getting the shallow fried treatment so that it gets all nice and crispy on the outside right before it is smothered with not one, but two layers of Korean BBQ sauce.
Go big or go home, as they say in Texas (AKA football-capital-of-the-world).
Then it is sandwiched into a slider bun along with a garnish of crunchy tangy spicy kimchi and a sprig of micro wasabi for all sorts of intense flavor and a dose of good measure.
Just try to keep the hordes of hungry football fans away from these babies.
But make sure you also set aside a few (dozen) for yourself before you let these loose on the masses. Those games are long and we need all the fuel we can get if we're going to be fake-cheering along with the rest of 'em.
For the recipe, head on over to Nasoya's website!