Brown butter pumpkin cupcakes with caramel cream cheese frosting are filled with warm spices and sweet salty flavor – the perfect way to welcome in the fall season!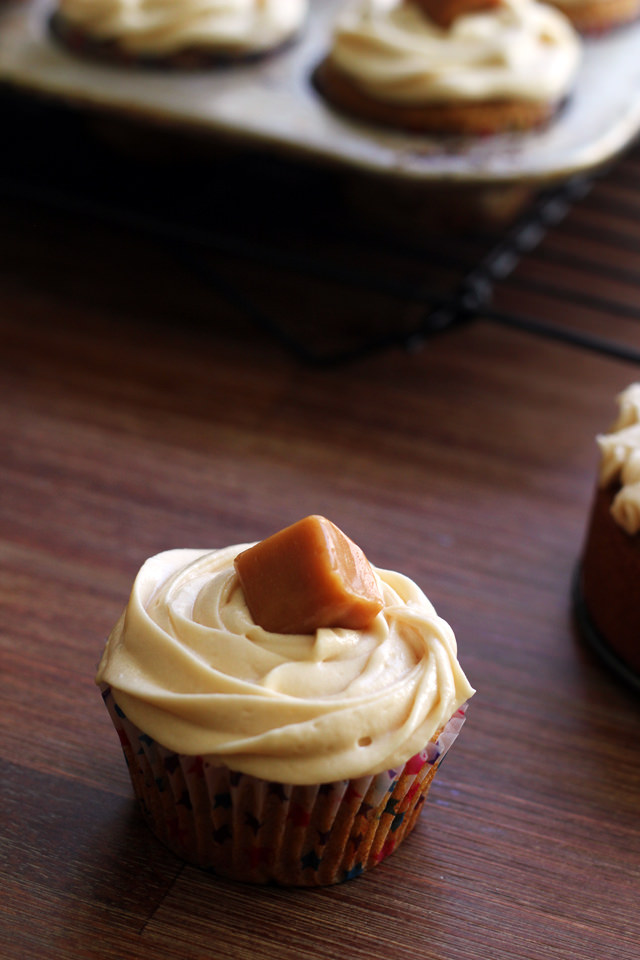 When someone walks into your life, sits down next to you at a vegan restaurant on the upper east side (actually, I think we sat across from each other, but I can also barely remember what I had for breakfast today, so who knows), and happens to harbor a pumpkin obsession that rivals your own…
….you pretty much have two life options.
(a) run away screaming because this is obviously your evil twin
or
(b) make him/her one of your best friends and live happily ever after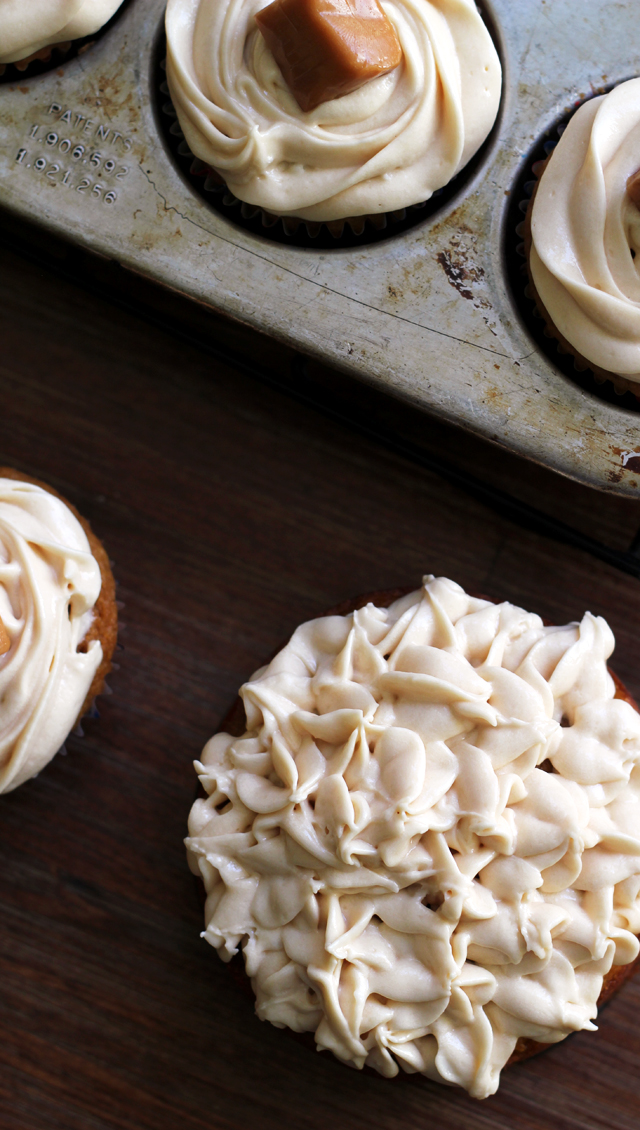 In the case of Lauren from Keep It Sweet Desserts….I went with the latter option.
And happily ever after it most certainly has been.
Lauren and I have known each other for four years and even though so much has changed in our lives throughout this time, including but not limited to inter-state moves, engagements, career changes, one thing that has remained constant is our friendship. Whenever I am asked what I love most about blogging, one of my answers is always the friends that I have made along the way, and my relationship with Lauren is a prime example of that. She is one of the sweetest, most generous people that I know, and I am so lucky to have her in my life.
Case in point – at 36 weeks pregnant and fairly ready to pop, she bachelorette partied the night away with me this past weekend and even supplied the party with the best cookies and brownies I've ever tasted in my life. I'm pretty sure they singlehandedly staved off a hangover yesterday morning, and for that I shall be eternally grateful.
The day that Lauren told me she was pregnant was one of the happiest, namely because I knew how much she and her husband wanted to have a baby and also because I knew just how blessed that baby would be to have parents as amazing as they are. Lauren is going to be the best mom and I am so excited to meet this little boy that she has been baking away and toting around with her these past nine months!
I suspect that he will be even more delicious than her world famous brownies.
(And that is really really delicious.)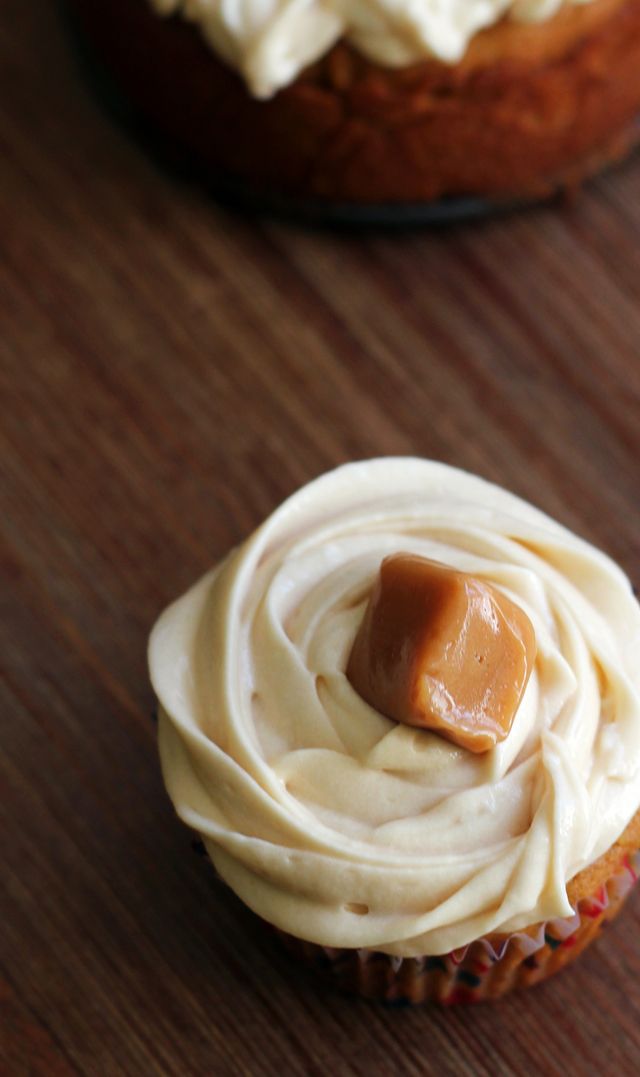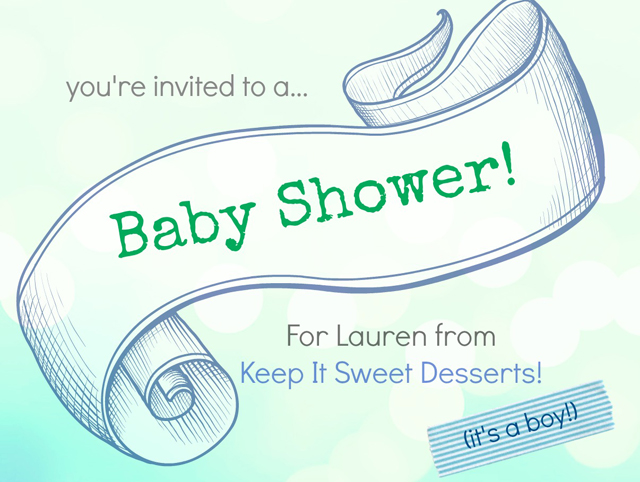 So with that I just want to say CONGRATULATIONS to Lauren and shower her with all my love in the form of these brown butter pumpkin cupcakes. Lauren and I have bonded many a time over our mutual love of all things fall baking (but also our obsession with Bi-Rite ice cream, which we may or may not have once walked five miles to obtain just so we could justify eating it for lunch…and then followed up with Pinkberry for dessert) and I know she would fall head over heels for these cupcakes. The nutty brown butter flavor pairs perfectly with the warm fall spices and pumpkin infusion, and the sweet and salty caramel cream cheese frosting cuts all that richness so that you can eat a whole cupcake without it feeling overly decadent.
I love you Lauren! And I can't wait until this little guy of yours makes his entrance into this world so that I can shower him with love and cupcakes as well.
There's lots of Lauren love going around today, so check out what some of our other friends are showering her with!
Mini Pumpkin Layer Cakes from The Baker Chick
Mini Apple Spice Cupcakes from Dinners, Dishes, and Desserts
Mini Nutella Brownies from The Cooking Actress
Mini Iced Oatmeal Cookie Apple Pies from Girl Versus Dough
Pickles in a Blanket from The Lemon Bowl
Mini No-Bake Chocolate Cheesecakes from Bake or Break
Mini Cookie Milkshakes from We Are Not Martha
Mini Chocolate and Peanut Butter Fondant Cakes from London Bakes
Double Decker Birthday Cake Blondie Bites from Baker By Nature
Mini Brown Butter Pumpkin Cupcakes from Eats Well With Others
Roasted Caprese Stack with Peaches from Warm Vanilla Sugar
Crunchy Cookie Butter M&M Bars from The Avid Appetite
Mini Pumpkin Streusel Pies from Espresso and Cream
Brown Butter Pumpkin Cupcakes with Caramel Cream Cheese Frosting
Brown butter pumpkin cupcakes with caramel cream cheese frosting are filled with warm spices and sweet salty flavor - the perfect way to welcome in the fall season!
Ingredients
For the cupcakes
¾ cup unsalted butter
1⅔ cup all purpose flour
2 tsp baking powder
1 tsp salt
½ tsp ground cinnamon
¼ tsp ground nutmeg
⅛ tsp ground cloves
1 cup pumpkin puree
1 cup brown sugar
½ cup sugar
2 large eggs, room temperature
For the caramel frosting
1 lb confectioner's sugar, divided
½ cup heavy cream
1 tsp vanilla extract
¼ tsp salt
1 (8 oz) package reduced fat cream cheese, room temperature
¼ cup unsalted butter, room temperature
Instructions
Heat oven to 325. Line cupcake pan with paper liners.
Put the butter in a medium saucepan over medium-low heat. Allow it to melt and simmer until it turns brown and nutty. Remove pan from the heat and pour the butter into a heatproof bowl to stop the cooking. Set aside to cool.
In a medium bowl, whisk together the flour, baking powder, salt, cinnamon, nutmeg, and cloves. In a separate large bowl, whisk together the pumpkin, brown sugar, sugar, eggs, and butter. Fold the dry ingredients into the wet ingredients and whisk until just combined.
Divide the batter among the paper liners so that they are about ⅔ full. Bake for 20-25 minutes or until a toothpick inserted in the center comes out clean. Transfer to wire racks. Allow to cool for a few minutes and then remove to wire racks to cool completely.
To make the frosting, sprinkle ½ cup confectioner's sugar to a small nonstick skillet. Set over medium heat and allow to melt, cooking until it turns an amber color. Remove from the heat and stir in the cream, vanilla extract, and salt. Return to the heat and stir until any hardened bits of caramel melt. Set aside to cool.
In the bowl of a stand mixer fitted with the paddle attachment, cream together the butter and cream cheese on medium speed, until light and fluffy, about 3-4 minutes. Gradually mix in the remaining confectioner's sugar, until totally combined. Mix in the cooled caramel on medium speed until light and fluffy. Chill for an hour.
Pipe the frosting onto the cupcakes before serving.