Peach and black raspberry pie: a classic summer pie filled with perfectly ripe sweet peaches and deliciously tart black raspberries. A must-make for the summer.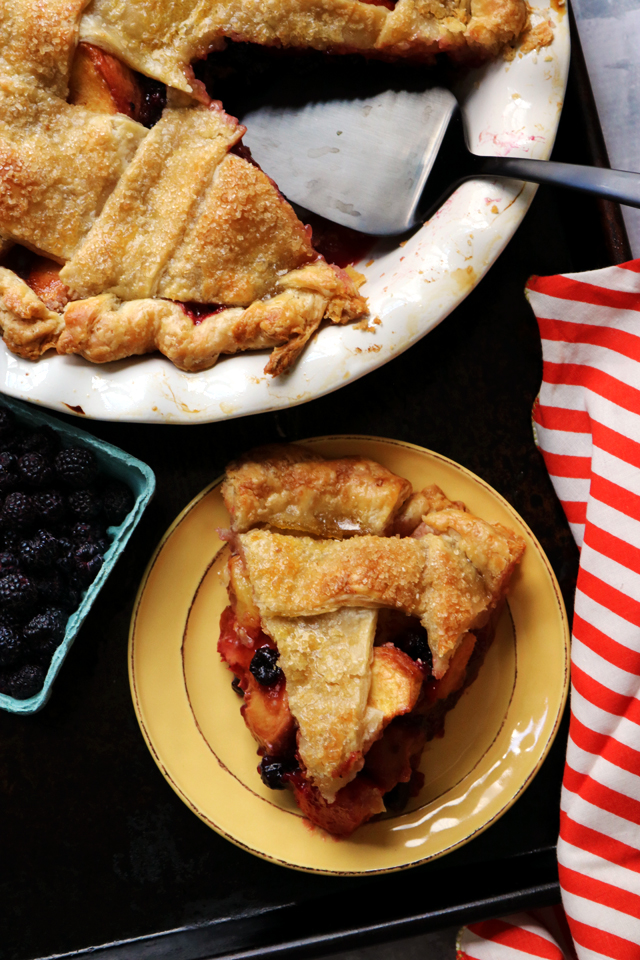 Remember that time I thought it was a really good idea to buy white pants but obviously completely forgot that I HAVE A TODDLER.
And not just any toddler – my toddler, whose favorite foods are raspberries, plums, and pretty much anything that can stain her hands, face, and everything around her in a 20-foot radius.
I basically spend every minute wearing them living in total fear.
NOT WORTH IT.
The fact that they aren't stained up and down with black raspberry hands is a miracle especially considering how obsessed with these little ultra tart nuggets Remy was when I gleefully discovered them at the farmer's market.
Boy are they sour, though. I didn't have the fortitude to eat them on their own but Remy must have a tart tooth because she inhaled them. The kid also likes sucking on limes and lemons, though, so I guess I really shouldn't have been surprised.
If left to her own devices, I'm 100% sure Remy would have had no problem gobbling up my entire stash, but I secreted some away to be turned into this glorious pie!
Have you guys tried the peaches yet this summer? It is UN.REAL. how good they are. I alllmmoooosssttt felt guilty baking with them and not just eating them on their own, juice dripping down my chin (and of course onto my pristine white pants), but then I tasted this pie and that all melted away.
It's sweet. It's tart. It's juicy. It's jammy.
It's SUMMER.
Live your life. Wear your white pants. Eat (this) pie. It's all good.

Peach and Black Raspberry Pie
Peach and black raspberry pie: a classic summer pie filled with perfectly ripe sweet peaches and deliciously tart black raspberries. A must-make for the summer.
Ingredients
For the crust
2½ cups all purpose flour
1 tsp kosher salt
1 tbsp sugar
½ lb (2 sticks) cold unsalted butter, cut into ½-inch pieces
1 cup cold water
¼ cup cider vinegar
1 cup ice
For the peach and black raspberry filling
12 oz black raspberries
1.5 lb ripe peaches, halved, pitted, and cut into 8 wedges
¾ cup brown sugar
1 tbsp vanilla extract
1 tbsp freshly squeezed lemon juice
½ cup sugar
3 tbsp finely ground instant tapioca
½ tsp ground cinnamon
⅛ tsp kosher salt
1 large egg yolk
2 tbsp demerara sugar, for sprinkling
Instructions
For the crust
Whisk together the flour, salt, and sugar in a large bowl. Add the butter to the flour mixture and toss to coat. Using a pastry blender, cut the butter into the flour until only pea-sized pieces of butter (or smaller) remain.
In a separate small bowl, combine the water, cider vinegar, and ice. Sprinkle 2 tbsp of the ice water mixture over the flour-butter mixture. Toss with your hands until fully incorporated. Add more of the ice water, 1-2 tbsp at a time, using your hands to mix. Add just enough of the water mixture so that the dough comes together into a ball. Split the dough in half and shape each half into a flat disc. Wrap in plastic wrap and refrigerate for at least 1 hour.
For the pie
Roll out one of the pie discs into an 11-inch round. Use this to line the pie plate leaving a 1-inch overhang around the edges. Wrap in plastic wrap and freeze overnight.
The next day, roll out the second pie crust disc into an 11-inch round. Using a pizza cutter, cut into long thin strips for the lattice. Place back in the refrigerator to chill.
Next, prepare the filling.
Heat oven to 400F. Line a rimmed baking sheet with parchment paper.
In a large bowl toss the black raspberries and peaches with the brown sugar, vanilla extract, and lemon juice. Allow to rest for 5 minutes.
In a small bowl, whisk together the sugar, ground tapioca, cinnamon, and salt. Sprinkle over the peach mixture and toss to combine. Allow to sit for 10-15 minutes and then toss again.
Remove the rolled out pie crust from the fridge and set it on the parchment-lined baking sheet. Pour the filling into the pie shell.
Lattice the top crust with the dough strips and crimp the edges as desired.
In a small bowl, whisk together the egg yolk with one tablespoon of water. Brush the lattice top with the egg wash and sprinkle with the demerara sugar. Place pie in the oven and bake for 25 minutes. Rotate the baking sheet and lower the oven to 350F. Bake for an additional 30 minutes or until the juices are bubbling.
Remove from the oven and allow to sit uncovered at room temperature until completely cool. Slice and serve.