Fresh fettuccine is tossed with asparagus spears and a rich parmesan fonduta sauce that is basically the ultimate version of alfredo sauce.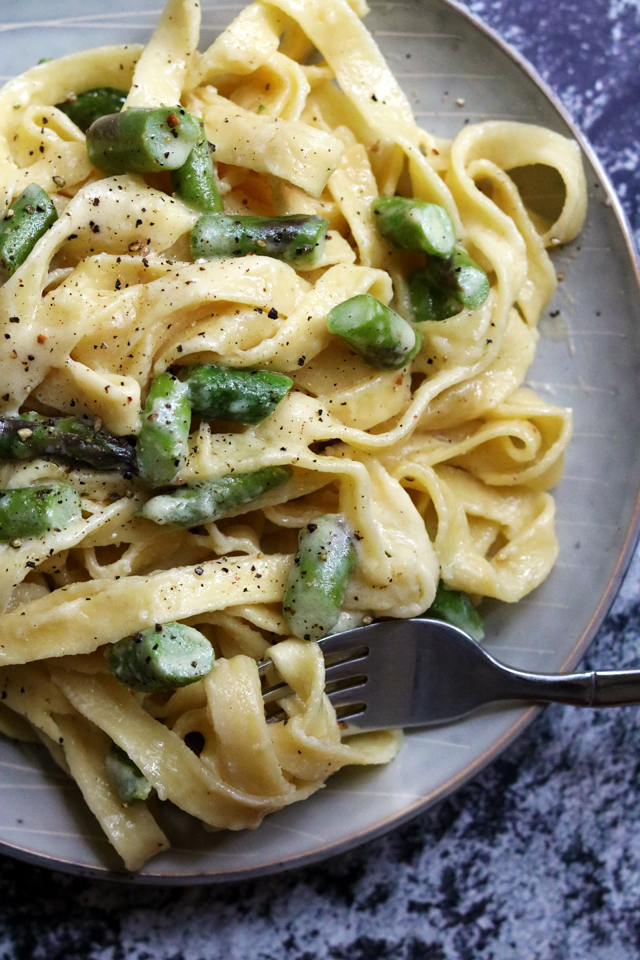 I really consider myself to be an authority on pasta sauces having eaten them at least weekly my entire 32 years of life and cooking them for the past 10-ish. So it's truly a marked occasion for me to come across a sauce that not only have I never eaten, but also never heard of.
Must be a full moon because last week was THAT WEEK.
I was paging through A Girl and Her Greens, a cookbook I've owned since it was published in 2015 but have only cooked from once (don't tell my husband) that has somehow made it through multiple moves and cookbook purges (all for a recipe for broccoli rabe morning buns that I'm still dying to make) when I stumbled across this recipe for parmesan fonduta. FONDUTA?!, I thought. Strange. Sounds like fondue, but I've never seen it spelled like that before and I've certainly never seen it tossed with pasta. A quick skim of the ingredients – egg yolks, a boatload of creme fraiche, and even more parmigiano-reggiano – convinced me that I needed to try it.
HO, am I glad I did.
This is approximately everything I've ever thought the best, purist alfredo sauce should be. But better.
I mean, with almost half a pound of parmesan cheese in it, none of us are surprised.
The sauce is also incredibly easy to make, requiring you to simply whisk all of the ingredients together for less than ten minutes over a double boiler. You can then put that aside and let it rest for the 3-4 minutes that it takes the pasta and asparagus to cook. The recipe calls for fresh pasta for this and I agree that while its lovely chew is perfect against the decadent sauce, dried would be fine as well.
Moral of the story here: REVISIT YOUR OLD COOKBOOKS. You never know what gems you'll find.
Fettuccine with Asparagus and Parmesan Fonduta
Fresh fettuccine is tossed with asparagus spears and a rich parmesan fonduta sauce that is basically the ultimate version of alfredo sauce.
Ingredients
2 large egg yolks
1½ cups creme fraiche
5 oz parmesan cheese, finely grated
1 medium garlic clove, grated
kosher salt, to taste
1 lb asparagus, woody ends snapped off and stalks cut into ½-inch thick pieces
2 lb fresh fettuccine
Instructions
Bring a large pot of salted water to a boil.
Meanwhile bring an inch or two of water to a boil in a small pot. In a large heatproof bowl that will fit on top of the small pot, whisk together the egg yolks, creme fraiche, parmesan cheese, and garlic. Place the bowl with the egg-cheese mixture on top of the small pot of boiling water, Whisk continuously until the cheese has melted and the sauce is silky smooth. It should not come to a boil. Cook for another 6-8 minutes or until the sauce has thickened slightly, whisking constantly. Remove from the heat and set aside.
Add the asparagus and the pasta to the large pot of salted boiling water. Cook for 3-4 minutes, then drain. Pour the pasta and asparagus back into the pot they were cooked in. Stir in the parmesan sauce and toss gently. Season to taste with salt and black pepper. Serve warm.