Creamy pea and mascarpone alfredo pasta – the ultimate easy comfort food.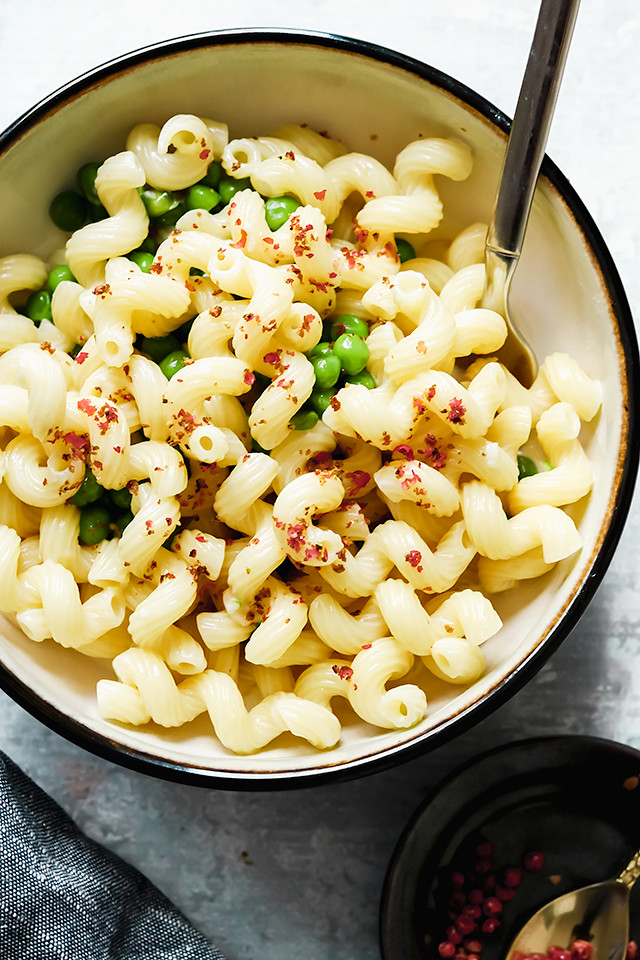 I know a lot of bloggers out there have promised to stay light and chipper even in the wake of all the turmoil that is going on in the world, but to be perfectly honest I'm not sure I can be that blogger.
Last week I was home on a pre-planned staycation (not sick! I swear! that I know of!) and so I got to sit idly by and watch as the world exploded. It wracked my nerves in ways I didn't know were possible. I was paralyzed with fear, scouring the internet for news source after news source, compelled to read anything and everything I could about the virus.
Today I have to shake it off, as T. Swift and my toddler would sing (the things they learn at daycare), and go back to work.
Honestly, I'm not sure what that's going to look like.
Will patients still come to clinic? Will they only come if they're sick, looking for tests that we don't have?
Will I be accidentally exposed?
These are the questions that all healthcare providers – inpatient, outpatient, emergency room – are grappling with right now. We are scared of our patients in ways we have never been before.
So I've been doing the one thing I can do, and that is cook.
Not as prolifically as usual because I find myself distraught and distracted more than usual. But quick, simple food that hits all the right comfort spots.
The first time I made this alfredo pasta was last year when I was working nights or in the ICU. It was the perfect creamy comfort food. The kind of food that you crave when everything sucks and a salad is just not going to cut it.
The sauce is made of the simple and genius combination of mascarpone cheese and Parmigiano-Reggiano. It comes together in the time it takes you to boil pasta, so the whole meal can go from conception to table in under 30 minutes.
If you haven't stocked your freezer with frozen peas, then don't sweat it. Use whatever fresh or frozen green veggie you have on hand.
Pea and Mascarpone Alfredo Pasta
Creamy pea and mascarpone alfredo pasta - the ultimate easy comfort food.
Ingredients
1 lb fusilli con buco or other long pasta
kosher salt, to taste
1½ cups frozen peas
3 tbsp unsalted butter
1 garlic clove, minced
2½ cups freshly grated Parmigiano-Reggiano
1 cup mascarpone cheese, room temperature
1 tsp pink peppercorns, ground
Instructions
Bring a large pot of salted water to a boil over high heat. Cook the pasta until al dente, according to package directions. In the last 3 minutes of cooking, add the peas. Reserve 1 cup of the pasta cooking water. Drain and set aside.
Meanwhile, once the pasta has been added to the boiling water, start making the sauce. Heat a large straight-sided skillet over medium heat. Add the butter and melt. Once it is melted, add in the garlic. Saute for 1 minute, or until soft and fragrant. Add ½ cup of the pasta cooking water and decrease the heat to low.
Once the pasta is ready, transfer it to the pan with the sauce. Top with the Parmigiano-Reggiano and mascarpone. Toss to coat, adding the reserved pasta water as needed to form a thick sauce. Season to taste with salt. Divide among serving bowls and sprinkle with the pink peppercorns before serving.