Chocolatey chocolate cupcakes with chocolate swiss meringue buttercream!!! Because everyone loves a chocolate cupcake.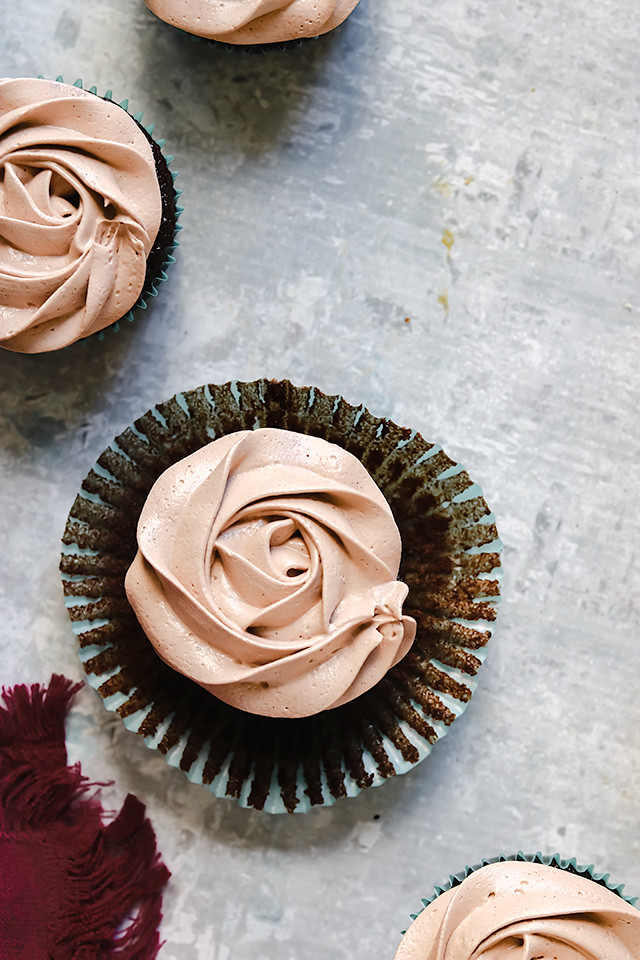 If we're going to be stuck in our homes for the next 45+ days, we might as well have these chocolate cupcakes as bedmates.
They don't take up much room and they will 100% keep you cozy at all hours of the day and night.
Ask me how I know.
I'm actually not the biggest fan of chocolate desserts. My husband thinks it's probably my biggest flaw (not including the fact that I hate all household chores and have a cookbook addiction), but on the plus side I never steal spoonfuls of his chocolate ice cream so maybe it's not so bad?
The only time I can really get on board with them is if they are deeply and intensely chocolatey. Anything milk chocolate or or with a light chocolate flavor, I'm not interested. Dark, deep, intense chocolate FTW!!
Good news for us, these chocolatey chocolate cupcakes fit all of my requirements and then some.
Bonus that they are super easy to prepare and stay moist and delicious for a WEEK.
I know because this recipe makes 24 cupcakes and that's how long it took us to eat all of them, though it took all of the self-restraint we could muster to make them last that long.
The cake itself is fabulous but THEN you go ahead and top it with a deliciously chocolatey and velvety smooth chocolate swiss meringue buttercream.
It's not super sweet like other frostings can be, but it gets the job done.
Chocolatey Chocolate Cupcakes with Chocolate Swiss Meringue Buttercream
Chocolatey chocolate cupcakes with chocolate swiss meringue buttercream!!! Because everyone loves a chocolate cupcake.
Ingredients
For the cupcakes
1¾ cups (225 g) all purpose flour
½ cup (45 g) Dutch processed cocoa powder
1½ tsp baking powder
1½ tsp baking soda
½ tsp salt
1½ cups (300 g) sugar
2 large eggs, room temperature
1 cup (240 ml) whole milk
½ cup (120 ml) canola or grapeseed oil
½ tsp vanilla extract
1 cup (240 ml) boiling water
For the chocolate swiss meringue buttercream
16 tbsp (225 g) unsalted butter, softened
3 large egg whites, room temperature
1 cup (200 g) sugar
¼ tsp cream of tartar
¼ tsp salt
½ tsp vanilla extract
2 tbsp Dutch-processed cocoa powder, sifted
Instructions
For the cake
Heat oven to 350F. Line two 12-cup muffin pans with cupcake liners. Set aside.
In a large bowl, sift together the flour, cocoa powder, baking powder, baking soda, and salt. Add in the sugar and whisk until combined.
In a second large bowl, whisk together the eggs, milk, oil, and vanilla. Add the wet ingredients to the dry ingredients and whisk until they are completely smooth.
Pour in the boiling water and stir until combined.
Divide the batter among the cupcake tins. Place in the oven and bake for 20-25 minutes, rotating halfway through.
Set aside to cool completely.
For the chocolate swiss meringue buttercream
Cut the butter into tablespoons. Set aside.
Fill a medium saucepan with 1½ inches of water and bring to a boil, then lower heat to maintain it at a simmer.
Combine the egg whites, sugar, cream of tartar, and salt in the bowl of a stand mixer. Place it on top of the saucepan, making sure the bottom of the bowl doesn't get in direct contact with the water.
Whisk the egg mixture constantly for 4 minutes, or until it reaches 160-165F. The sugar should have dissolved and the mixture will be very warm to the touch.
Remove from heat and place the bowl back on the stand mixer. Mix with the whisk attachment on high speed for 4-8 minutes, until the mixture comes to room temperature.
With the mixer still running, add in the butter one tablespoon at a time. Scrape down the sides of the bowl. Add in the vanilla and cocoa and mix until fully incorporated and fluffy.
Frost the cupcakes as desired.