Delectable fig and pistachio frangipane tartlets.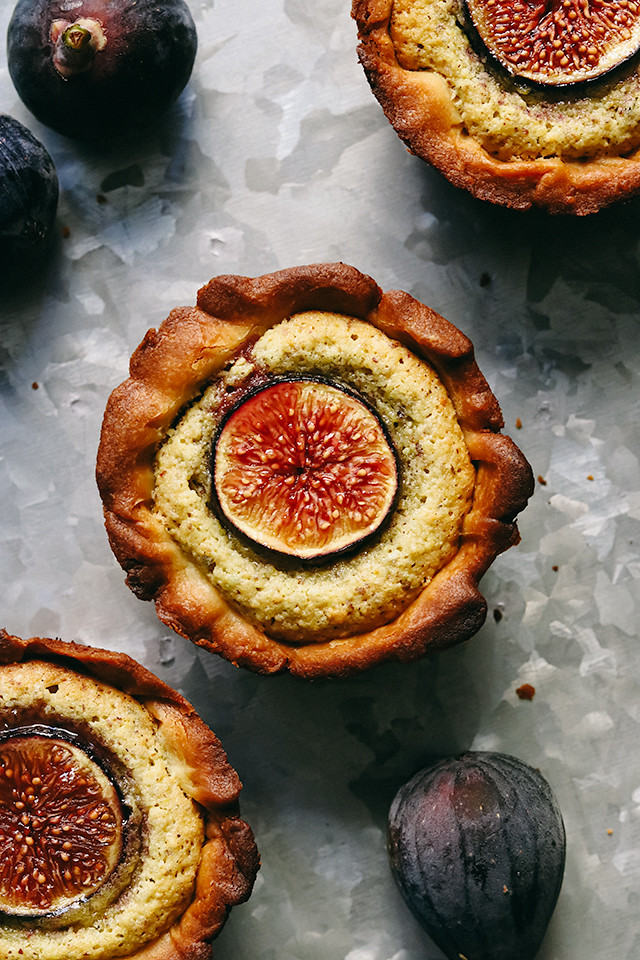 There's a fig party IN MY MOUTH.
And you're invited.
What?!? Eww.
Never mind, pretend I didn't say that.
But really. FIIIIGGGGSSSSSS. Dying over them right now because they are sheer perfection this season.
2020 has been awful in so many ways, but the produce has been on point. It's the small things.
The small, purple, sweet, seedy, luscious fig things.
So now I'm knocking all the fig recipes I've ever wanted to make off my bucket list, starting with these completely adorable fig and pistachio frangipane tartlets!!
I've been eyeing them in Ottolenghi's Sweet cookbook since pretty much the beginning of time. But fig season can be so transient that I could never quite get it to align with a weekend when I had enough free time to tackle them. Not that they require SO.MUCH.TIME but I was just not in the right mindset for an even slightly involved weekend baking project.
Then there was 2020. And here we are!!!
We may not be able to leave the house, but at least we have these tartlets.
They are: a base of sweet shortcrust pastry that tastes like the butteriest cookie, nutty addictive pistachio frangipane (that I made in the food processor with just a few swift pulses, SHAZAM), and figs!!
My child refused to even taste them and I've never been more grateful for her pickiness. GET EM.
Fig and Pistachio Frangipane Tartlets
Delectable fig and pistachio frangipane tartlets.
Ingredients
For the shortcrust pastry
2⅓ cups (300 g) all purpose flour
¾ cup (90 g) powdered sugar
¼ tsp kosher salt
¾ cup + 2 tbsp (200 g) unsalted butter, cold, cut into cubes
zest of 1 lemon
1 large egg yolk
4 tsp water
For the pistachio frangipane cream
⅔ cup (90 g) shelled pistachio kernels
⅓ cup (35 g) almond flour
¼ cup (35 g) all purpose flour
⅛ tsp kosher salt
½ cup + 1 tbsp (125 g) unsalted butter, room temperature
½ cup + 1 tbsp (120 g) sugar
2 large eggs
1 tbsp bourbon
4 large ripe figs, cut into thirds crosswise
Instructions
For the pastry
Add the flour, powdered sugar, and salt to the bowl of a food processor. Pulse to combine. Add in the butter and lemon zest. Pulse again until the mixture resembles breadcrumbs. Add the egg yolk and water to the bowl. Pulse until the dough just starts to come together. Pour onto a lightly floured work surface and knead the dough until it comes together in a ball. Flatten into a disk. Wrap it in plastic wrap and refrigerate for 1 hour.
Grease the cups of a muffin pan with baking spray and set aside.
When ready to roll out the dough, allow the pastry to sit at room temperature for 15 minutes. Place on a lightly floured work surface and roll out to ⅛-inch thick. Use a 4-inch round cookie cutter to cut out 12 circles. Ease these into the prepared muffin cups pressing down so that they fit well into the molds. Refrigerate for 1 hour.
Heat oven to 350F.
Line the pastry in the muffin cups with squares of parchment paper and then fill dried beans or pie weights. Bake for 25-30 minutes, or until the pastry is lightly golden around the edges. Remove from the oven and allow to cool. Once cool, remove the pie weights and parchment paper.
For the pistachio frangipane cream
Place the pistachios in a clean food processor bowl. Pulse until finely ground but not oily. Add the almond flour, regular flour, and salt to the bowl of the food processor and pulse to combine. Add the butter, sugar, eggs, and bourbon to the food processor bowl. Process until completely combined.
Increase the oven temperature to 400F.
Scrape the pistachio frangipane into a pastry bag and pipe into the parbaked tart shells. Place a fig slice in the center of each tart, on top of the frangipane, pressing lightly into place.
Bake for 20 minutes, or until the frangipane starts to brown at the edges. Set aside to cool for 10 minutes, then remove from the muffin pans and allow to cool completely on a wire rack.