Za'atar crusted fried halloumi served with lemony sumac roasted vegetables and Israeli couscous – bowl food at its finest.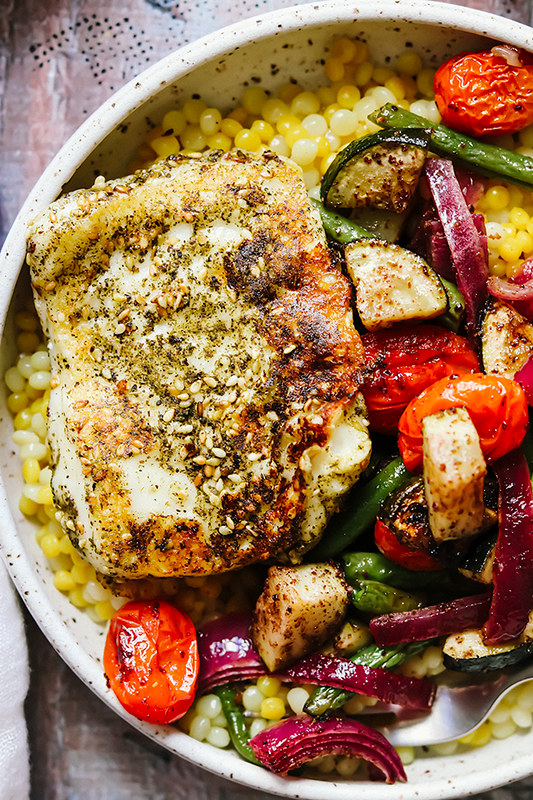 It's March!!!!
I don't know how to feel about that, given the events of last year. We went into the month so innocently and came out having experienced a collective trauma that I'm not sure any of us have been able to process given the unrelenting demands that the pandemic has placed on us.
Well, we won't be so naive again. Fool me once, shame on you, fool me twice…well, you know.
At least this time around, I feel more prepared. I know what the worst looks like, and I know we're not there.
Not again, yet.
Like many of us, the way I cope with stress is to cook. A lot. I look back on my meals from last spring and they were INTENSE. 
Now that I'm back in the hospital much more (though still not as much as pre-pandemic), I'm increasingly reaching for recipes that can be done in 30 minutes or less. Bonus if they involved fried cheese because, well. 
Maybe you've noticed, but crispy fried halloumi is a staple around here. 
It is one of my favorite meat replacements in Middle Eastern or Mediterranean recipes, in part because its so freaking good but also because Remy loves it and will eat it without question. Half the time she calls it paneer cheese, which is kind of funny because they are not at all alike, but honestly I don't even correct her anymore out of fear that she'll decide not to eat it. 
For this recipe I've dredged it in za'atar, a lemony Middle Eastern spice blend made of thyme, sumac, and sesame seeds. It brings out the briny flavor of the halloumi while adding an earthiness to it. I tried it on a whim, but the pairing is kind of unbelievable in how good it is. The sesame seeds also add a little bit of crunch, which is a nice counterpart to the halloumi's chewiness. I have a solid nonstick skillet, so I didn't even need to add any oil to fry these, but you may need to add a touch if your nonstick is less robust.
To keep things balanced, I paired it with a mélange of sumac roasted vegetables and simple Israeli couscous that gets finished off with a drizzle of lemon juice. It's bowl food at its finest, perfect for easy meal prepped lunches and craveworthy dinners.
Za'atar Crusted Halloumi with Sumac Roasted Vegetables and Couscous
Za'atar crusted fried halloumi served with lemony sumac roasted vegetables and Israeli couscous - bowl food at its finest.
Ingredients
2 tbsp extra virgin olive oil
1 pint cherry tomatoes
2 zucchini, diced
1 red onion, quartered and thinly sliced
12 oz green beans, trimmed and cut into 1-inch lengths
1 tbsp sumac
salt and black pepper, to taste
3 cups water
2 cups Israeli couscous
1 lb halloumi, cut into ½-inch thick slices
2 tbsp za'atar
juice of 1 lemon
Instructions
Heat the oven to 400F.
In a large bowl, toss together the olive oil, cherry tomatoes, zucchini, red onion, green beans, sumac, and salt and black pepper to taste. Spread in a single layer on a parchment-lined baking sheet. Roast for 30 minutes.
Meanwhile, bring the 3 cups of water to a boil in a medium saucepan. Once boiling, add the couscous and 1 tsp salt. Cook according to package directions. Drain and set aside.
For the halloumi, heat a large nonstick skillet over medium high heat. Spray with oil if necessary.
Pour the za'atar into a shallow bowl. Dredge the halloumi slices in the za'atar, coating them on both sides. Add to the nonstick skillet and cook for 2 minutes/side or until golden. Remove to a parchment-lined baking sheet and repeat until all of the halloumi slices have been cooked.
Divide the couscous among serving bowls. Top with the roasted vegetables and halloumi. Drizzle with lemon juice before serving.
Notes
An Eats Well With Others Original