Pasta with a simple garlicky broccoli sauce and lots of parmesan cheese makes for an easy weeknight dinner.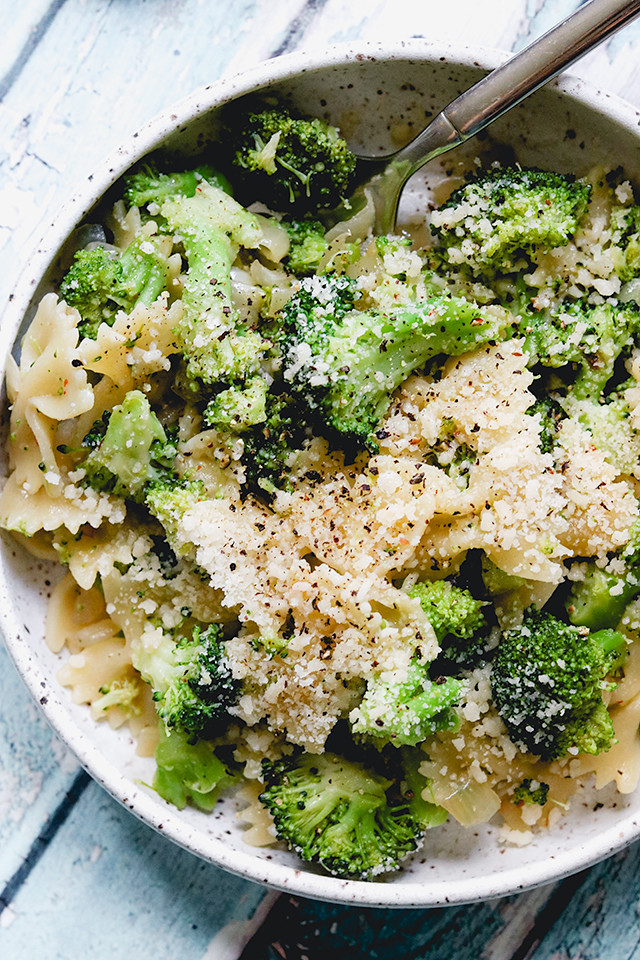 This is some embarrassingly easy comfort food right here.
Like, can you even consider broccoli sauteed with onion and garlic and tossed with pasta a recipe? Or just common sense.
I've been known to, uh, overcomplicate dinner on more than one occasion so as simple as this is, it's a good reminder that even easy no-nonsense food can be great.
I've been reading a lot lately about how so many people are experiencing cooking ennui after having to make meal after meal after meal (often for ungrateful children, ahem) during the pandemic.
To that I say: AGREED. I totally have weeks like that.
But then a ridiculously easy, child-approved recipe like this comes along and it revives my interest in food that's not from a jar or a takeout container.
This recipe comes from the cookbook Salt, Fat, Acid, Heat, which is quickly becoming one of my cooking bibles. The recipes are so well tested and the techniques make cooking so logical. I love it.
Onions and garlic are cooked down in a glut of olive oil until they're fragrant and caramelized. Meanwhile, broccoli florets and stems (a whole 2 pounds!) get par-boiled and then added to the pot of alliums so that they can cook down into a sauce while you boil the pasta in the pot that they just cooked in.
Toss it all together and then top with piles of parmesan cheese pillows.
Dinner is served.
Pasta with Garlicky Broccoli Sauce
Pasta with a simple garlicky broccoli sauce and lots of parmesan cheese makes for an easy weeknight dinner.
Ingredients
salt
2 lb broccoli, florets and peeled stems
extra virgin olive oil
1 large yellow onion, finely diced
1-2 tsp red pepper flakes
6 garlic cloves, minced
1 lb pasta
freshly grated parmesan, for serving
Instructions
Bring a large pot of salted water to a boil.
Meanwhile, cut the broccoli into ½-inch pieces. Heat a large Dutch oven over medium-high heat. Cover the bottom of the pot with olive oil. Once it is shimmering, add the onions, a pinch of salt, and 1 tsp of the red pepper flakes. Saute for about 15 minutes, or until the onion starts to brown and caramelize. Move the onions to the edge of the pot and add the garlic into the open space. Saute for 30 seconds or until fragrant, then stir into the onions. Decrease the heat to low.
Place the broccoli into the boiling water and cook for 4-5 minutes, or until tender. Remove from the pot with a slotted spoon and place them into the pot with the onions, leaving the remaining water to continue boiling.
Increase the pot with the onions and broccoli to medium heat and cook, stirring occasionally, until the broccoli starts to break down, about 20 minutes. Add cooking water as needed to moisten the sauce.
Add the pasta to the pot with the boiling water and cook until al dente, according to package directions. Drain the pasta once cooked, reserving 2 cups of the cooking water. Add the pasta to the pot with the broccoli and stir to combine. Add pasta cooking water as needed to create a sauce. Season to taste with salt and red pepper flakes.
Serve immediately topped with lots of Parmesan cheese.