A hearty butternut squash and fondue pie that would be a perfect vegetarian main dish on any holiday table.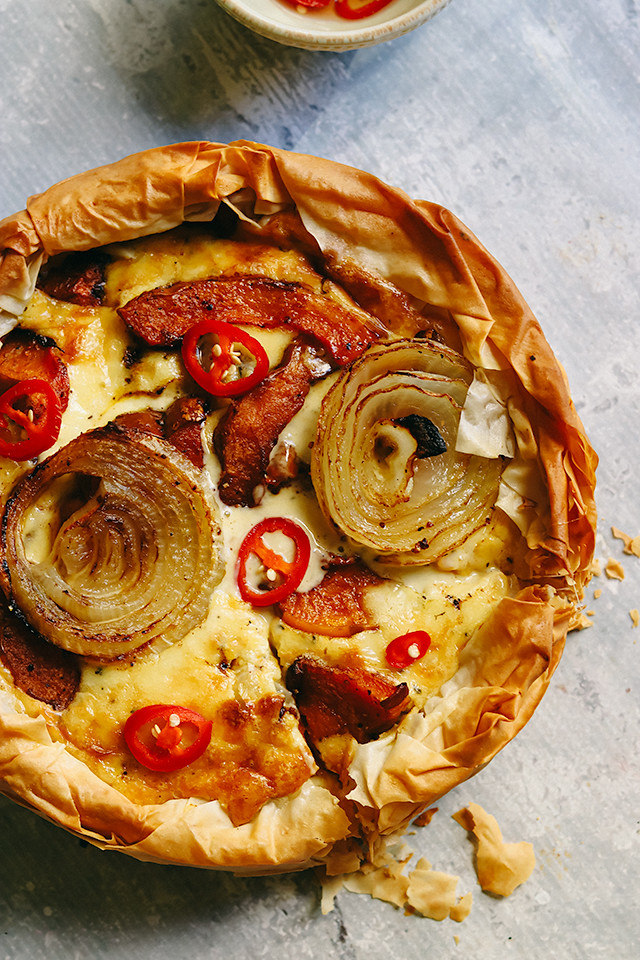 Who has two thumbs and hasn't planned even one morsel of our Thanksgiving menu this year?!
THIS GIRL.
To be fair, it's just going to be the three of us. So…..we'll start day drinking at 3PM and eat dinner while Remy screams next to us that she hates everything on her plate.
Sounds like every other pandemic weekend.
My apathy feels a little weird given that having a completely vegetarian Thanksgiving is like…MY DREAM.
I guess I just didn't want it under these circumstances. It's just not as fun when you can't force delicious meatless recipes on all of your extended family.
Also, can we talk about the dessert situation. HOW AM I GOING TO CHOOSE JUST ONE PIE.
Last year I made three, but having one pie per person in attendance (especially when one of those people is 4 and eats nothing) seems excessive.
The decision fatigue is crippling.
Well I love a good savory pie almost as much as sweet, so that may be the solution to my pie indecision problems.
Even better when that pie is insanely cheesy with a fondue center, dotted with sweet roasted winter squash, covered in the flakiest (and laughably easy) phyllo crust, and topped with spicy pickled peppers to bring it all together.
Yup, we're doing it.
If you're looking for a vegetarian main dish for the upcoming holidays or just a little savory pie pick-me-up for your weekend, then THIS IS IT.
It comes from the genius of Ottolenghi via the New York Times Cooking website, no one is surprised.
Imagine a quiche but fancied up with excessive cheese. It's wonderful!
The other thing I surprisingly loved about this was the phyllo crust. I have always shied away from phyllo thinking it was too complicated to work with, but it was actually crazy easy and kind of foolproof. Because the phyllo sheets are layered on top of each other it doesn't matter at all if there are small rips in them and the edges have a kind of rustic messy chic look that doesn't require any kind of precision.
It's a joy to make and a joy to eat.
Butternut Squash and Fondue Pie with Spicy Pickled Peppers
A hearty butternut squash and fondue pie that would be a perfect vegetarian main dish on any holiday table.
Ingredients
5 tbsp unsalted butter, melted
1 tbsp apple cider vinegar
1 red serrano chile, thinly sliced crosswise
kosher salt and black pepper
2 lb butternut squash, halved, deseeded and cut into ½-inch half moons
1¾ tsp cinnamon
3 tbsp + 1.5 tsp olive oil
1 onion, peeled and cut into 5 rounds
6 garlic cloves, minced
½ cup dry white wine
1 cup heavy cream
1 large egg + 2 egg yolks
1 tbsp cornstarch
4.5 oz gruyere cheese, grated
4 oz raclette, grated
7 sheets phyllo dough, thawed if frozen
Instructions
Heat oven to 450F. Grease the bottom and sides of a 9-inch springform pan. Set aside.
Combine the vinegar, chile pepper, and ⅛ tsp salt in a small bowl. Stir to combine and set aside.
In a large bowl, toss together the butternut squash, cinnamon, 2 tbsp olive oil, ½ tsp salt, and black pepper to taste. Spread on a parchment-lined baking sheet in a single layer.
Add the onion rounds to the same bowl that you just mixed the squash in, along with 1.5 tsp olive oil, pinch of salt, and black pepper. Toss gently to combine, trying to keep the onion rounds together as much as possible. Place on the baking sheet with the squash. Roast for 30 minutes, turning the vegetables over halfway.
Decrease oven temperature to 375F.
In a small skillet, add the remaining 1 tbsp oil along with the garlic. Saute until fragrant, about 1 minute. Add in the wine and simmer until reduced by half, about 5 minutes. Set aside to cool slightly.
In a large bowl, whisk together the heavy cream, eggs, cornstarch, ½ tsp salt, and black pepper. Add in the cheeses and cooled wine mixture. Stir to combine and set aside.
Place one sheet of phyllo dough on a clean work surface. Brush with some of the melted butter and lay over the prepared pan. Push it down to fit into the bottom and sides of the pan, being as gentle as possible so as not to tear it. Repeat with the remaining phyllo sheets, rotating them so that there is overhang around the entire pan. Place two-thirds of the squash and onions on top of the phyllo. Pour the cheese mixture over the top. Top with the remaining squash and onion rounds.
Fold the overhanging phyllo dough in on top of the cheese mixture, scrunching to make a crust around the sides. Brush the exposed phyllo with the remaining butter.
Place the pan onto a parchment-lined baking sheet and bake for 30 minutes. Using oven mitts, release the outer rim of the cake pan and return the pie to the oven. Bake for another 20 minutes, or until golden. Cool for 20 minutes and top with the pickled peppers before serving.