Can't get enough of peanut butter and chocolate together? Then this decadent peanut butter oreo ice cream is for you!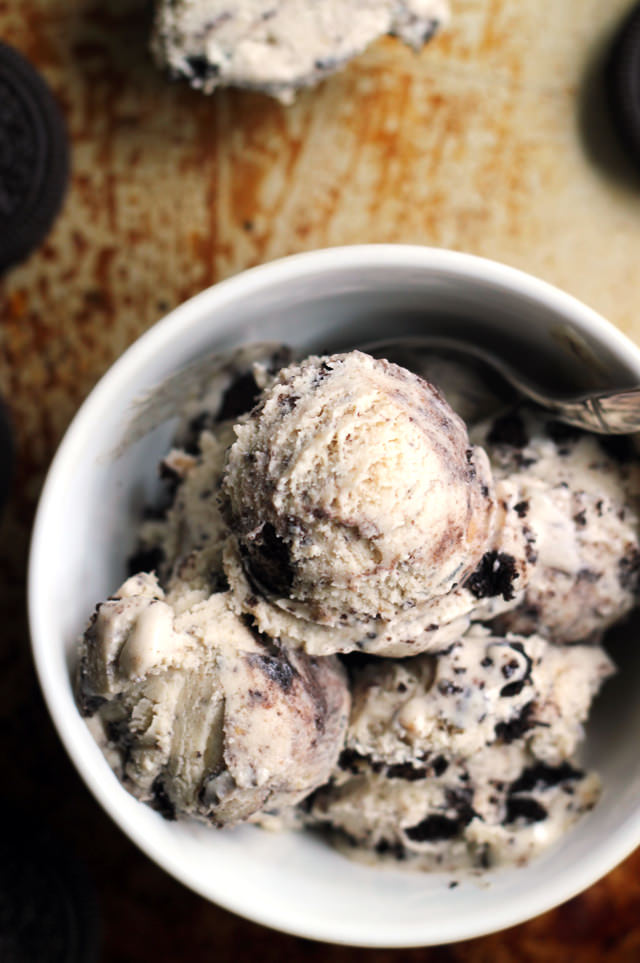 So, you know I cope with packing stress by eating, right?
And binge watching terrible reality television. So many hours of my life have been lost to the Married At First Sight 6 month reunion annnnddd then reading "articles" about what is going to happen next for the couples aaaannnnnnddddd then stalking all of their social media accounts because I NEED ANSWERS.
I can't even tell you.
Thankfully I've maxed myself out on trashy things, so I've been stress snacking on strawberries nonstop. Could be worse.
ALSO thankfully, we ran out of this ice cream early last week and I somehow managed to restrain myself from making more, otherwise….
…I don't even want to think about otherwise.
But it would probably involve an emergency trip to The Gap for new clothes since none of mine would fit and I'd have nothing to pack. And we wouldn't want that.
So here's the deal with this peanut butter oreo ice cream: it really is as good as you think.
It was born of a mistaken box of purchased oreos and a love of peanut butter…and aren't those the things that the best ice cream dreams are made of?
Basically, I used my favorite Jeni's Ice Cream base recipe, which is egg-free, super easy, and comes out perfectly creamy every time, and mixed in some crushed oreos in the last few minutes of churning. Aaaannnnndddd now I'm pretty sure the.boy will never let me make another ice cream flavor again. Because HOW ARE WE GOING TO TOP THIS.
Challenge: accepted. Stay tuned.

Peanut Butter Oreo Ice Cream
Can't get enough of peanut butter and chocolate together? Then this decadent peanut butter oreo ice cream is for you!
Ingredients
2 cups whole milk
1 tbsp + 1 tsp cornstarch
1½ oz cream cheese, softened
½ cup natural peanut butter
½ tsp fine sea salt
1¼ cups heavy cream
⅔ cup sugar
2 tbsp light corn syrup
2 tbsp honey
1 cup chopped oreos
Instructions
Mix 2 tbsp of the milk with the cornstarch in a small bowl until they form a slurry.
Whisk the cream cheese, peanut butter and salt together in a medium bowl until smooth.
Fill a large bowl with ice and water.
Combine the remaining milk, cream, sugar, corn syrup, and honey in a 4 quart saucepan. Bring to a rolling boil over medium-high heat and boil for 4 minutes.
Remove from the heat and whisk in the cornstarch mixture.
Bring back to a boil over medium-high heat. Cook, stirring constantly, until slightly thickened, about 1 minute. Remove from the heat.
Slowly whisk the hot milk mixture into the cream cheese mixture until smooth. Pour into a 1 gallon Ziploc freezer bag. Submerge in the ice bath. Let stand in the ice bath or refrigerate until cold.
Pour the cold ice cream base into frozen canister of an ice cream maker. Begin to churn, according to manufacturer's instructions. In the last 2-3 minutes of churning, add the oreos through the opening in the top of the ice cream machine and churn until combined. Pack the ice cream into a storage container and freeze until firm, about 4 hours.
Notes
Adapted from
Jeni's Splendid Ice Creams at Home
Bring on the ice cream!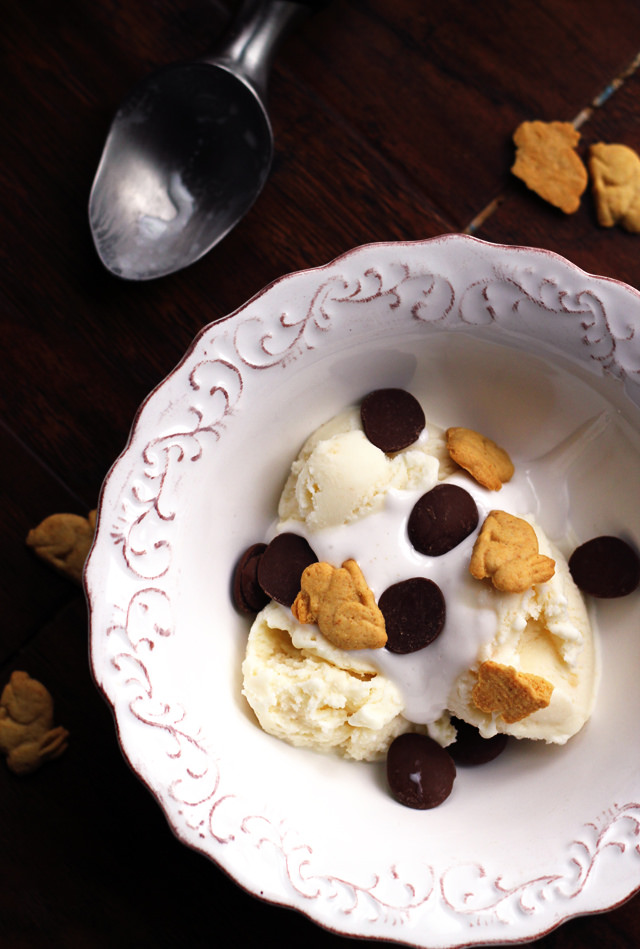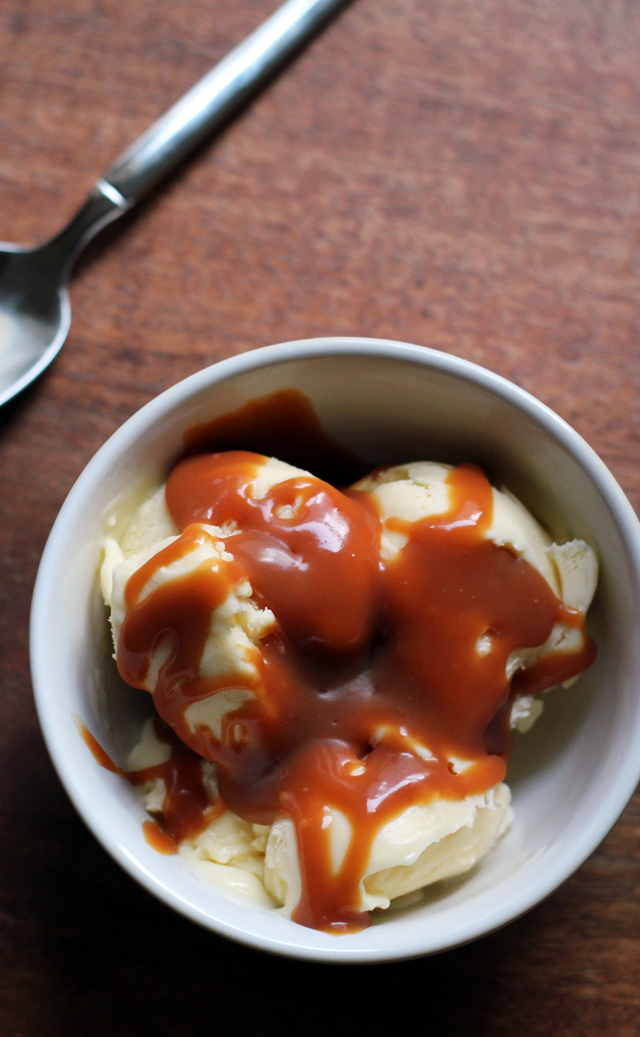 Salty Vanilla Frozen Custard with Salted Whiskey Caramel Sauce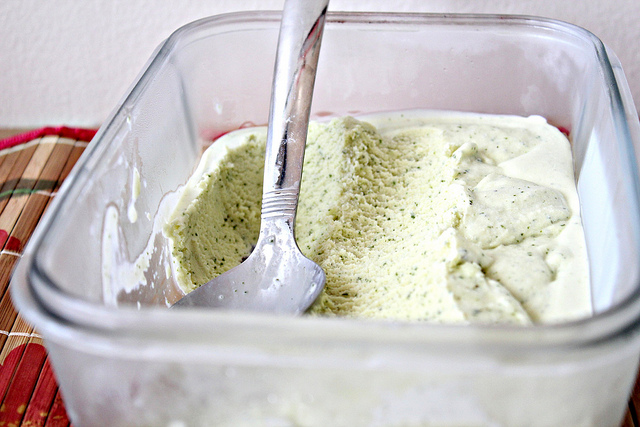 From Around the Web:
Mango Lassi Frozen Yogurt from Cookie + Kate
No Churn Blackberry Chip Ice Cream from How Sweet It Is
Dark Chocolate Sorbet from An Edible Mosaic
No Churn Cherry Amaretto Ice Cream from Nutmeg Nanny
Strawberry Shortcake Ice Cream from A Cookie Named Desire