Rich and creamy salty vanilla custard gets topped with a salted whiskey caramel sauce in this irresistible sundae.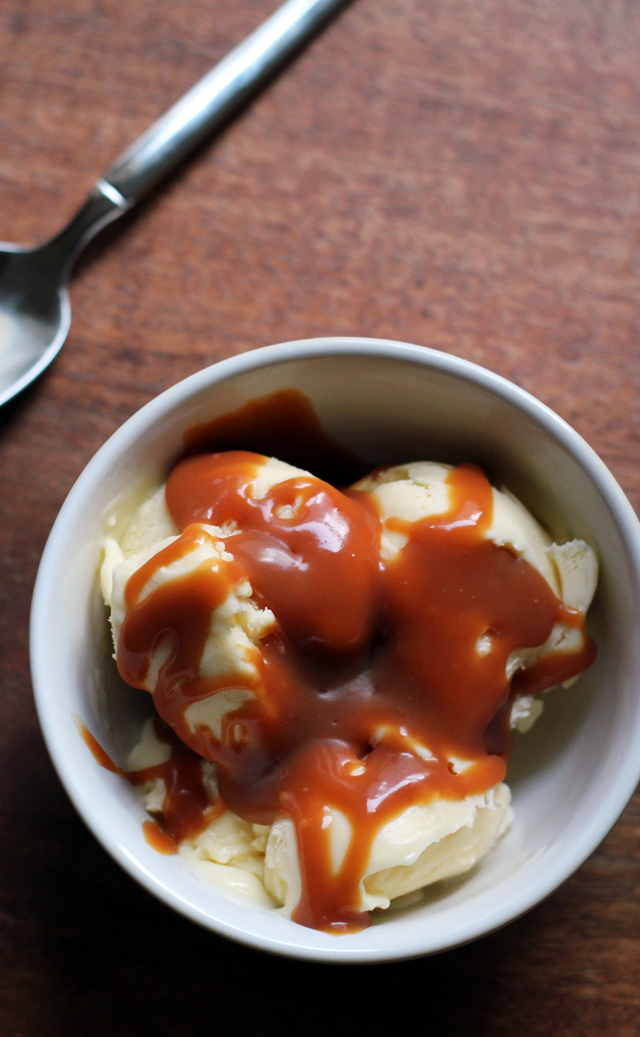 Sure, I would like it if the temperature outside were higher than my shoe size…
…but if you can't beat 'em, join 'em.
And if you can't join 'em (because guys, it is really cold)…eat ice cream.
Yes, it's true, New York City is having record-breaking, colder-than-polar-vortex, feels-like-minus-tweens temperatures today.
And I am not advocating hot chocolate. Or coffee. Or portable space heaters.
But ice cream. ICE CREAM. Because if there's one thing we need, it's to be colder. Obvi.
Actually, I'm really just a firm believer that there is no occasion that doesn't call for ice cream.
Tuesdays are for mint chocolate, birthdays are for chocolate chip cookie dough, and That Time I Got Frostbite While Walking to Work definitely requires a little salt, a little sweet, and a whole lot of licking the bowl clean because I can't feel my fingers enough to figure out how to use a spoon.
The sacrifices we make for love.
(Who really needs their left pinky fingertip anyway, #amIright?)
In case you haven't been convinced yet by my senseless ramblings, YOU NEED THIS. It's the creamiest of the creamy, with just a hint of salt and a smooth alcohol kick that lingers on your tongue long after your last spoonful.
Worth losing a finger for. Maybe even two.

Salty Vanilla Frozen Custard with Salted Whiskey Caramel Sauce
Rich and creamy salty vanilla custard gets topped with a salted whiskey caramel sauce in this irresistible sundae.
Ingredients
For the ice cream
2¾ cups whole milk
6 large egg yolks
1 tbsp plus 2 tsp cornstarch
1 oz cream cheese, softened
¾ tsp fine sea salt
1 tbsp vanilla extract
1 cup heavy cream
¾ cup sugar
2 tbsp light corn syrup
For the caramel
⅔ cup sugar
¾ cup heavy cream
pinch fo fine sea salt
2 tbsp whiskey
Instructions
For the ice cream, mix 2 tbsp of the milk, egg yolks, and cornstarch in a small bowl. Set aside.
In a medium bowl, whisk together the cream cheese, salt, and vanilla until smooth.
Combine the remaining milk, cream, sugar, and corn syrup in a medium saucepan. Bring to a boil over medium-high heat and let boil for 4 minutes. Remove from the heat and, ½ cup at a time, add it to the egg yolk mixture, whisking constantly. Pour the mixture back into the saucepan and heat over medium heat, stirring constantly, just until it comes to a boil. Remove from the heat immediately.
Slowly whisk the hot milk mixture into the cream cheese mixture until smooth. Pour into a 1 gallon ziploc freezer bag and submerge in an ice bath. Put the custard and ice water in the fridge and let stand until cold, about 30 minutes.
Pour the chilled custard into your frozen ice cream canister and turn on the machine. Let churn until thick and creamy, about 25 minutes. Pack the custard into a storage container. Seal with an airtight lid. Freeze until firm, about 4 hours.
For the caramel, sprinkle the sugar evenly over the bottom of a heavy-bottomed saucepan and set over medium-high heat. Once a layer of sugar starts to melt, use the spatula to stir the hot melted sugar into the unmelted sugar. Continue to push the sugar around the pan until it is all melted and evenly amber. Remove from the heat and slowly stir in the cream. If there are any lumps of hardened sugar, return the pan to medium heat and stir until completely melted. Pour into a bowl and let cool slightly. Stir in the salt and whiskey.
Notes
Recipe from
Jeni's Splendid Ice Cream Desserts
 More ice cream!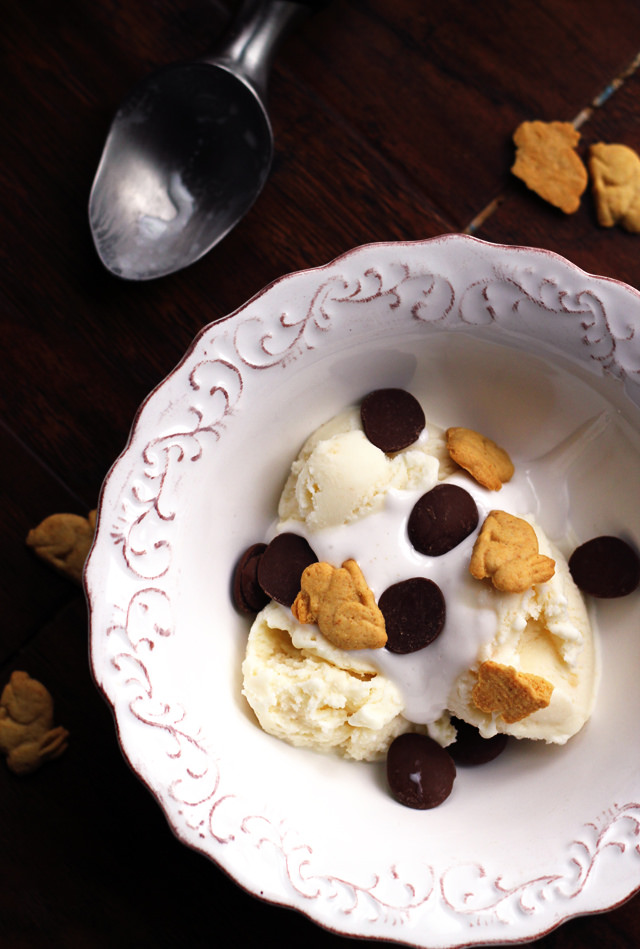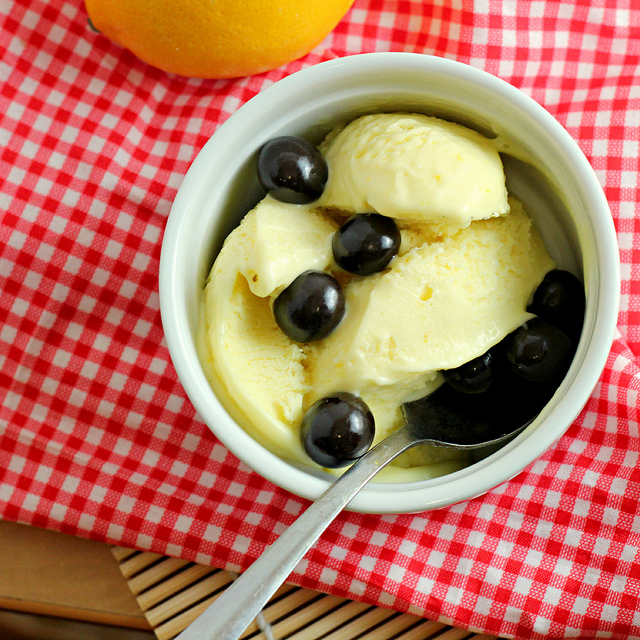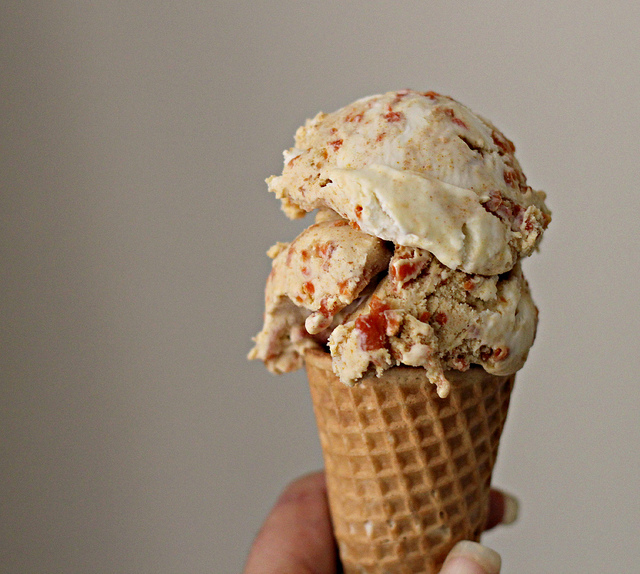 From Around the Web:
Thai Tea Ice Cream from Amandeleine
Buttermilk Pancake Ice Cream from Take a Megabite
Pumpkin Gingersnap Ice Cream from Baked By Rachel
Salted Butter Caramel Ice Cream from Annie's Eats
Chocolate Malt Ice Cream Sandwiches from Love & Olive Oil