Breakfast doesn't get better than this! Maple pumpkin doughnuts with a maple cream filling. Almost too good to be true.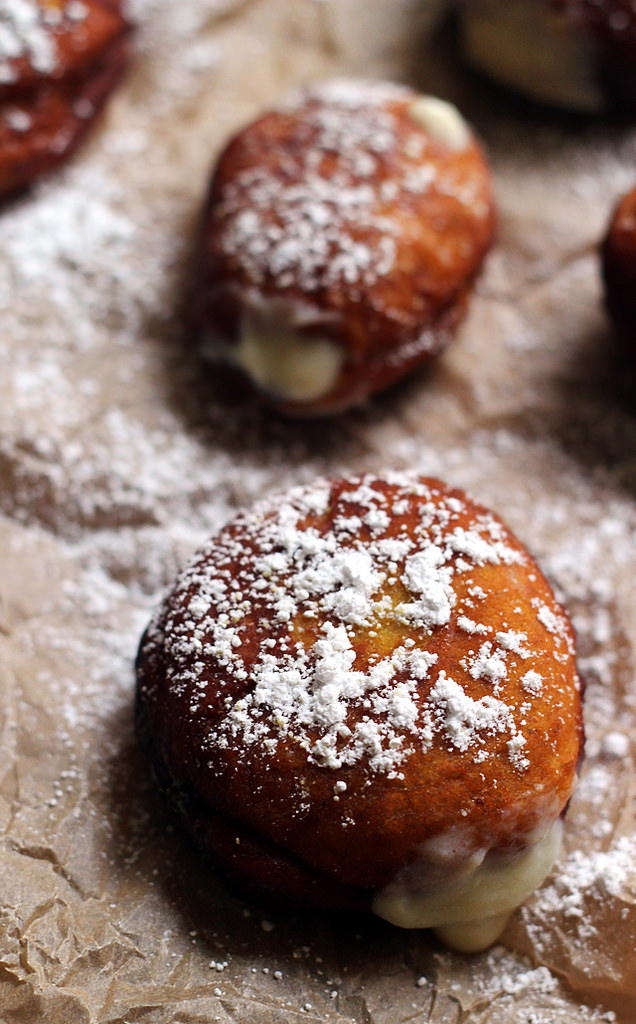 There's a cafe that I pass on my way to work every day that advertises a speculoos latte as one of it's specialty drinks.
So far, I've resisted its beckoning call on the basis of: what if I hate it?
Which is really code for: WHAT IF I LOVE IT.
Do you see the problem?
This is generally my modus operandi for trying new things that I'm pretty sure will be delicious – resist for as long as possible lest I become that person who has to live on the street because she spent all of her money on cookie butter lattes, cronuts, and new skinny jeans.
It's a legitimate fear.
This also explains why it has taken me so long to attempt the doughnut.
I wasn't worried about it being too hard, mind you, but being easy. Too easy.
Let's just say I was right to be concerned.
Sure, there is hot oil involved which is always a frightening thing, but that part only took about 10 minutes and then I could flee the kitchen, leaving the.boy to figure out how to dispose of it without scalding himself while I snuck nibbles of the first warm doughnut bites.
They were glorious. Warm pumpkin spice with full on maple creaminess glorious.
When you find me living on the streets with nothing but a deep fryer and a vat of maple cream filling to my name, you'll know who's to blame.
Maple Pumpkin Doughnuts with a Maple Cream Filling
Breakfast doesn't get better than this! Maple pumpkin doughnuts with a maple cream filling. Almost too good to be true.
Yield:
about 2 dozen doughnuts
Ingredients
For the doughnuts
½ cup lukewarm water
2 tbsp active dry yeast
2 large eggs, beaten
15 oz pumpkin puree
2 tbsp vegetable oil, plus more for frying
6-7 cups bread flour, plus more for rolling
¼ cup maple syrup
½ cup sugar
1 tbsp salt
2 tsp pumpkin pie spice
For the filling
1 quart whole milk
2 oz cornstarch
7 oz sugar
½ tsp salt
3 large eggs
2 oz butter
½ cup maple syrup
powdered sugar, for dusting
Instructions
For the doughnuts, in a small bowl, whisk together the water, yeast, and a pinch of sugar. Let sit for 5 minutes. If the mixture starts to foam then the yeast is activated and ready to go.
In the bowl of a stand mixer, fitted with the bread hook attachment, combine the eggs, pumpkin, vegetable oil, yeast mixture, 2 cups of bread flour, maple syrup, sugar, salt, and pumpkin pie spice. Continue to add the remaining flour, ½ cup at a time, until the dough starts to come together. It should be soft, but not so sticky that you won't be able to handle it. Either knead the dough by hand or mix it on medium speed for 5 minutes. Turn into a large oiled bowl and let rise, covered with plastic wrap, until doubled in size, about 2 hours.
On a floured surface, roll out the dough until it is about ¾-inch thick. Using a 2-3-inch round cookie cutter, cut out the doughnuts. You can re-roll the scraps to cut more, or roll them into balls to make doughnut holes. Place the doughnuts on a parchment-lined baking sheet to rise again, until doubled, anywhere between 10-60 minutes.
Pour cooking oil into a large pot to about 2-inches deep. Heat oil to 365F.
Fry 1-4 doughnuts at a time, depending on how big your pot is, making sure not to overcrowd them. Fry for about 2-3 minutes total, flipping once halfway through, until the doughnuts are golden brown on each side. Remove them to paper towels to drain. Cook the remaining doughnuts. Allow to cool.
To prepare the filling, pour the milk into a heavy-bottomed pot. Bring to a boil.
While the milk is heating, in a large bowl, whisk together the cornstarch, sugar, salt, and eggs.
Once the milk is boiling, pour about a third of it into the egg mixture, whisking constantly. Pour the egg mixture back into the pot with the remaining milk, whisking constantly. Cook the mixture over medium heat, stirring constantly, until it comes to a boil and thickens. Remove from the heat. Stir in the butter and maple syrup, then let cool.
When the doughnuts are ready to be filled, cut a small hole in one side. Using a chopstick or the back of a fork, push it through the doughnut just until it reaches the other side, without going all the way through. Pipe the custard into the doughnut using the hole you just made. Serve immediately after filling.
Maple and pumpkin are meant to be! Check out these recipes that pair them: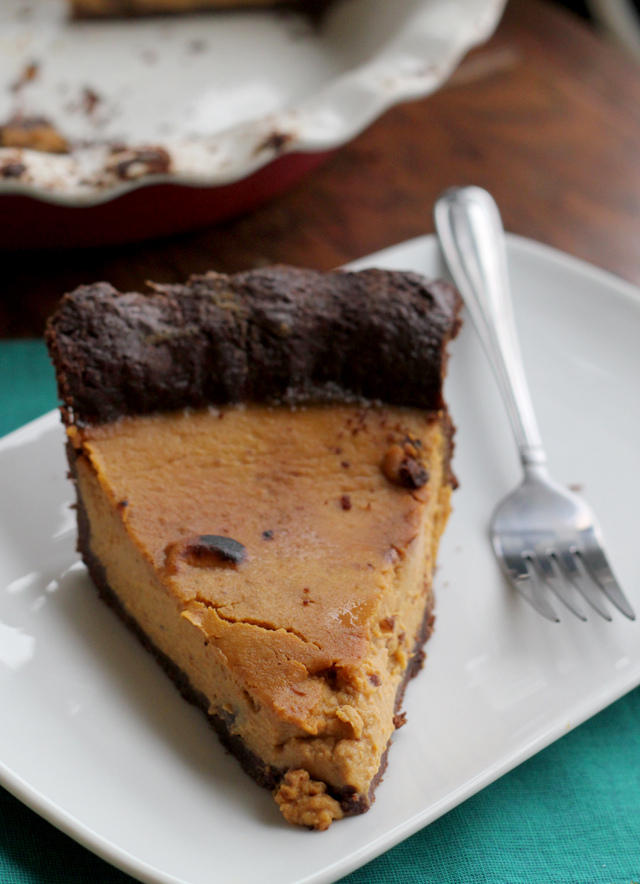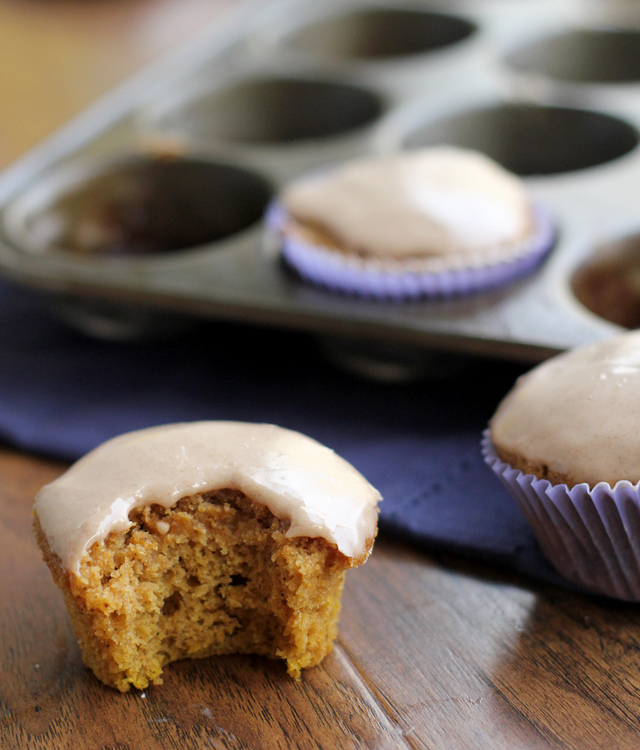 Pumpkin Pound Cake Cupcakes with Maple Cinnamon Glaze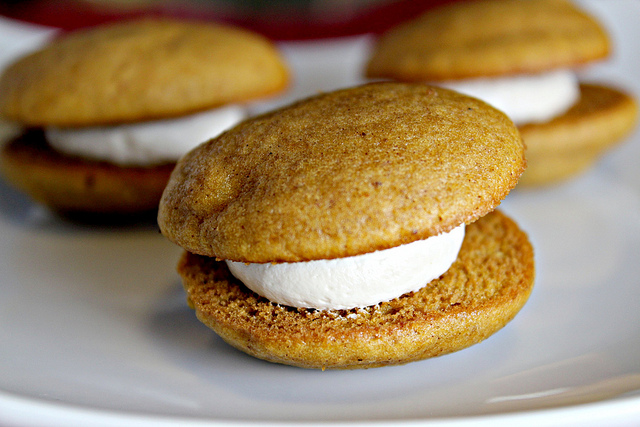 Pumpkin Whoopie Pies with Maple Marshmallow Cream Filling
From Around the Web:
Whole Grain Pumpkin Pancakes with Apple Maple Compote from Honey & Jam
Cinnamon Streusel Pumpkin Coffee Cake with Maple Glaze from Pinch of Yum
Maple-Sweetened Pumpkin Muffins with Oats from Cookie + Kate
Pumpkin Spice Chocolate Muffins with Maple Cream Cheese Frosting from The Flourishing Foodie
Pumpkin Pancakes with Maple Mascarpone from A Couple Cooks