Pumpkin-spiced cupcakes are topped with a maple cinnamon glaze – tastes like fall!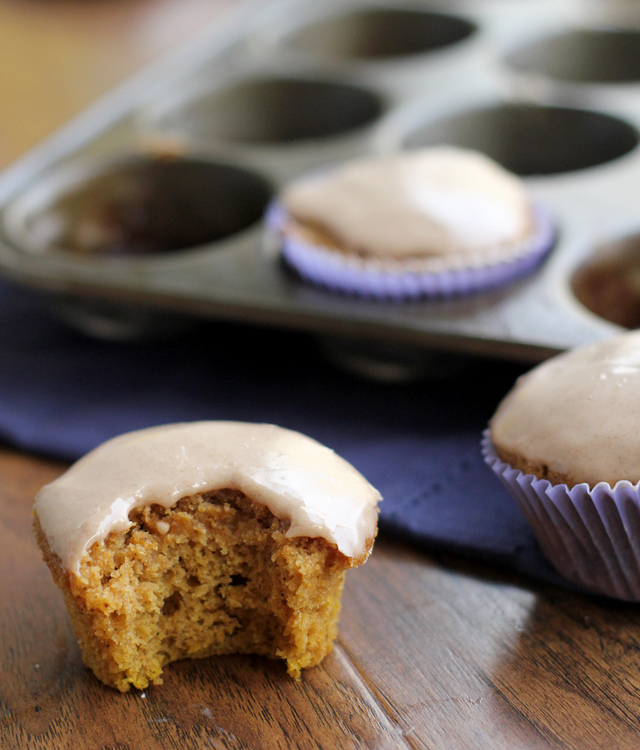 How close are we getting to pumpkin-overboard, do you think?
Should I be battening down the hatches? Strengthening the fort? Figuring out how to build a bulletproof vest out of roasted pepitas?
Preparing for a coupé?!?
I'm going to need a surveillance team stat because while I would like to say there's not much more where these came from.
I just can't make promises that I know I won't keep.
I added some maple flavor to these in the form a glaze because I figured that even if you had gone off the pumpkin deep end, maple might still make your autumnally inclined heart skip a beat.
At least, that's what I was hoping as I sent them off to Faye from Like…Bake…Love… for this month's The Leftovers Club. I mean, what if she was all pumpkin'ed out! I needn't have feared, though, because she sent me the most fabulous pumpkin coffee cake with a chocolate walnut streusel in return! Are we kindred spirits, or what?
To see what kinds of deliciousness everyone else baked up and shipped out, check out the following links! And if you would like to join in next month, head on over to The Leftovers Club where you can learn more about how to join in!

And feel free to call one of these bad boys a "muffin" and have it for breakfast. I won't judge.
Pumpkin Pound Cake Cupcakes with Maple Cinnamon Glaze
Pumpkin-spiced cupcakes are topped with a maple cinnamon glaze - tastes like fall!
Ingredients
For the cupcakes
1½ cups flour
1 tsp baking powder
½ tsp baking soda
¼ tsp salt
1¼ tsp pumpkin pie spice
4 oz unsalted butter, room temperature
½ cup sugar
½ cup packed brown sugar
3 large eggs
¾ cup canned pumpkin
¾ tsp vanilla
For the maple cinnamon glaze
1 cup confectioner's sugar
2 tbsp maple syrup
1 tbsp milk
½ tsp cinnamon
sea salt, to taste
Instructions
For the cupcakes, heat oven to 350F. Line a cupcake pan with liners.
In a bowl, whisk together the flour, baking powder, baking soda, salt, and pumpkin pie spice.
In the bowl of a stand mixer fitted with a paddle attachment, cream together the butter and sugars. Mix in the eggs, one at a time, combining well after each addition. Mix in the pumpkin and vanilla.
Stir in the flour until just incorporated. Divide the batter among the cupcake liners, filling them ¾ full.
Bake for 15-20 minutes, or until a toothpick inserted in the center comes out clean.
Allow cupcakes to cool in the tins for 5 minutes and then remove to a wire rack to cool.
Once cupcakes are completely cool, make glaze. In a bowl, whisk together the confectioner's sugar, maple syrup, milk, and cinnamon. Add more milk as necessary to reach desired consistency. Dip cupcake tops in the glaze. Sprinkle with sea salt.